If your kiddos are watching TV, you at least want them to see uplifting images of Black and brown people, right? Black kids shows are affirming. They're inspiring. And they're necessary.
After all, you make the effort to find books that star Black characters and buy dolls that reflect your children's beauty. But it's hard to compete with what they see every day on the TV screen: A world that focuses on the adventures of white boys and girls.
Wondering what Black kids shows are on network television or streaming? Here is a lengthy list of television shows that feature Black leads or Black cartoon characters. (Note: The American Academy of Pediatrics recommends that children under the age of two avoid exposure to television.)
We've broken this list up as follows:
Calling All Tweens (Ages 8 and up)
Black Kids Shows: Oldies But Goodies
Happy viewing!
Toddler TV
(Ages 2 and up)
Esme and Roy
Esme, and her bestest pal Roy are monstersitter extraordinaires! This adorable pair uses the power of play to ease monster tantrums in the town of Monsterdale.
Blaze and the Monster Machines
Nick Jr. (free), Amazon Prime, Google Play, iTunes, and Vudu
Looking for Black kids shows that are also educational? A monster truck and his driver go on amazing adventures while learning about STEM (science, technology, engineering, and math).
Nella and the Princess Knight
Nick Jr. (free), YouTube, iTunes, Amazon Prime, Google Play, and Vudu
Nella, an 8-year-old princess who transforms into a knight, goes on many adventures with her friends to fight for what's right. (Parents looking for biracial representation: Nella's dad is Black and her mom is white.)
Reba to the Rescue
This sweet web series follows Reba as she goes about her life mission of "ensure[ing] the education [and] well-being of all! With her cape and large afro, she stands ready to love, help others learn, and love some more!" And Reba does this all with a jazzy soundtrack.
Gracie's Corner
YouTube has a lot of Black kid shows, and Gracie's Corner is one of them. This cartoon series follows Gracie on imaginary journeys that feature fun, uplifting, and educational songs your kids will love.
Tab Time
Did you know beloved social media personality Tabitha Brown has a preschool series on her YouTube channel? Tab Time was created to open children's minds and help them understand themselves and their feelings. This series is geared towards kids ages 3 to 5 years old, but your inner child will love it, too!
Bookmarks: Celebrating Black Voices
This Netflix special highlights children's books written by Black authors and read by distinguished Black celebrities. The readings and recommendations are geared towards kids of different ages.
Black Kids Shows for Big Kiddos
(Ages 5 and up)
Bino and Fino
Amazon, KweliTV, and Tubi (free)
An educational show that teaches children about Africa, Bino and Fino are a brother and sister duo who live in a modern Nigerian city.
Motown Magic
If your family loves listening to music together, look for Black kids shows like Motown Magic. Ben is an 8-year-old with a big heart and an even bigger imagination. With his magic paintbrush, Ben brings the streets of Motown back to life with vibrant tunes from the historic musical era.
Super Sema
"Super Sema is the first African animated superhero series to empower and inspire the next generation of children to change the world through curiosity, creativity, and STEAM.
"Follow the daring adventures of Sema, a super African girl, who along with her brother MB, uses her 'technovating' powers to save her village from a heartless robot uber villain. From their Secret Lab, they code world-changing apps, create energy from waste, engineer solutions for their community, develop virtual worlds, and might even launch a space rocket, but be home in time to print 3D pizzas!" (Go back to main menu)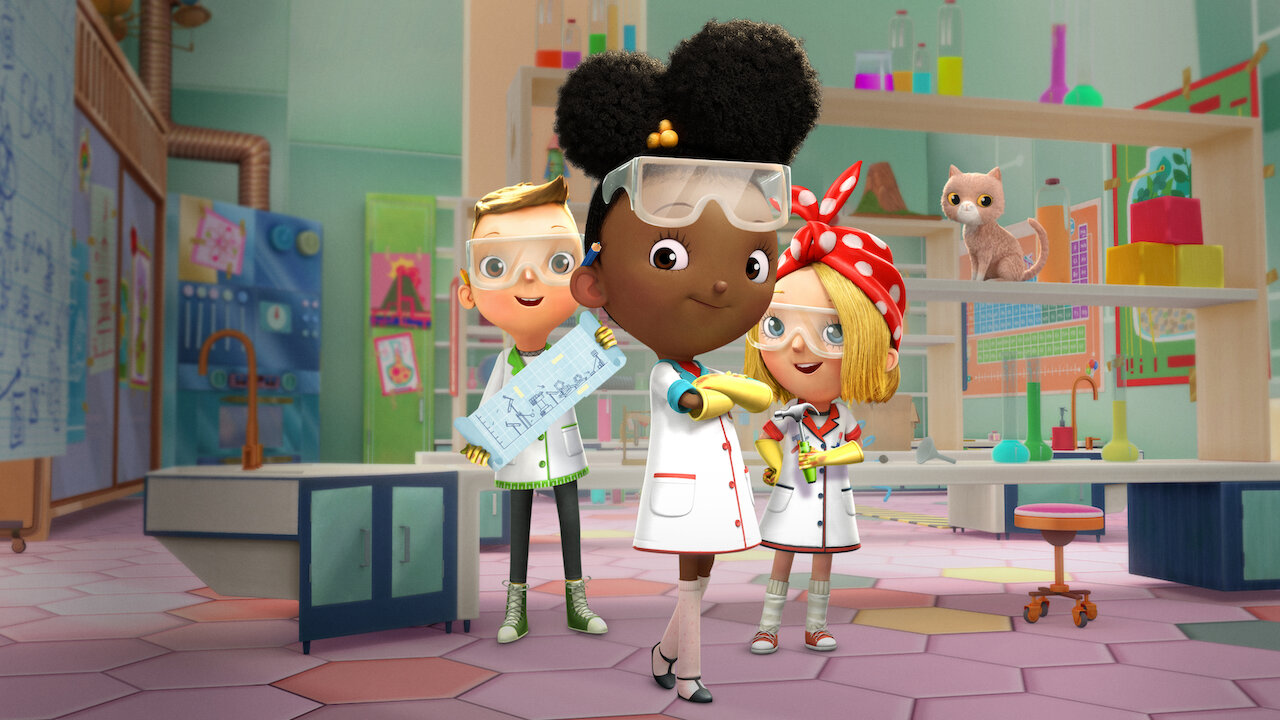 Ada Twist
Based on the book by Andrea Beatty, join Ada, her best friends, and family as they explore the world around them to understand how it works. Ada's enthusiasm for her STEM-based adventures will engage viewers, both young and old.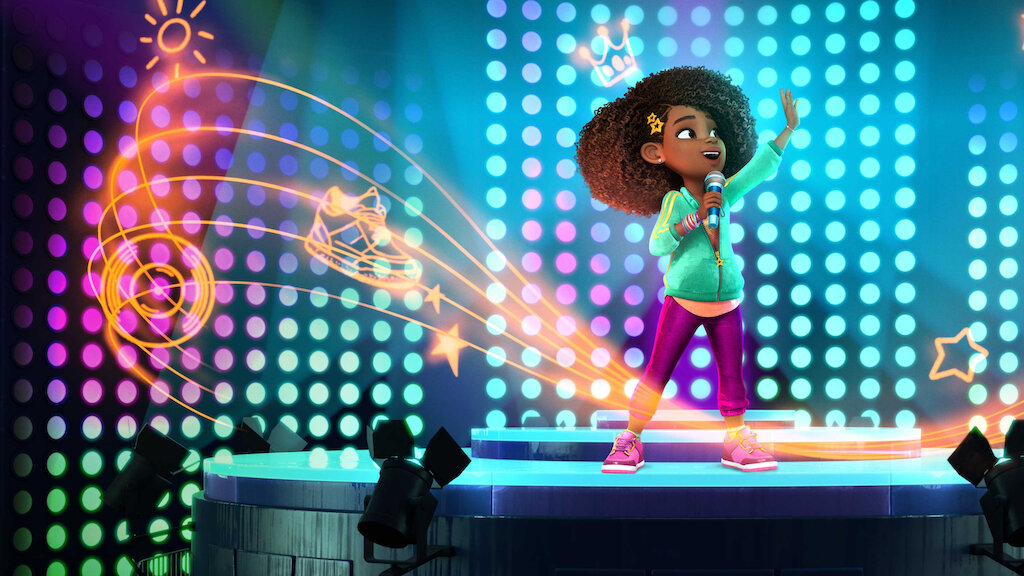 Karma's World
Netflix
Rapping isn't just for adults! Watch Karma as she changes the world through her whip-smart rhymes infused with her heart and soul, and the power of words.
Sydney to the Max
Like father, like daughter! Sydney to the Max is a sitcom about a middle schooler named Sydney who is navigating growing up with her single father Max. The show reveals that their childhood is similar through flashbacks to Max's childhood in the '90s.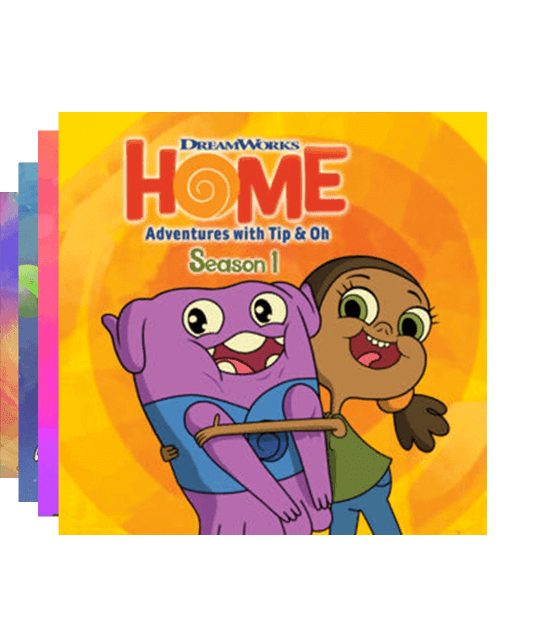 Dreamworks Home: Adventures With Tip & Oh
Home: Adventures with Tip & Oh is an animated series based on the 2015 Dreamworks movie, Home. (Fun fact: In the movie, Tip is voiced by expecting mom Rihanna!) The series takes place after the movie, mixing the world of both humans and aliens and focusing on Tip and Oh's friendship and adventures.
Craig of the Creek
Craig of the Creek is a Cartoon Network series about a boy and his friends living in the fictional town of Herkleton Oaks and having fun adventures. The creek in the show's title is a kids' utopia of wilderness, tree forts, and dirt bike ramps ruled over by childrens' tribes.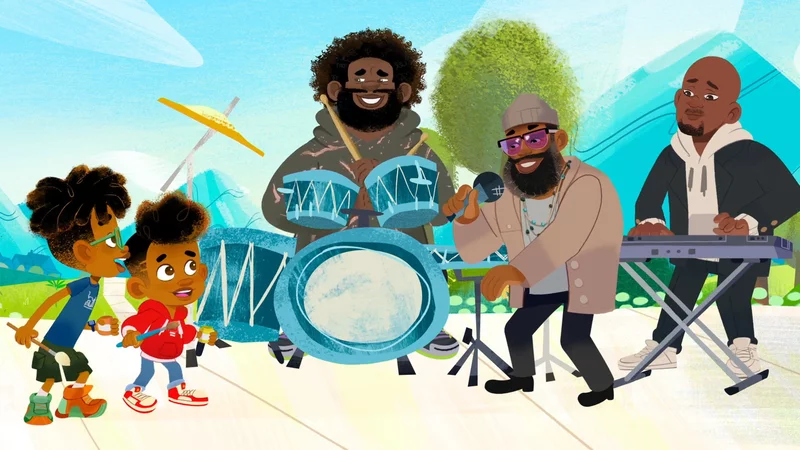 Rise Up & Sing Out
Whether or not you're a fan of The Roots, you'll love the mission behind Disney's Rise Up & Sing Out. Executive produced by Ahmir "Questlove" Thompson and Tariq "Black Thought" Trotter, this series of educational and musical shorts tackles themes like respecting others, self-expression, and self-confidence. It also teaches an appreciation for Black culture and education—something children and parents can both learn from and enjoy.
Calling All Tweens
(Ages 8 and up)
Cousins for Life
Nickelodeon, YouTube, Amazon Prime, Google Play, and Vudu.
Those who have outgrown Black cartoon characters may want to check out live-action Black kids shows like Cousins for Life. Ivy and Stuart are cousins who live together and are learning about each other, saving the planet, and having fun!
Black-ish
ABC (free), Hulu, YouTube, Google Play, Amazon Prime, iTunes
Dre and Rainbow "Bow" Johnson and their children tackle issues of cultural identity, race, and family while living in a white, upper middle-class neighborhood in Los Angeles. (And it was just announced that there'll be a spin-off based on Bow's childhood called Mixed-ish.)
Raven's Home
Disney (free with cable login), YouTube, iTunes, Amazon Prime, and Google Play
A spinoff to the original Disney series That's So Raven!, this sitcom features best friends Raven and Chelsea as two divorced moms raising their kids (Booker, Nia, and Levi) together in a Chicago apartment. Turns out, Raven's son, Booker, has the same psychic powers as his mom.
Marvel's Avengers Assemble: Black Panther's Quest
YouTube, Amazon Prime, iTunes, Google Play, and Vudu
Black Panther has to decide if he's an Avenger first or if his loyalties ultimately remain to the people of Wakanda.
Lab Rats
Disney Plus, YouTube, Amazon Prime, iTunes, and Google Play
When Leo's mom marries a rich inventor, he stumbles upon three super-powered teens living in a secret lab beneath his new dad's home.
Mech X-4
Disney Plus (free with cable login)
Ryan awakens a robot that was built to protect the city against an impending catastrophe. In hopes of saving his city, his brother and best friends are Ryan's only hope to help pilot the robot.
Bunk'd
Disney (free with cable login), Netflix, YouTube, iTunes, Amazon, and Google Play
A group of preteens, including Skai Jackson who portrays Zuri Ross, head off to a summer camp at Camp Kikiwaka where all of their parents met years ago.
Mama K's Team 4
If your kids are searching for Black cartoon characters, they're in for a treat with this animated series. Four girls, living in Zambia's capital city of Lusaka, are hired by an ex-secret agent to save the world. (Go back to main menu)
Raising Dion
If you're looking for Black kid shows with action and drama, Raising Dion could be great for the entire family to watch. Nicole is a single mother raising a special child who has magical, superhero-like powers. She's trying to figure out his abilities and their origins while keeping them secret to protect him from those who would exploit him.
Family Reunion
Family Reunion follows the McKellan family as they move from the city to a small town to stay closer with their family. There they face the challenge of their city ways against their more traditional grandparents.

Secrets of Sulphur Springs
If your kids love sci-fi and fantasy, this Disney series may be just right for them. In Secrets of Sulphur Springs, Griffin and his new friend Harper uncover paranormal secrets at the supposedly haunted Tremont Hotel. (The hotel also happens to be Griffin's new home!)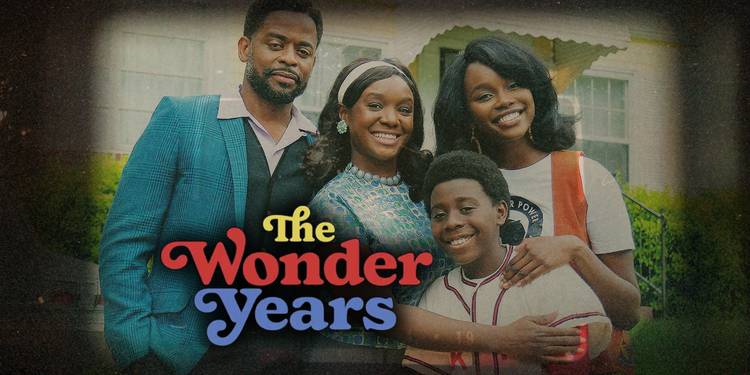 Wonder Years
Wonder Years is a remake of the beloved 1988 comedy series of the same name. In the reboot, Dean, an imaginative 12-year-old boy, comes of age in Montgomery, Alabama in the late 1960s.
Naomi
Naomi is the latest television series to be released from the DC Universe. It revolves around Naomi, a comic book-loving teenager. She's out to determine the origins of a supernatural event that occurs in Port Oswego, Oregon along with her supportive adoptive parents and a tattoo shop owner.
Teen Tube (Ages 13 and up)
Editor's Note: Many of these suggestions may depend on your comfort level with your teenager watching content about sex, alcohol, drugs, and other "adult situations." Those shows have an asterisk by them. You can read parents' reviews on Common Sense Media—these could be shows you watch as a family to unpack some of the heavier topics.
All American*
CW (free app), Netflix, YouTube, Amazon Prime, Google Play, and Vudu
Inspired by the professional life of football player Spencer Paysinger, this drama series is chronicles Spencer's transition from Crenshaw High School to Beverly Hills High.
Black Lightning
CW (free app), Netflix, YouTube, Amazon Prime, Google Play, and Vudu
Vigilante DC comic hero Jefferson Pierce transforms into Black Lightning. With the help of his two superpowered daughters, Jennifer and Anissa, the family is on a mission to rid their hometown from crime.
Marvel's Cloak and Dagger*
Hulu, Amazon Prime, YouTube, Google Play, and Vudu
Two New Orleans teenagers, Tyrone and Tandy, both come from different backgrounds; however, a life-changing nuclear explosion brings the pair together to take down evil and destruction in their beloved city.
Queen Sugar*
OWN (free app with cable login), Hulu, Amazon Prime, YouTube, iTunes, Google Play, and Vudu
Based on a novel by Natalie Baszile, the series chronicles the lives of three siblings who inherit their father's Louisiana farm. Teenagers may be especially interested in the character of Micah, one of the sibling's son.
Grown-ish*
Freeform (free with cable login), Hulu, YouTube, Amazon Prime, Google Play, Vudu
A spinoff to Black-ish, the eldest Johnson kid Zoey tackles all the complicated dealings of college life. Is she prepared to live and thrive outside of her parent's nest?
Marvel's Runaways*
Hulu, YouTube, Amazon Prime, Google Play, Vudu
A superhero team of teenagers fight two battles: one against their own parents and another against an alien group that's planning to take over the world.
On My Block*
Four teens in inner-city Los Angeles learn about friendship and how their lives will be tested as the enter a new chapter in their lives—high school.
Dear White People*
Netflix, Amazon Prime, and Vudu
Racial tensions escalate at a prestigious Ivy League college. Watch the drama unfold through the perspective of the campus' Black students.
The Chi*
Showtime, Showtime Anytime, Amazon Prime, YouTube, Google Play, and Vudu
A coming-of-age drama about kids growing up on Chicago's South Side, created by Emmy-award winner Lena Waithe. (Go back to main menu)
David Makes Man
David Makes Man is the semi-autobiographical coming-of-age story of a queer, Black, 14-year-old prodigy. David lives in poverty in a South Florida housing project. The show chronicles how he navigates his dangerous neighborhood and the elite school he attends.
Black Kids Shows: Oldies, But Goodies
There's nothing wrong with going to the vault. The following shows are no longer in syndication, but they still rank high on the quality meter.
Check your favorite streaming service or the public library to catch old episodes.
Yo Gabba Gabba
YouTube, Amazon Prime, Google Play, Vudu, and iTunes
Learn about music and magic as you sing along to popular artists and dope tunes with DJ Lance Rock and five friendly monsters. (Ages 3 and up)
Reading Rainbow
iTunes and Amazon Prime
An educational series, hosted by LeVar Burton, that teaches young children to read and open their minds through books. Each episode highlights a specific book theme and recommends books for children to pick up from the library. (Ages 3 and up)
Happily Ever After: Fairy Tales for Every Child
HBO Now, HBO Go, YouTube, iTunes, and Google Play
An animated anthology series of classic fairy tales that are told from various cultural perspectives.
Gullah Gullah Island
Amazon Prime and iTunes
A musical children's show inspired by the Gullah culture of Sea Islands, South Carolina. (Ages 3 and up)
Doc McStuffins
Disney Now (free), Hulu, iTunes, and Amazon Prime
Doc is a 6-year-old healer who makes sure that all her friends and stuffed animals' health is in tip-top shape. (Ages 3 and up)
The Proud Family
Amazon Prime, Disney+, iTunes, and Google Play
Share adventures with Penny Proud and her proudly wacky family. (Ages 8 and up)
Class of 3000
Sunny Bridges teaches a group of music students in Atlanta's Wesley School of Performing Arts. (Ages 8 and up)
Sister, Sister
Sister, Sister is a classic for a reason. Your tweens and teens will love this old sitcom about adopted twins who were separated at birth and accidentally meet again as teenagers.(Ages 9 and up)
That's So Raven
Disney Plus (free with cable login), YouTube, iTunes, Amazon Prime, and Google Play
Raven Baxter, a teenage girl, has psychic premonitions––some that get her and her friends in lots of trouble. (Ages 11 and up)
Everybody Hates Chris
This comedy is based on the real-life preteen and teenage experiences of comedian Chris Rock. (Ages 11 and up)
Moesha
Mo to the, E to the… An American sitcom featuring teenage R&B singer Brandy Norwood, Moesha navigates high school, friendships, and relationships from her home in the Leimert Park neighborhood of Los Angeles. (Ages 11 and up)
The Fresh Prince of Bel-Air
Give your kids a dose of Black pop culture and comedy history with this pick. Before Will Smith was a multi-hyphenate actor, most of us knew him for his role in The Fresh Prince of Bel-Air. His street-smart teenager from Philly background clashes with the upper-class world he enters after being sent to live with his aunt and uncle in Los Angeles. (Ages 11 and up)
The Boondocks
HBO Max, Hulu, Amazon Prime, and Vudu
Based on Aaron McGruder's popular comic strip, this satiric animated series tackles all the biggies–lifestyle, racism, pop culture, stereotypes, and socioeconomics—from the perspective of two young boys voiced by Oscar-award winning actress Regina King. (Ages 16 and up.)
Afro Samurai
What happens when a Black samurai has a mission to avenge his father's death in feudal Japan? Note: Based on a Japanese manga series, the television show doesn't shy away from graphic depictions of violence. (Ages 18 and up)
Didn't see any of your favorite shows that star Black leads? Drop the name of the show, including a brief description and the network where the show appears. (Go back to main menu)