(Updated November 30, 2022 to add dolls beyond the author's original list)
Why are Black dolls so important to Black children's development? Well, a doll is often a child's favorite companion, providing a source of comfort and entertainment unlike any other toy.
Dolls also teach compassion and social skills, while helping to shape a child's self-image.
This is why little Black girls are often left feeling confused and insecure—most of the dolls in the toy stores look nothing like them.
Fortunately, today's kids don't have to go too far to find dolls that look more like them. Black dolls—whether they have natural hair or soft or life-like baby dolls—are becoming easier to find.
With the holiday season upon us, we've rounded up some of the best Black dolls.
Brains and Beauty Dolls
Niya Dorsett created the Brains and Beauty Dolls to fulfill a singular mission: To help raise little girls' self-esteems. So all the features on Malia—and future Brains and Beauty Dolls—were chosen with that goal in mind.
These Black dolls all have natural human hair so children can play with hair that's similar to their own, and the dolls say 20 empowering phrases to encourage their owner to believe in themselves and achieve their goals. What makes those phrases even sweeter is that they were sourced from mothers answering the question, "If you had to say something encouraging or positive to your daughter, what would you say?"
mater mea fam: You can get a 10% discount off your Brains & Beauty Dolls purchase by using the coupon code mater.
Qai Qai
Move over Barbie: Qai Qai just might be the most famous doll on social media.
Qai Qai is Alexis Olympia Ohanian Jr.'s first doll. (Olympia is the daughter of tennis great Serena Williams and Reddit cofounder Alexis Ohanian.)
"I wanted her to have a Black doll," Serena said during a 2019 press conference. "Growing up, I didn't have that many opportunities to have Black dolls."
Whether you want Qai Qai to be your child's first doll or one of many Black dolls they have, you can get her on Amazon.
Minikin Paper Dolls
Artist Adrienne Brown-David created Minikin Paper Dolls "to make sure ALL kids can have a one of a kind, handmade toy that represents them." These hand-drawn and pre-assembled paper dolls come pre-made, or you can ask for a custom order to make sure your child gets a doll that looks just like them.
(And if you're looking for a fun at-home activity, you can purchase digital downloads of the paper dolls to cut and color yourself!)
Healthy Roots Dolls
Back in our day, it was borderline disrespectful the synthetic strands that companies used to approximate "Black hair" on dolls. These days, there are a number of brands making Black dolls with natural hair—and Healthy Roots Dolls is one of our favorites.
Zoe (aka your kid's new best friend) is on a hair journey that any Black naturalista can relate to. After doing a big chop, she's learning how to love her hair's natural curl and texture—and she can't wait to teach your child how to love their hair, too!
HarperIman Dolls
These custom, handmade linen dolls are the things of childhood dreams. Harper Iman Dolls offer sweet and stylish Black dolls that "reinforce to children of color how important they are, how smart they are, how beautiful they are, how talented the are, how creative they are."
And when we say stylish, we mean stylish: Some of these doll's outfits rival our best looks!
Corage Dolls
A revealing moment in children's development history inspired founder Flora Ekpe-Idang to create Corage Dolls. Corage Dolls is a line of empowering products that includes a 14″ flexible Black doll named Aaliyah.
When Flora was in high school, she watched a 2007 documentary called A Girl Like Me recreated "the doll test" conducted by psychologists Kenneth and Mamie Clark in the 1940s. In the original study, the doctors "used four dolls, identical except for color, to test children's racial perceptions." Children between the ages of 3 to 7 were asked to identify the doll's race and which doll they preferred.
Overwhelmingly, the children chose the white doll and spoke of it positively—regardless of their own race. The same was true 60 years later in A Girl Like Me.
"It was frustrating and disheartening to see how children as young as 5 could already have a negative perception of themselves and underlining internalized racism," Flora says on her website. "As time went on I soon built this idea of wanting to fix the toy aisle with positive representation of dolls of color that weren't fashion dolls."
Fairytale Wishes by Casa de Fallon
Casa de Fallon's line of fairy ballerinas provide much-needed diversity in the handmade, homespun doll space. Made out of wooden clothespins, Fairytale Wishes dolls come in a variety of skin tones and hair colors, and each themed collection (from holidays to Disney) will delight your child.
Ikuzi Dolls
Mom, fashion designer, and illustrator Ozi was also inspired by her daughters to create her line of vinyl dolls in various shades of brown. All of the Ikuzi Dolls are tea party-ready in pretty, colorful dresses. And their pink carrying cases make it easy to bring them along on any adventure.
Ishababies
Created by pediatrician and mother, Dr. Aisha Bailey, these super-soft 10" plush Black dolls are safe for even the youngest kids on your list. The Ishababies™ collection is made up of eight boy and eight girl dolls, and come in a variety of "flavors," from Caramel Girl to Mocha Boy.
The dolls are machine washable, making them easy for moms and dads to keep clean.
Ruby Rails
Debbie Sterling launched her Goldie Blox line of toys in an effort to get more girls to see engineering as fun. Ruby Rails, a Black doll in the collection, is a coder who loves to skydive—is that cool, or what? Your little ones can use their building skills to assemble Ruby's parachute and send her off on some high-flying fun.
The Prettie Girls! Dolls
Don't be fooled by the name. These Black dolls are not just cute; Prettie is an acronym for Positive Respectful Enthusiastic Talented Truthful Inspiring Excellent. These dolls are top students who care about their planet and are great friends.
The Prettie Girls! Dolls were created by Stacey McBride-Irby, a former project designer at Mattel and creator of a line of African-American Barbie dolls, as well as a commemorative doll for Alpha Kappa Alpha Sorority's centennial, so you know you're in good hands.
Lottie Dolls
Lottie Dolls had us at their mission: "We celebrate kids in all their glorious, heart-warming and life-affirming diversity." Their three Black dolls also have a mission: getting her hometown clean water (the Mari "Little Miss Flint" Copeny doll, pictured above), capturing wildlife photos (the Mia doll), and landing on the front page (the young reporter boy doll).
Your kids will love all three!
Orijin Bees
Orijin Bees showcases the variety of our community with their line of Black dolls that come in different skin colors and hair types—just like us! Their dolls (which range from plush baby dolls to 18-inch fashion dolls) represent Black, Latino, biracial, and Caribbean heritages. And when you buy one of these cuties, you're also helping disadvantaged girls around the world, thanks to their GetONE GiftONE program.
Stepstitches
Remember the iconic Raggedy Ann doll? The one that every little girl recognizes no matter what country she's from? Well, meet Cinnamon Annie Doll, a modern take on the classic doll.
Created by Stepstitches, Cinnamon Annie is a handmade Black doll that can be customized while retaining the iconic doll feel. You can request to have your doll personalized, from the color of her skin or hair down to having your child's (or your gift recipient's) name on the dress.
Our Generation
Your child will love the Black dolls in the Our Generation line! The company's 18-inch dolls are split across four categories: regular, deluxe (which comes with books and accessories), retro (with the dolls wearing '50s poodle skirts), and specialty items.
Ayeesha is one of our faves: She has curly black hair that can be styled any way you like with a brush and a little spray of water. And like all their 18-inch dolls, her outfit can be changed to any American Girl or Journey girl outfit.
Hearts for Hearts Girls
Hearts for Hearts Girls are dolls based on real stories from girls all over the world who are trying to create a better future for their community and family. These multicultural dolls are dressed in the clothes that represent their country. The line's two Black dolls are Nyesha from Brooklyn and Rahel of Ethiopia.
Barbie
Barbie is the most iconic doll in the world, and is still one of the most sought-after dolls. Over the years, the line has grown to include dolls with diverse appearances and apparel.
Panzette is part of Barbie's The BMR1959 collection which celebrates streetwear culture. The posable Black Barbie doll has styled baby hairs and wears golden heeled Timbs and a transparent bomber over a floral hooded dress.
Another cool Black Barbie doll is from their 2019 Fashionista line, which also features a doll with vitiligo. The doll has a curvier body and huge 'fro and wears a cute, striped dress, white sneakers, and large gold hoops.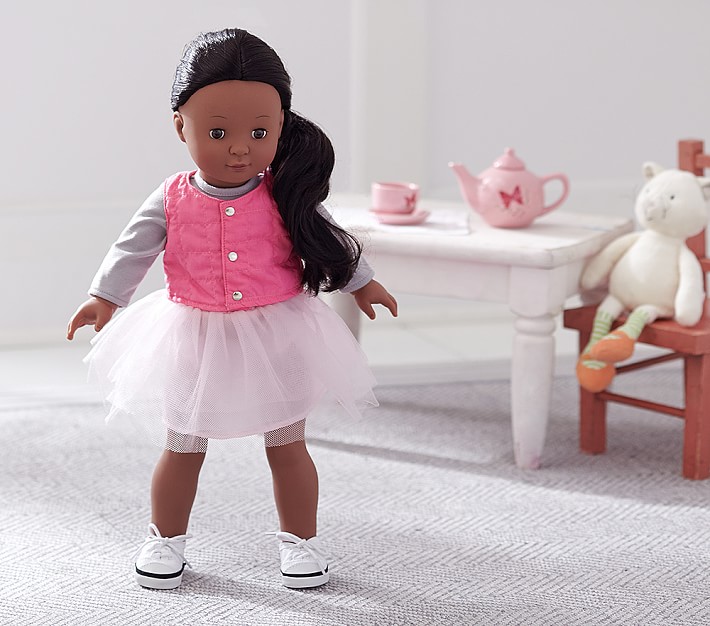 Götz
Götz is a Germany-based doll manufacturer that has been making dolls for at least 60 years. The toys—ranging from baby to girl dolls, soft to vinyl bodies—come in different sizes, and have a few Black dolls. You can purchase their baby dolls or Black ballerina Hannah from their website. And if you're a fan of Pottery Barn Kids, the interior design company has an Götz exclusive named Zoey.
Lots to Love
Lots to Love dolls are a line of gender-neutral, realistic multicultural baby dolls from JC Toys. that represent different ethnicities and come in a range of skin tones and sizes. This particular doll comes in hijab and abaya outfits for Muslim boys and girls to show that their dolls can represent their religion and heritage, too! This can help children accept and build their self-confidence in their appearance and cultural beliefs.
American Girl
Did you grow up reading American Girl books and coveting their historical dolls? You may be surprised to learn the company has expanded beyond Addy, Felicity, and Samantha—and now have a variety of Black dolls.
American Girl has a line of baby dolls called bitty baby for children ages 18+. You can also create a doll to look just like your child and match their interests. And if you'd like something smaller than their typical 15" dolls, they also have minis (6.5" dolls) like Melody. Like the O.G. dolls, Melody comes with her own inspirational story with lessons your child can apply to their lives. She's a girl from the '60s who takes part in the Civil Rights movement by singing and joining boycotts and peaceful marches.
Perfectly Cute
Perfectly Cute dolls are soft and snuggly dolls that can be dressed in all sorts of outfits and accessories. They also come in a variety of eye, skin, and hair colors, and are a good first doll for children.
Fresh Dolls
Looking for Black dolls? Fresh Dolls celebrates the diversity and uniqueness of every child. The line has dolls of every hue (thanks to custom-blended skin tones) and make a point to feature realistic body shapes. They even have Black boy dolls that give Barbie and Mattel a run for their money.
And each doll has its own story to tell. Take for example Ebony, a lover of nature who dreams of becoming a marine biologist one day. Her love for the ocean is reflected in her marine aqua-blue halter top and blue wedge heels.
Mermaze Mermaidz
These fashion meets fantasy dolls are so cute! Mermaze Mermaidz are a group of five best friends with varied interests: fashion designer Shellnelle (above), creator and activist Kishiko, magic public figure Orra, pop star Harmonique, and athlete Jordie.
Each doll's tail changes color and style when they're in warm water, adding a new element of fun to the adventures your kids can have with the Mermaidz!
Manhattan Toy
Manhattan Toy has a wide array of dolls to pick from. We especially love Playdate Friends, their line of machine washable dolls that come with a little stuffy for your child and their doll. Ellis and Harper (above) are the Black dolls in this collection.
Kids for Culture
Sisters Kristen and Lamia created Kids for Culture to "help parents and educators teach children about diversity, self-love, and self-awareness." And their plush Positive Pals dolls are part of that mission, with the great affirmation "I am Amazing" stitched on the baby doll's onesie.
This article contains affiliate links. mater mea may receive a commission from items purchased through these links.