"If there's any mission that I've ever had as a mother, it's to raise some girls who can leave this house and be proud of themselves—not just for being brilliant, but for being beautiful. I got two badass girls. For me, raising a badass Black girl means having her understand that she is enough."
We find ourselves coming back to these words from author and My Brown Baby founder Denene Millner today, on International Day of the Girl. The United Nations declared October 11 a day "to help galvanize worldwide enthusiasm for goals to better girls' lives, providing an opportunity for them to show leadership and reach their full potential."
Mothers play an integral role in their daughters' development, and, in turn, daughters help many mothers reach their full potential. So, in honor of International Day of the Girl, we're sharing mater mea moms' reflections on their relationships with their daughters, their hopes for their futures, and how their daughters have made them better people—teaching them that they are enough.
Staceyann Chin, poet and mother of Zuri
I felt like I would be sitting around writing poop poems, I thought that she would make me less able to talk about the unpleasant things in life or be loud or want to go out there and march.
The feminist in me is frightened to say that Zuri's arrival—motherhood—has made me more centered, more steeped in my politics. I worried that she would soften me in ways that would make me less effective as a human rights activist, but I think she's underscored the need for that kind of work and has connected me with other women.
She changes the way that I see art, changes the way that I write my own life because my own life is different now. Before Zuri I used to think about "Oh, saving little girls," these arbitrary little girls. When I put pen to paper now, the ink spread begins with her and then it radiates to the other people in the world who I might want to save as well. But now there's this sort of tangible, focused person for whom I would like to make the world better. (Profile)
Denene Millner, author and mother of Mari and Lila
What I love most about motherhood [is] enjoying the humanness of our family, creating a space for two amazing human beings I helped create, leading them on this journey toward womanhood, and arming them with all the things they need to make a good life.
Nothing makes me more pumped than trying to figure out ways that I can do that for them, because I love them. I would stop breathing air this next second if it meant my daughters would be spared or that they would have a good life. That's [another] part of motherhood that I love: The idea that you could love someone so big, so wide, so deeply—it's just astounding to me. It really is.
My self-esteem about beauty was so low. It took me until I had my daughters to see that I couldn't look at myself in that way anymore. Their skin, their hair, their bodies, which are beautiful and strong—those are the things that I get to focus on as their mother. All of the things that I was ashamed of as a kid, they're beautiful on them. And they're beautiful on me. God knew what He was doing when He gave me Black girls. (Profile)
Kamara Thomas, musician and mother of Cherokee Moon
I start from the premise that this soul chose me. And I started speaking to her soul before [she was here]. When I wanted to get pregnant, I said: "I know that there are children there who are waiting for us and want us to be their parents because of our specific abilities. Whoever you are, I want you to know we want to have fun, we want to have joy… This is what we're going to be providing. So if you're interested, come on down and let's get together."
I work from that spiritual premise for sure, first and foremost: That this soul came because it knew it was going to get something it knew it couldn't get anywhere else, that they came to our family specifically for something that they're trying to do. I'm here to help her do something that she really wants to do in the world. I'm here to help her become that, and do that, and be as prepared as she can to fulfill her purpose in the world.
How do I take what I know and translate it into a vision that I can manifest into the world? I feel like she's going to be in a world where she can really make a huge adventure out of it, so what does an adventurer need to know? How can I prepare her for a big adventure where she can make good decisions and know which way to go in the forks in the road? (Profile)
Judia Black, entrepreneur and mother of Danielle and Nicole
I just want them to understand the importance of being. We're all humans here on this earth together. [I want them to understand] the importance of being a part of a community, and not just looking for what you can get from it. (Profile)
Ibi Zoboi, author and mother of daughters Abadai and Bahati
Abadai, my oldest, [once] did a lyrical dance to a Rihanna song, but I never saw her practice. I thought, "Whatever happens, happens; it's not Star Search."
She picked out her little cut-off shorts and sparkly shirt, and blew us away. The way I grew up, my mother would have been like, "No. That's inappropriate," but she wasn't exposing anything. I need to be able to have happy daughters. They're little brown girls; I won't do anything to crush their spirits because the world will do that for them. So, if they want to dance to Rihanna? Sure. (Profile)
Sarah White, musician, photographer, and mother of Izabella Simone and Micaela Sol
I hope that they learn to be able to communicate their feelings without being afraid of what anyone thinks. That's something I feel like a lot of women have to deal with [and] I don't want them to even second guess it. Right now they're both pretty confident with what they have to say and they believe in themselves, and I want them to stay that way. (Profile)
LaShann DeArcy Hall, U.S. District Judge and mother of Jayden
I love being a mom most when I am a fly on the wall and I'm watching Jayden laugh and be happy. You can just tell when she is exuding happiness.
I love being a mom most when Jayden takes my face in her hands and gives me a kiss, or hugs me at night.
I could watch my daughter all day long. I mean, look, she drives me insane, don't get me wrong; she's a kid and I'm an adult—that's part of it. But I dig her; I like this little girl. I think that she is an awesome kid. She's so empathetic, she's so concerned about other people—she just has a good heart.
I love being a mom most when my husband gives me a kiss, and she says almost every time, "Happily ever after." (Profile)
Zuhirah Khaldun-Diarra, communications consultant and mother of Salimata
Being a mother, every day there's something new—as my child is growing with her own development, but also [with me] doing things with her. So going to the grocery store is not just going to the grocery store anymore, it's going to the grocery with my daughter. Everything is new and exciting, and I really like that aspect.
And then her smile. She has my dimples. She's a really happy girl, and so the joy that she just has for life brightens me and brightens my world. (Profile)
Wangechi Mutu, artist and mother of Neema
She's a very sweet, very conversational person. She's very communicative, very expressive.
She's a hugger [and] she tells stories. She ponders things, she imagines things. She has very elaborate and incredible nightmares, and she'll tell you about them, and then you can't bring them up again. Even in the daytime, she says, "Don't talk about it."
She's very daring. She's jumped into pools, and we've put her in swim lessons now because she didn't realize she couldn't swim. I was swimming when I was pregnant with Neema; she loves water, and I always wonder if it's because of that. She will never believe she can't swim. She'll climb up things, and try out stuff. She's very adventurous. (Profile)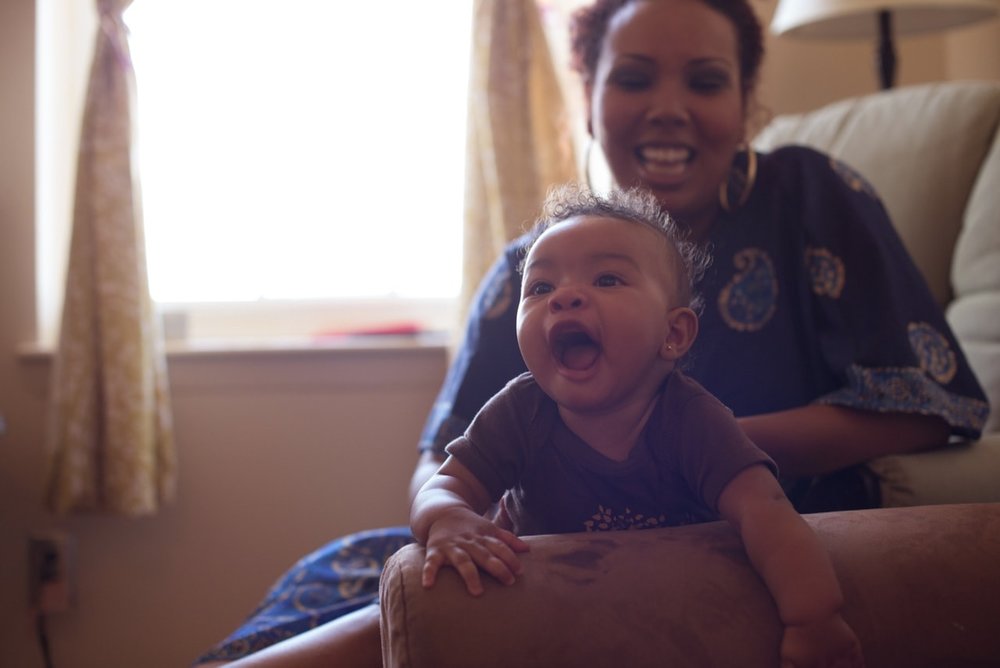 Jamilah Lemieux, an Interactive One vice president and mother of Naima Freedom
I really want to raise a free black girl. I want her to be self-possessed and confident and strong, but not tied to the notion of being a strong black woman… [I want] for her to be loving and kind and tolerant and radical and outspoken and just full of knowledge of self and pride in who she is as a girl and as a black person. It's my mission to equip her with those tools and to make sure that she never feels that she's less than.
I gave my little Black girl a Black-girl name; I don't make any apologies for that because her purpose in life is not to figure out how to be accepted or loved by other people, but to accept and love herself. (Profile)
Angela Benton, tech accelerator founder and mother ofAsha, Kaiya, and Ava
I hope they become strong women, but more than anything, I want them to be women who are comfortable being themselves and in their own skin, whatever that might be. (Profile)
Photo credits: J. Quazi King, Tim Berry, Rog Walker, Bee Walker, Olive Avenue Photography, Nneka, Salmon, and Modern Kids Photography