From following the straight-and-narrow expectations of her Haitian background to changing her name and becoming an accomplished author, Ibi Zoboi's story is one of constant reinvention. Though marriage and raising her three kids makes it difficult to pursue a literary career, Zoboi believes motherhood has boosted her creativity and determination. She walks mater mea through her many transformations, including the one that changed her life the most: Becoming a mother.
Speculative fiction writer Ibi Zoboi (pronounced e-bee za-boy) has a life that closely echoes the radical and personal transformations seen in her favorite genre: She changed her name in college; had an intense, whirlwind courtship with painter Joseph Zoboi; became a mother of three children before she was 30 years old; and has garnered a number of accolades for her writing, which melds folklore, mythology, and fantasy.
While Zoboi often uses the word "magical" to describe important moments and milestones, serendipity is only part of her story.
Ibi Zoboi was born Pascale Philantrope, the eldest daughter of a Haitian single mother who immigrated to New York in the 1980s. Now 36, Zoboi says that growing up in New York was illuminating, but not always easy. Inside her community, some transplants' views on respectability (think starched, white dresses and all-white schools) made it difficult to fit in.
"There was a group of Haitians that didn't want to associate with poverty, whether that meant wearing certain kinds of clothes or leaving your hair all nappy," she recalls. "[So] I understand my mother better now. She left one country and was paying for Catholic school, and there I was looking like a peasant" in flowing, patterned skirts and an afro.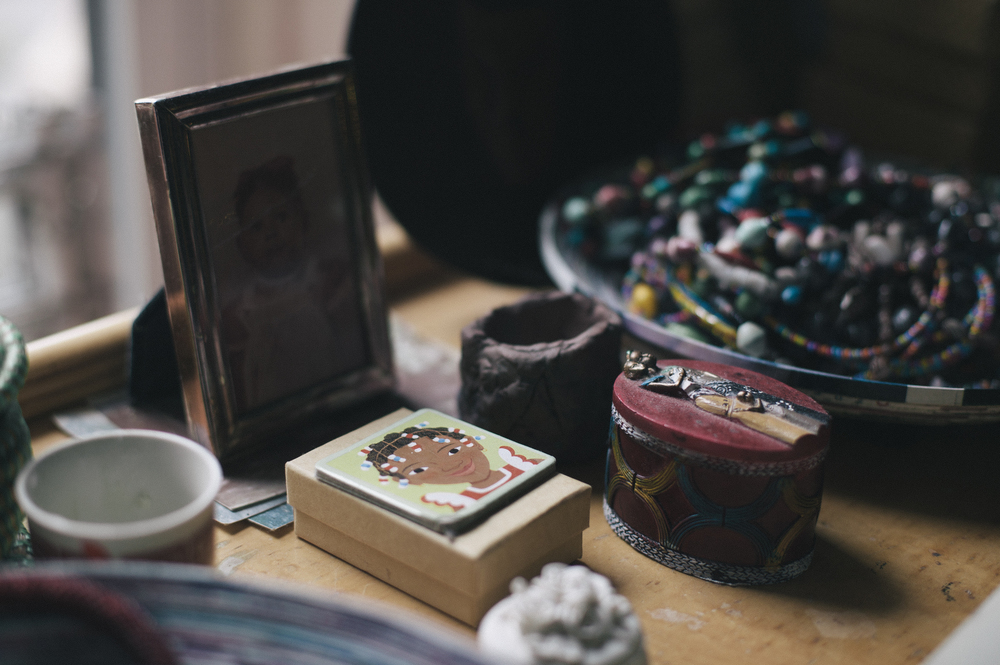 After high school, Ibi Zoboi enrolled in Hofstra University on Long Island and initially traveled along what she calls the "traditional, straight-and-narrow" route for black women at the time—she even considered pledging a historically black sorority. However, after attending her first spoken word event, Zoboi decided to transfer to Hunter College after her sophomore year. She'd heard the campus housed an organization focused on black women of the African diaspora called Daughters of Africa. The idea of sisterhood appealed to Zoboi's changing aesthetic, which was less '90s R&B and hip-hop ("weaves and nails," she says playfully) and more neo-soul.
"Being around other highly-literate, black college folks really motivated me," Ibi Zoboi says. "All of a sudden I was frequenting poetry places and watching people walk up to mics to express themselves. Looking back, I realize I was always that kind of person; I just never saw an example of it because I went to a predominantly white high school. There was no way to see the range of black teenage expression."
Still, changing a look is not the same thing as changing a mentality. Ibi Zoboi began reading canonical black authors like Toni Morrison, Ntozake Shange, Sonia Sanchez, and Nikki Giovanni. She explored the works of African-American playwrights and learned the history of the Black Arts Movement, and integrated those ideas into her evolving look. "I understood that there's a reason I'm attracted to certain patterns and color combinations, and how I put myself together," she says. "It comes from ancestral memory. I started with what I wore and how I wore my hair, but I began to see it as a political statement — like I was being defiant." Her mother's reaction?
"I still don't think she gets it," the writer says, especially of her name change. "She thinks I'm dealing with some psychological trauma that she blames herself for, but it doesn't come from pain at all."
In fact, Zoboi's self-baptism appears to have come from a sense of hope and excitement that continues to motivate her. The name "Ibi," Yoruba for "rebirth," may seem entirely divorced from Zoboi's francophone Caribbean roots, but it actually pays homage to Easter, the holiday she was named after. Creatively, Zoboi believed she was tapping into a tradition that other writers have pursued, from the aforementioned Shange (Paulette Williams), to Amiri Baraka (LeRoi Jones), to Dr. Marimba Ani (born Dona Richards).
Ibi Zoboi initially adopted the pseudonym when writing pieces that seemed too controversial to be connected to her everyday work, but as she continued to write and perform her own poetry, Ibi seemed an apt, permanent name. Small poems became long poems, long poems became short stories, short stories became novels, and the "weirdness" of the spoken word movement where people wrote about the universe and planets infected her writing, leading her to the world of speculative fiction.
After graduating from college, Zoboi briefly held a position as a news editor at a local Queens newspaper, but quickly realized the corporate world wasn't for her. She later attended the six-week Clarion West science-fiction program in 2001 and met her hero, science-fiction writer Octavia Butler.
Ibi Zoboi was engaged to her husband at the time and, somewhat paradoxically, the closer she came to working on her art full-time, the more quickly family life unfolded. The two married that year, had their first child, Abadai, in 2002, their second daughter, Bahati, in 2004, and a son, Zuberi, three years later. "After that," Zoboi says, "my writing slowed down."
"I think I'd be lollygagging without children, but I would definitely be more prolific if I only had one," she explains. "But I don't regret it. Right now, I'm in a place where I have more gumption because I'm determined. I feel like I've gained wisdom and my writing is stronger—I just have to sit down and do it."
Ibi Zoboi works in her home office or dining room, which is outfitted with shelves of fantasy novels, historical texts, and Joseph's large-scale paintings. For a more structured setting, she attended the weeklong VONA (Voices of Our Nation) workshop at the University of California at Berkeley, and later enrolled in a low-residency MFA program at the Vermont College of Fine Arts. With three children and a household to help run, finding time to stay on top of her deadlines can be difficult. But Zoboi cites Joseph's "tremendous" help as a mitigating factor for her load, and her status as a black woman writer as a motivating one.
"A conversation is happening about the lack of black authors in children's books," she says. "There's a boom in Young Adult fiction right now, but I'm one of only two black women in my program out of 100 people. Publishing is probably nothing compared to whatever hoops you have to jump through to secure something like academic tenure, but it's especially difficult when you're a black mother. There are a lot of doors slamming in your face."
While other women might go into self-publishing, Zoboi chooses to bang on as many doors as possible. Since enrolling in the MFA program, she finished her first novel and is currently polishing it, and other stories, in workshop. For Ibi Zoboi, writing imaginative tales from a black perspective isn't just about achieving a personal dream; it's about amplifying her children's sense of wonder.
"My work is one more story with a little brown girl who has superpowers. I don't see much of that on shelves, so I have to give it a chance," Ibi Zoboi says. "I really believe in the power of storytelling and the oral tradition. Mythology grounds us as people, and I want black children to see themselves as part of positive folktales where they can be vulnerable, but empowered. I need my children to see the world as a magical place."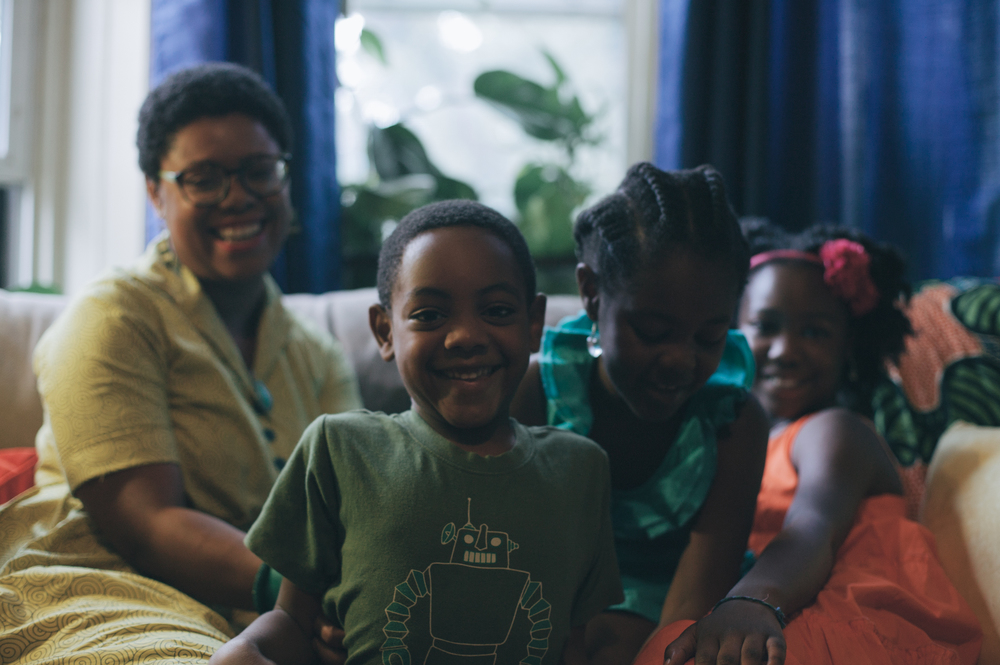 Q&A
HOW HAS BEING A MOTHER CHANGED YOUR LIFE?
I didn't really have much of a life before my children. I got married at 23 and had my first child at 25, so I became a mom early. I was only a [childfree] adult for a few years; some of my friends didn't have their first child until their thirties. I'm in a small group with other Brooklyn moms; two women who are both 10 years older than me talk about dating so-and-so. I don't regret it, but that's how I know being a homebody is really my personality.
WHAT WAS BEING A NEW MOTHER LIKE?
Most people don't know how hard those first few weeks are for a new mother. Eventually, you make it through, but I know a lot of mothers who say those were some tough months. It was really, really hard because [we had] virtually no help. Because my husband is so [present], his family would come and play with the baby and think everything was fine, but Joseph was tired, too. I think what happens when you're a married couple is people see a helpful husband and think you have it made. But he's still a dude. He gets sick of the dishes and will be like, 'I'm going for a walk!' The hardest thing was not having a community of women coming to help.
I [also] had a home birth for all three children, so I didn't get [those] two days in the hospital where you just chill and everybody else takes care of everything. In the past, I had taken ownership of my health—I changed my hair, was vegan, and juiced. A home birth would be taking ultimate ownership of my body. [We] didn't even consider a hospital, but my mother was like, "Are you crazy! We came all the way from Haiti for this?!" (Laughs) She was scared, but after the third child, I saw that she kind of had a new respect for me.
WHAT DO YOU ENJOY MOST ABOUT BEING A MOM?
I like the fact that there are stages. You may not feel confident during your children's infancy, but you may be the best mom during their teenage years. When they're under 5 they're cute, but I'm not one to get down on the floor and play. I like to dress my kids up, and take them out to the park, and watch them from afar. But I'm enjoying my oldest now that she's a pre-teen. She's not the same person that she was at 5; I can start cultivating a little activist and have conversations with her about the world.
WHAT WOULD YOU SAY ARE SOME OF THE BIG LESSONS YOU'VE LEARNED FROM THE WOMEN IN YOUR LIFE?
I'm seeing what it's like for older women who did things they thought they were supposed to be doing, and then look back [at their lives]. My husband is an only child and wasn't raised by his mother, and my mother was an immigrant and had to work all the time. Both of our mothers are currently in their 60s and want to spend time with their grandchildren, but they missed that with their children and don't always know how to interact with kids. It's why I only work part-time and do my art. I want to be there to pick my kids up after school. I want to know who they are so I don't look at them [one day] and go, "Who are you?"
"THEY'RE LITTLE BROWN GIRLS; I WON'T DO ANYTHING TO CRUSH THEIR SPIRITS BECAUSE THE WORLD WILL DO THAT FOR THEM."
FILL IN THE BLANK: I LOVE BEING A MOM MOST WHEN…?
When I can really be in the moment and gaze at my kids. When our schedules are so packed it's hard to step back and take a look at them and enjoy them. Sometimes we go to the beach at 10 a.m. and decide to leave whenever we leave, maybe 6 or 7 p.m. I can just watch them play and be alive, and there's no "I have to be at work" or "I've got this deadline." That's why I sometimes decide not to put them in summer camp: So we can have long, lazy summer days.
BEING A MOM IS THE HARDEST WHEN…?
There are limits on my time. Winter is about getting the kids to school on time, picking them up on time, and getting dinner on time. I don't get to enjoy them [as much] because of all of our schedules.
WHAT IS YOUR PARENTING STYLE COMPARED TO YOUR HUSBAND'S, AND HOW DO YOU EXECUTE IT?
I'm an authority figure in the house and I use a lot of logic. "If I have to clean up your room that means you can't go out today because I'm busy cleaning." I don't like "Do this because I said so" logic—but my husband might think differently. I'm an authority figure in the house, but I'm [also] very free spirited.
Sometimes, when it's messy, it's messy, and if nobody has time to cook we'll get takeout. Joseph is stern, but very playful. He's an art teacher so he gets very creative with them. For example, he has a whistle song for each of them. I call the kids by their names when I need them, but he has a different melody for each of them and they come when they hear theirs.
HOW WOULD YOU DESCRIBE YOUR CHILDREN'S PERSONALITIES?
My kids are poets and singers and dancers. They take creativity very seriously. Zuberi, my youngest, is 6 but very witty and can talk circles around you. He is just a boy's boy; Joseph is his best friend. Bahati is 8 years old. She's a little fireball and always has somebody calling her on the phone — and she can really sing. Abadai, my oldest, recently did a lyrical dance to a Rihanna song, but I never saw her practice. She's 10 and I thought, "Whatever happens, happens; it's not Star Search."
She picked out her little cut-off shorts and sparkly shirt, and blew us away. The way I grew up, my mother would have been like, "No. That's inappropriate," but she wasn't exposing anything. I need to be able to have happy daughters. They're little brown girls; I won't do anything to crush their spirits because the world will do that for them. So, if they want to dance to Rihanna? Sure. You realize as a parent that sometimes there's not so much you have to do. Kids see you as a model for themselves, but they come with their own purpose.
WHAT KIND OF PEOPLE DO YOU HOPE YOUR CHILDREN BECOME?
Really grounded. I want them to have balance in the world. I wouldn't want my daughters to straighten their hair, but I'll be okay if they're not super Afrocentric because I didn't have that upbringing, either. They have a strong foundation to navigate whatever careers they want to navigate. If they want to go into the corporate world, they can do that. If they want to be artists, I want them to be able to support [themselves], but also take it up several notches and be really innovative. Don't just be a regular R&B singer—push your art forward. What's something different that they can say? My purpose is the help them find balance in everything that they do.