Proper etiquette doesn't hold as much social currency these days as it probably should. (All it takes is a cursory glance at any of the reality shows that pass as must-see TV these days to know as much.) But Inga Watkins is doing her part to restore good graces to the next generation of young adults—and those of us who want to know how to place a proper plate setting—through her company Modelquette. Watkins tells mater mea how she turned a lifelong passion for etiquette into a successful business.
"Let's use your grandmother's silver," Inga Watkins says, as she opens a long wooden box, polished to shine just like the flatware inside. "She always loves it when we use her silver."
Watkins' 12-year-old daughter Brea examines a fork handle. "It looks like a peacock feather!" she says, running her finger along the handle's fluted ridges.
The pair pull spoons and forks and knives out of the box, getting the dinner table ready for a family meal said grandmother will be attending later that evening. Brea sets a place for each member of her family—including her father, Samuel, and older siblings Brooke (23) and Samuel Jr. (21). She positions the silverware just so, working left to right: salad fork and dinner fork on the left of the dinner plate, dessert fork at 12:00, and the knife and the soup spoon on the right.
Inga Watkins beams with the pride of a mother who sees her lessons are sticking. Creator of Modelquette, a company devoted to teaching proper etiquette and modeling techniques, Watkins' "lifelong love" of the two were sparked by her own mother, Alzatta Joseph.
When she was 6, Joseph brought Watkins to a photographer to create a modeling portfolio and took her to castings. Though her childhood modeling career was short, she was hooked, Watkins says.
"I remember saying, 'Oh, okay, so if I was a model, I would do this' and 'If I was a model, I would hold my glass like this,' practicing the poses I saw in books and magazines," she recalls with a laugh.
"[My mother] was really strict about her girls carrying themselves like young ladies. She would not beat it over our heads, but [she] made sure we set the table for dinner, sat up straight, [took] ballet lessons, that type of thing."
Inga Watkins would soon get the chance to display her graces to a larger audience. While attending the Fashion Institute of Technology in Fort Lauderdale, Florida and the Wood Tobe-Coburn School in New York City, Watkins landed some of her first modeling gigs as an adult through her fashion school connections. After graduation she modeled abroad in Europe, walking the runways of Greece, Paris, and Italy, just to name a few.
But the fashion world she had always imagined as a little girl was far more demanding as a grown-up.
"I think going in, I did not fully realize the intensity of it," Watkins says now. "It was easy to get burnt out. But I loved, loved, loved it."
Inga Watkins took a break from modeling after marrying her attorney husband Samuel in 1989; they moved from New York to DC shortly after their wedding, and the pair decided to start their family immediately. In 1990 the Watkins welcomed their firstborn, Brooke. Becoming a mother for the first time, while incredible, was also incredibly stressful, Watkins recalls.
"Every moment was about her," she says. "I remember people laughing at me because if her rattle or pacifier fell on the floor, I would sterilize it [immediately]. I don't feel like I carved out time for myself."
By the time Samuel Jr. joined the family, Watkins says, she began to let go a little, and Brea's birth in 2000 found Inga Watkins in a completely different state of mind.
"I look back at [Brooke's] arrival and my third's arrival, and I was just so much more ready, so much more comfortable [with Brea]. I think that with experience and maturity it makes things easier for the next time you experience [motherhood]."
The shifts Watkins made in her parenting approach made it easier for her to transition from being a full-time stay-at-home mom into meeting her lifelong dream: running her own company centered around etiquette. It wouldn't be her first time teaching others about social graces—for a year after college, Watkins taught a group of young women about etiquette out of her family's home. She also taught briefly at The Barbizon School of Modeling in New York City.
While Inga Watkins had mulled over the idea of starting her own business for years, it wasn't until a conversation she had over dinner with several girlfriends that she was spurred to action.
"One of my friends said 'I really feel like I'm wasting my college degree. I want to do something. I want to start a business,'" Watkins remembers. "I looked at her and said, 'Me too.'"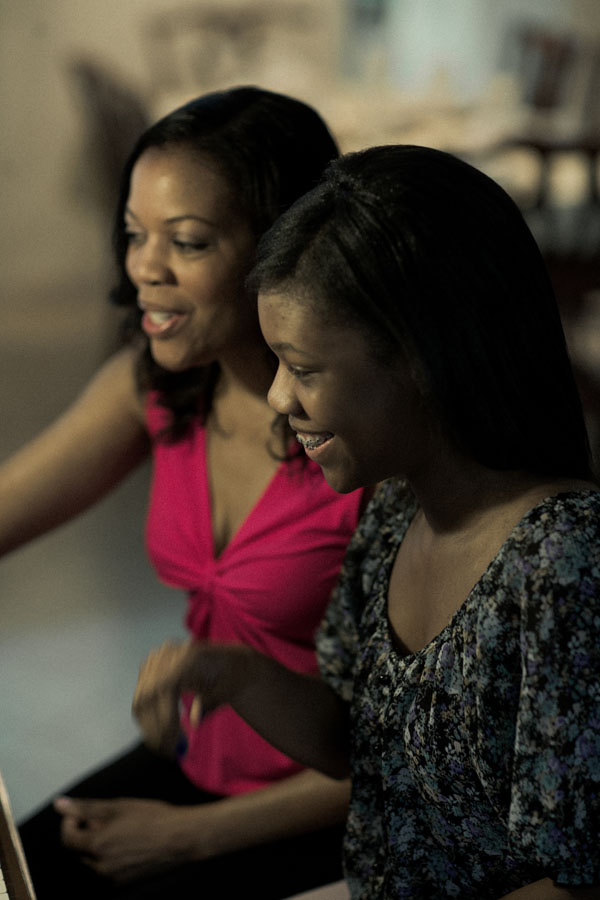 In 2006, Modelquette was born and Watkins began to devote every minute of her free time towards realizing her dream. Despite her initial drive and enthusiasm, Inga Watkins was quickly plagued with uncertainty about Modelquette's viability in a world that often sees etiquette as difficult to learn or outdated.
"It was a scary proposition," she says. "I remember thinking, 'What if nobody cares about this business? What if nobody comes when you offer these workshops?'
"I think a lot of people have misconceptions about [etiquette]," she continues. "They think, 'Oh gosh, this is going to be boring. Some old woman's going to come and hit me in the knuckles with a ruler!' But [etiquette is about] important life skills that our society seems to have walked away from in large part. So I said, 'You know what? I'm going to do it anyway.'"
Inga Watkins spent months working through the night and while her children were at school to perfect lesson plans she created from scratch. Stress and fatigue weren't uncommon during Modelquette's planning stages, but Watkins stood by her "just do it anyway" motto and soon welcomed seven students into her very first etiquette program.
"My first workshop was so awesome—I really knew it was my calling," Watkins says.
That positive energy spread rapidly throughout her community, and soon her workshops grew to include church groups, youth organizations, local schools, and corporations. Now, a half-decade, a book and close to 900 students later, Watkins is glad she took that leap. Inga Watkins has received multiple awards and thank you notes for her work, but one of the biggest honors she's received hit a little closer to home.
"Brea was 5 when I started the company," she says. "The age to begin my program then was 6. There was a group of little girls she knew [who were] in the program, so when she was older, she [asked], 'Can I be in your program too?'
"Her group along with the teenaged girls had this awesome fashion show at the Crowne Plaza Hotel. It was just fabulous. And she says, 'Thank you for letting me be in the show.' It just meant so much to me that she wanted to be involved."
Q&A
HOW HAS BEING A MOTHER CHANGED YOUR LIFE?
I think being a mom just opens you up to sharing with somebody else. If ever you have to put someone before yourself, you're going to put your children [first]. These kids mean everything to me. It's just given me the capacity to see this other level of myself. If I have to say how it changed my life in one way, it's that I feel I have grown as a person in my capacity to be selfless.
FILL IN THE BLANK: I LOVE BEING A MOM MOST WHEN …?
I love being a mom most when I see them accomplish one of their dreams. They have so many. [When] they've achieved a goal or met a milestone, I think I'm happier for them than they are in seeing it come to fruition.
WHAT'S YOUR PARENTING PHILOSOPHY AND HOW DO YOU EXECUTE IT?
I think my philosophy is I want my children to have a voice, but I also want them to be respectful and know that there are boundaries. It's a delicate balance, but I feel that I've been good about not being their friend—because I'm not their friend—but being a parent that they can come to and talk to [and] joke around with. I don't want to only be unapproachable and strict [so that] they feel they can't be close to me.
It was important for us to start early when teaching them boundaries and the importance of respecting your parents and elders in the community. It's important to my husband and I to be open and available. [Yet] if you asked them between both parents who's the disciplinarian, they would say me, hands down. But I look at them now and I'm just thankful for what we did, [and] for who they are.
WHAT WAS THE BEST ADVICE YOUR MOM OR THE MOMS IN YOUR LIFE HAVE GIVEN YOU ABOUT RAISING KIDS?
The best advice my mom gave me about raising kids was [something] she said to me when Brooke, my oldest, was a toddler. She came over to watch her because we were going out, and Brooke started to cry and reach for me.
I'm starting to cry, ready to stay home, [and] my mom said, "Go. Make sure you make time for you and your husband to go out, because when your children are teenagers, and they want to go with their friends, they're going to go. They're not going to be thinking about staying home with you. So go." And I always think about that whenever I'm getting dressed to go out without the kids. I'm like, Good advice, Mom." Because you do need to still have a fulfilled life outside of your children
HOW WOULD YOU DESCRIBE YOUR KIDS' PERSONALITIES?
I think my oldest is very passionate about life. She feels everything deeply, and she's very, very loving. She loves to talk, and is a social butterfly. Samuel Jr. is very low-key—I would call him smooth. [He's] easy-going level-headed, and thoughtful. He has a great sense of humor which I love and which only family and close friends get to see.
Brea is level-headed, very sweet, kind, caring, thoughtful, honest, and very bright. She loves to help others in any capacity that she can if she sees that someone is in need. It is amazing to watch this joy she has in being of service to others, which we first noticed when she was a tiny little thing; she was always rushing to someone's aid and took such pride in being helpful. She also has a great sense of humor. She loves to cook and bakes the best homemade bread. At 12 she has maturity in that she's responsible, but there is no mistaking her sweetness.
HOW DID YOU BECOME AN ETIQUETTE EXPERT?
I became one by studying, [practicing, and] observing. Sometimes you really have to see what works and what doesn't. I also think listening to people [helped]; so many people are annoyed by the same type of things, or are experiencing the same type of rude behavior. That might be an avenue [for me] to say, "Well, let me research [the proper way to handle that].
And [also] reading a lot of the older etiquette books: Judith Martin, Miss Manners, Emily Post, Letitia Baldridge… Those are the older doyennes of the era, but I think what was inspirational to me was knowing that there were African-American [etiquette experts]. I remember going back to the [etiquette] book my sister brought home. It was from the '40s and '50s. I loved the book; there were chapters on everything [and] the women looked so gorgeous. [But] I remember looking at it [and] saying, "Why are there no African-American women in this book?"
[When I began Modelquette] I found that there was another woman back in 1902, Charlotte Hawkins Brown, [who] started a school in North Carolina. It was an academy that taught etiquette and social graces, and it was a really famous and popular school for black woman. So this is not necessarily new in our culture.
WHAT KIND OF PEOPLE DO YOU HOPE YOUR CHILDREN BECOME WHEN THEY GROW UP?
I don't want them to get scared at a no [or] a bump in the road; I really want each of them to give their all when they have a goal. I want them to always be thoughtful of other people, and I want them to achieve [the kind of] success where they're in a position to be a blessing to other people. That would the ultimate success: to be able to be in a position to give back.
YOUR ETIQUETTE COACHING BEGAN WITH YOUNG WOMEN, WHICH IS A DEMOGRAPHIC YOU CONTINUE TO RETURN TO EVEN AS YOUR CLIENT BASE HAS EXPANDED TO BOYS AND ADULTS. WHY IS THAT?
I think our society has gotten so casual in everything, not only in our attire and our appearance, but in the way we interact with each other. It was not so long ago you had grandmothers and mothers giving you home training. Somewhere along the way, we lost that as a society.
A lot of young ladies suffer [from] low self-esteem because they don't have an inner sense of who they are. So where are they going to get this sense? They're going to go to the media, they're going to go to friends, and they're never going to get it that way. They need to feel good about themselves, and they're not going to feel good about themselves if they don't feel comfortable in their skin.
If I could be a part of shaping some young ladies and helping them feel good about themselves, to carry themselves with pride [and] dignity, I think that then I can feel good that I'm leaving a legacy. And I'm not only talking about African-American girls, because I have students of all ethnicities. Just young ladies in general—that's my soft spot. I just hope that I can be a part of helping them in some way to be awesome, dynamic, strong, successful, independent, confident women.