We're just going to put this out there: You have never seen a home as gorgeous and packed with personality as Karen Tappin's. The owner of Karen's Body Beautiful—an all-natural Brooklyn-based hair and body product line—welcomed mater mea into her home, where every wall and fixture pays homage to her family's African roots.
"Alright," Karen Tappin takes a seat on the floor of her spacious and sunny Clinton Hill two-bedroom apartment. She looks around. "I'm ready."
Comfortably swathed in a pair of black yoga pants ("I buy them in every color under the sun!"), she sits with one leg tucked under her, the other outstretched. Between her big smile and even bigger fro, Tappin does seem ready for anything. It's that same take-charge attitude that propelled a then 16-year-old Tappin to decide to start her own business.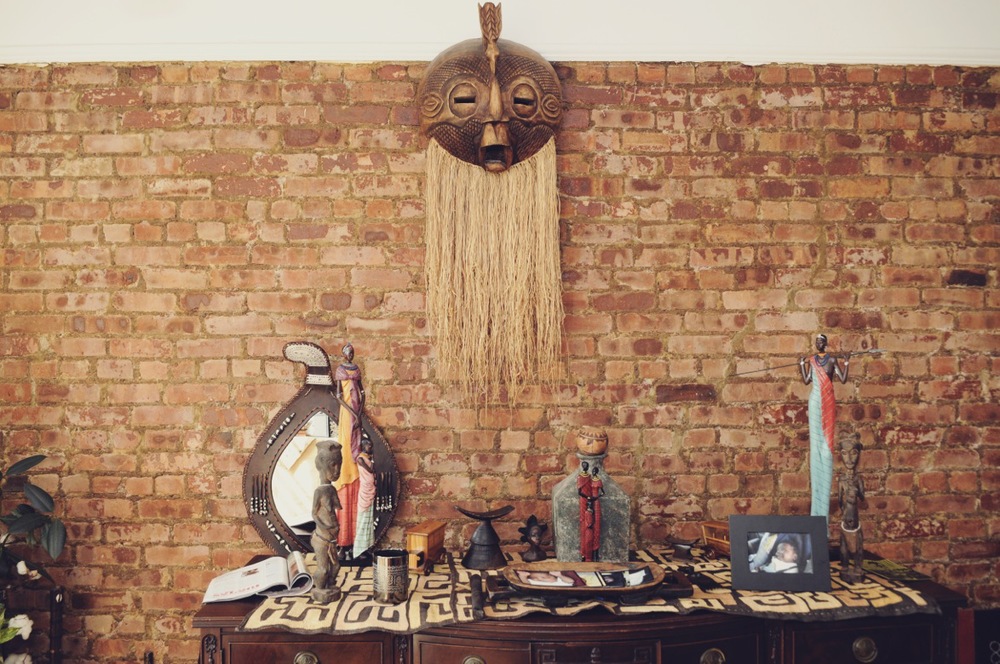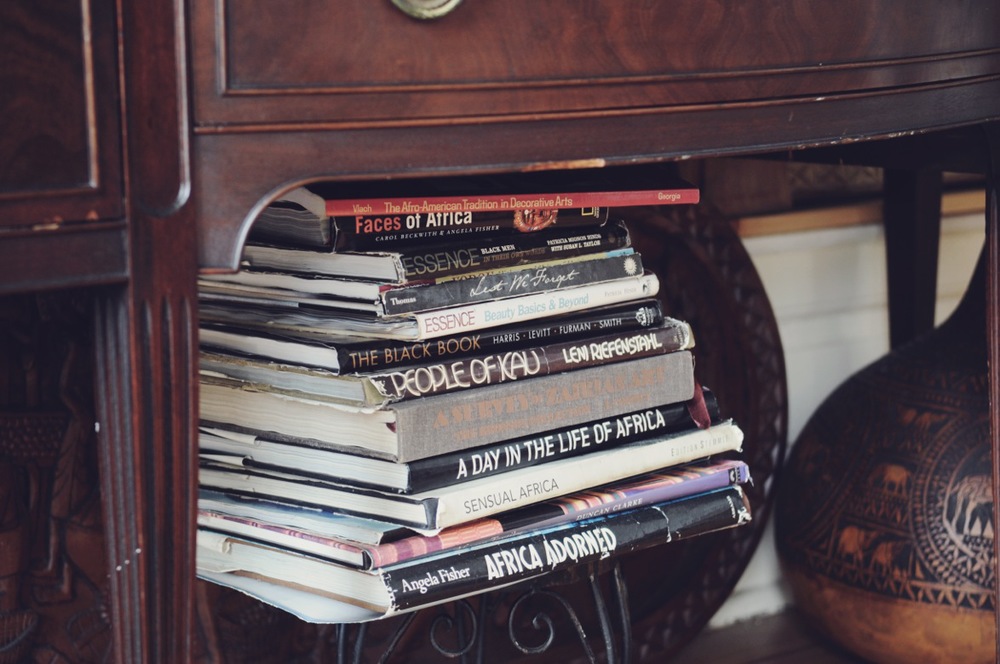 Karen Tappin didn't home in on what her business would be until her freshman year of college: a care package delivery company called Karen's Delicious Deliveries. She remembers her first order—and the huge "Are you like a triple drug dealer?" cell phone it was made on—like it happened yesterday.
"[It] actually came Thanksgiving break. My parents came to pick me up and they were sitting in my room," she remembers. "My cell phone rang and I was like, 'Oh my god, that's [it].' It was a $35 order. That was the beginning. That was it. I never looked back."
Karen's Body Beautiful, her line of all-natural hair and body products, was born from this dorm-room operation after she and her future husband realized that many of her personal care items carried known carcinogens and toxins.
The one thing Karen Tappin didn't feel ready for was motherhood. "When my girlfriends were like 'Yes, I want a big wedding and the baby and my husband,' I was just like, 'Where's the club?'" Tappin recalls. Her collar-bone-length earrings seem to nod in agreement as she laughs.
It wasn't until she met her husband of 12 years, retired African historian Damani Saunderson, that the idea of being a mother and a wife didn't seem like someone else's dream. And even then, she did it her way: a home birth in her living room, with her husband, his sons, her sisters, a midwife and a longtime friend/doula to help her baby enter the world.
"I have no regrets whatsoever," Tappin says of having her daughter Imani, 4. "She's a beautiful child. She's healthy. I couldn't ask for a better human being to be given to me."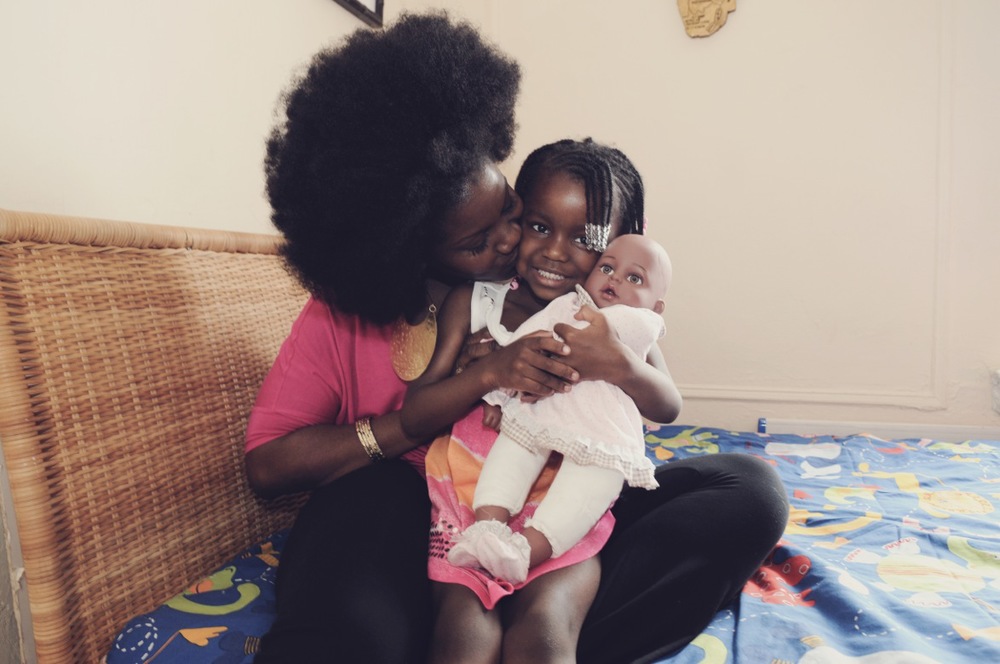 Imani was a regular fixture at the Karen's Body Beautiful store for her first three years until she entered preschool. "You would come into my shop and I would be like, 'Don't mind the nursing baby between us. How can I help you?'"
But whether Imani is strapped to her back or in school, the work-mother balance has its difficulties.
"Being a mom is hardest when I have work that needs to be done [and] she's like 'Mommy, Mommy, I need you,'" Tappin says. However, she does her best to minimize being pulled in different directions. Tappin says she takes care of the "super important things when [Imani's] not there" so she doesn't have to go through that sort of internal struggle.
But despite the difficulties of juggling a successful business and a gorgeous family, she wouldn't have it any other way. "I am living the best life ever," Tappin says. "Couldn't ask for a better life. Love, love, love, love, love it."
Q&A
HOW HAS BEING A MOM CHANGED YOUR LIFE?
I now am totally focused on someone else, not [just] myself. I think about all the things my mother taught me just growing up. It's changed my life. I mean the things people say about the way it changes your life, a lot of it is true. [But] the nurturing kind of stuff didn't really jump out.
I have no regrets whatsoever. She's a beautiful child, very well-behaved. She's smart. She's 4, she's reading, and her math is at a second-grade level. She's healthy. I couldn't ask for a better human being to be given to me.
WHAT INSPIRES THE WAY YOU DRESS IMANI?
Me. I'm not really a dress person so she almost has no dresses. So when people buy her dresses she gets excited. Almost like, "Hmm. See? I like dresses, mommy."
HOW DO YOU TAKE CARE OF YOUR HAIR?
Every two weeks I'll shampoo it or co-wash [washing your hair using only a conditioner]. On those days I will put in the Sweet Ambrosia Leave-In Conditioner, leave it damp, two strand twist it, sit under the dryer. When it's dry, [I'll] pick out the twists. People are like, "That's it?" I'm so low maintenance.
WHAT DO YOU WEAR WHEN YOU WANT TO FEEL YOUR MOST BEAUTIFUL?
I am an earring-nista. I love earrings. I cannot leave the house [without them]. I will go to the gym in these. I'll take them off only when I'm on the treadmill because that would look ridiculous.
WE NOTICED THE COTTON PLANTS IN YOUR HOME. WHAT'S THE STORY BEHIND THEM?
It's kind of recognizing [and] paying homage to our ancestors. My husband's family is from the South. He went to a cotton farm where they pick cotton. And I was like "Wow, we still picking cotton?" And he said, "Yeah, it's pretty brutal." So he brought them up from down South.
IMANI'S INTERVIEW
WHAT'S YOUR FAVORITE BOOK?

Dr. Seuss
WHAT'S YOUR FAVORITE THING TO DO?

Making jewelry: necklaces and bracelets.
WHAT'S YOUR FAVORITE PLACE IN YOUR HOME?

I like my room.
WHAT DO YOU LIKE ABOUT YOUR ROOM?

That I can sleep with my dolly. We can go to sleep together.
WHAT DO YOU LIKE ABOUT YOUR NEIGHBORHOOD?
That there's lot of people in my neighborhood because some people live here.
WHAT ARE YOUR FAVORITE COLORS?

Black, green, and red.