After a certain amount of time and success in a profession, the ambitious start to wonder what's waiting for them beyond their comfort zones. For men's stylist Khalilah Beavers, that meant opening Shirley + Alice, a boutique packed with vintage goodies. She spoke with mater mea about how she took the leap back into retail—now as the owner instead of the employee—while doting on her son, 2-year-old Mosiah, and her four stepchildren: Nzinga, Jordan, Stokely, and Richard Jr.
Although he barely clears his mother's knees, 2-year-old Mosiah has the same view as 6'8 New York Knick Carmelo Anthony right now. Mosiah looks down at the shock of sea-foam blue in stylist Khalilah Beavers' hair as she kneels to adjust his outfit. She makes sure the sleeves of his plaid button down are rolled up just so and that his drawstring cargo pants fit snugly before they start their day.
It's a calm Saturday afternoon in the Bed-Stuy townhouse she shares with her husband, art gallery owner Richard Beavers and their blended family (Mosiah has four step-siblings ranging in age from 9 to 21). But the outfit needs one last touch—a pair of bright orange socks with a grinning monsters' face on them. By Mosiah's pleased laugh, you can see Beavers' styling aesthetic works for men both big and small.
"I think the most important thing is for your clients to feel comfortable," the 31-year-old explained. "No matter what you're picking out, you always have to remember what their personality is like [and] what they don't like. I love to play with color too; I try my best to incorporate [it] into my clients' wardrobes."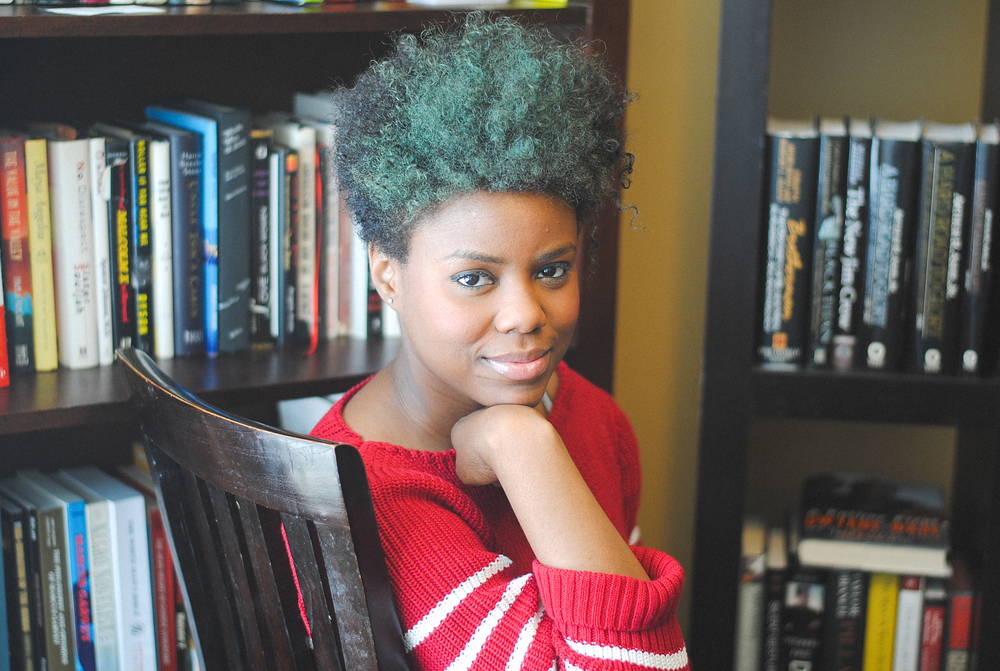 Clients, men's fashion fans, her husband and her son all approve. Khalilah Beavers has been a part of the overall game-stepping of today's professional athlete. After the National Basketball Association required players to follow a strict business casual dress code in 2005, players are having more fun with fashion on and off the court, appearing in the front rows of Fashion Week's men's shows and in the pages of style magazines. Beavers' work with Anthony was recently heralded in an article in the New York Times: "Anthony Gets Fashion Assist From Brooklyn Stylist."
Along with outfitting Carmelo Anthony, arguably one of the most watched men in basketball, Beavers' client list also includes NBA players J.R. Smith of the New York Knicks and Boston Celtic Brandon Bass, as well as hockey player Brad Richards of the New York Rangers. These are men who feel as comfortable in hipster frames and Prada as they do in their Nikes and practice sweats, all thanks to her discerning eye.
For Khalilah Beavers, her enviable clients and accolades are the fought-for perks of a career long in paying dues and learning lessons. The Baltimore native moved to New York in 2002 to pursue her love of fashion, first as a sales associate at Express and later at Tommy Hilfiger. Wanting to get more experience with styling, she began asking stylists if they needed an assistant. She worked the typical New York creative class triumvirate—restaurant hostess, server, and retail associate—until one of those stylists eventually did need an assistant in 2006.
"I think she saw that I was truly committed and very serious about a career in styling," Beavers recalls of the woman who would soon become her mentor.
Styling and assisting quickly became all-consuming as she learned the ropes. "I didn't get to see family; I didn't get to go to graduations, baby showers, anything," Khalilah Beavers says now. "But it was all worth it, because at the end of the day, look what it made me become."
Khalilah Beavers steadily built up her own client base through "networking, word of mouth, and just being really good at [my] job," she explains. "I feel like that's a testimony to what's to be done: If you're great at your job, people come because people see what you're doing." She landed her first client, San Francisco 49er Donte Whitner, all on her own, and hasn't looked back since.
Now more than seven years into her styling career, Khalilah Beavers is ready for something new. She recently opened a boutique, Shirley + Alice by K. Webb Kollects Vintage (434 Marcus Garvey Boulevard, Brooklyn, NY), a few blocks away from her husband's House of Art Gallery.
Named after her stylish grandmothers who helped sparked her love of fashion and jewelry, the store is an expansion of the Khalilah Beavers brand she could only imagine years earlier.
"I really wanted to open a store," after years of thrifting, she explained. "[The idea] didn't really come back around again until I was pregnant with Mosiah. I wanted to do something else. I knew that I wouldn't be working as much, especially after having him. Last year I started looking for a storefront; [in early 2013] we found a space, and it was perfect."
"Perfect" would be an easy enough adjective to apply to Beavers' life (recently married to a man whose devotion to their blended family is steadfast and clear) and her career, with a new store and more styling work on the horizon.
But Khalilah Beavers admits she's not driven by a quest for perfection—only by what feels right for her and her family.
"I'm not the type of person who really plans," she says about opening her store now rather than later in her career. "Sometimes it's to my benefit, and sometimes it's not… Sometimes I get told that I move a little too fast, but there's no perfect time to do anything. From starting a family to planning a business, there's no perfect time to do anything. I just feel like if you feel it, you gotta do it."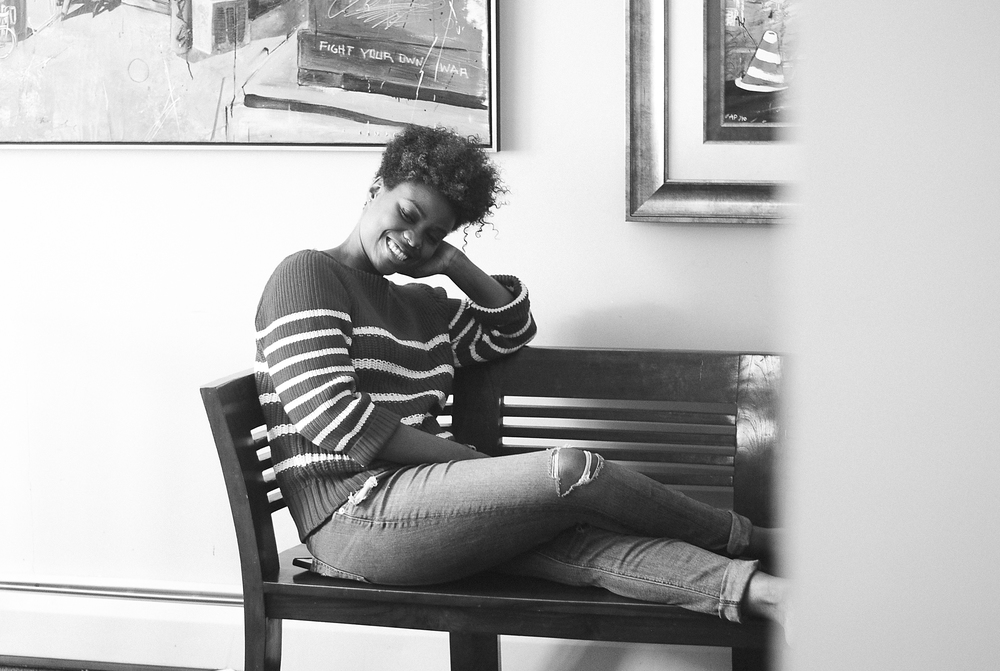 Q&A
WHAT DO YOU ENJOY MOST ABOUT BEING A MOM?
One of the things that stands out for me is when I come home—just seeing his face and seeing how much he loves and misses me. Getting the joy and love from your child, and knowing that you had a part in making this special life and that they depend on you [is great].
ALONG WITH YOUR SON, YOU HAVE FOUR STEPCHILDREN WHOM YOU'RE VERY INVOLVED WITH RAISING. HOW DID YOU AND YOUR HUSBAND HANDLE BLENDING YOUR FAMILIES?
At the end of the day they're all brothers and sisters, so blending the family came pretty naturally for us. We make sure that the kids know what's going on, and that respect and love has to be given across the board. That's pretty much it. We all are family, and we all are here for each other.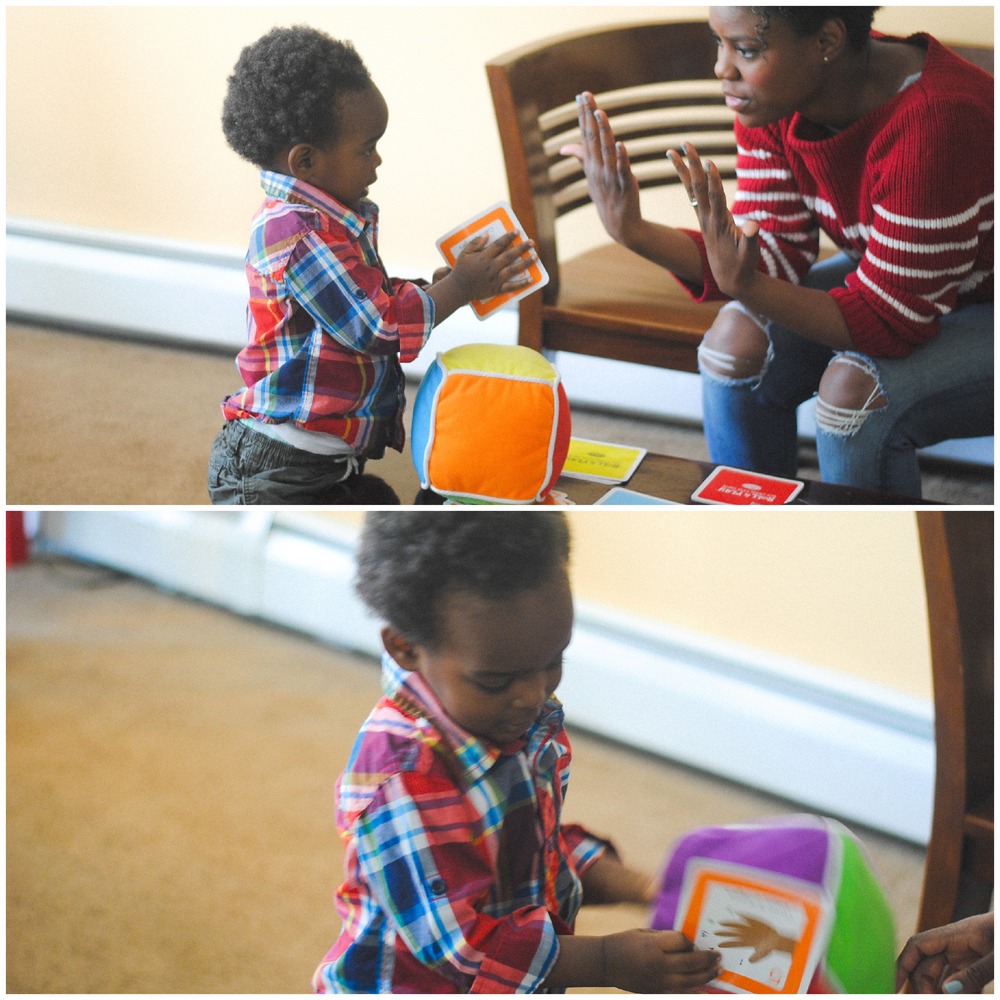 WHAT DOES MOSIAH'S NAME MEAN?
He's named after Marcus Garvey, and it means "the chosen one."
THAT'S A BIG NAME TO LIVE UP TO.
Yes, it is extremely big. But he is already living up to it.
HOW SO?
He's just amazing. I mean, he turned two in November [and] he really is a smart kid. He's having conversations, he loves documentaries, he knows who the President is, he knows who Harry Belafonte is… He likes cartoons, but he would prefer to watch things that we watch. He loves sports; he thinks that he can play basketball already, soccer, everything. And he's two. [I often think], "How old are you again?" (Laughs)
FILL IN THE BLANK: BEING A MOM IS THE HARDEST WHEN …?
Your child doesn't want to cooperate. (Laughs) It's a little frustrating at times, but you just have to remember that he's a child, and he just doesn't know. He knows to a certain degree, but he just wants what he wants in that moment, so you just have to work with him and work through it. Sometimes it may be not feeding into [a tantrum] much because it will pass; sometimes there's something much deeper than that—[maybe] they want your attention—so you have to hug them, and give them…what they want.
SO WHAT'S A TYPICAL DAY LIKE WITH YOU AND MOSIAH?
He goes to a Montessori school, so typically we wake up in the morning [though] we run into a little bit of a problem in the morning getting him up. He doesn't like to wake up; I [thought] we would experience that a little later, but it's happening now. (Laughs)
We have a ritual at this point: [I] make him lunch for school, we eat breakfast, we watch cartoons in the morning or we talk about what he's going to do at school or sing a song in the morning before he goes to school.
[My husband and I] pick him up around 5:30, and sometimes we go to Richard's art gallery—Mosiah really loves it. [Then] we go home and do homework [with] his sister, she's 12.
I cook dinner, he runs around the house, and then after we eat dinner, we start to prepare for bedtime. Take a bath, go upstairs—we read a book sometimes—and then we have to turn off all the lights for him to go to sleep.
WHAT IS YOUR PARENTING PHILOSOPHY AND HOW DO YOU EXECUTE IT?
I don't know if we have a particular parenting philosophy. Our lives are not the typical 9-to-5. He owns an art gallery [and] we're entrepreneurs, so we have to improvise on just about everything: From the time we all get to spend together, to dinnertime, to bedtime—that's one of the reasons why we had Mosiah go to Montessori school. We want to let them know that you don't have to stick to the schedule that the world says you have to be in. There's so many things that you can do in life.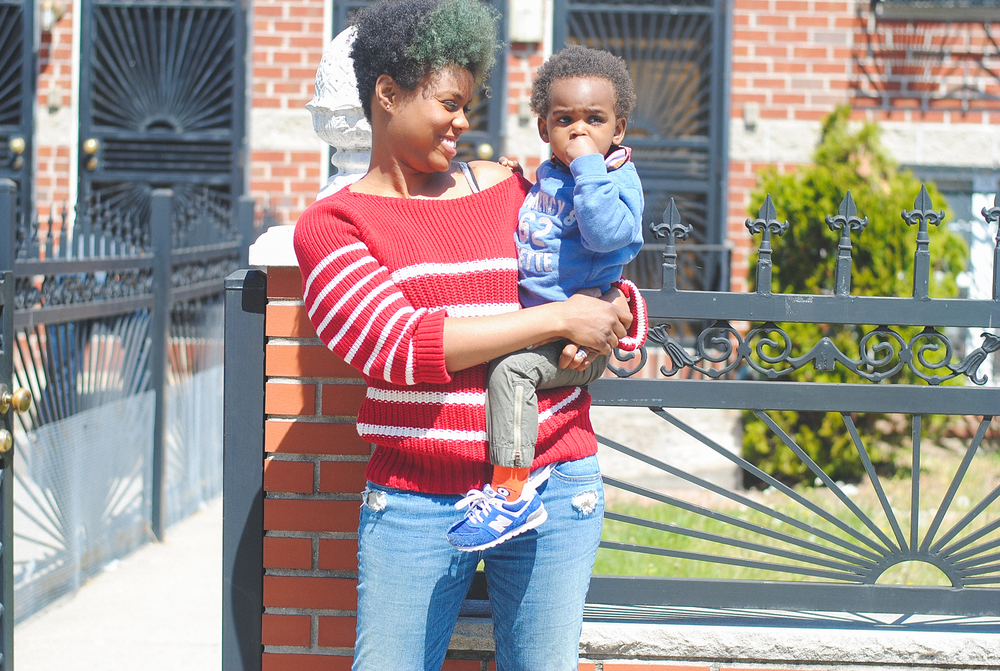 I think that's one of the things that we try to let our children know—that you don't have to stick to the schedule, that you can do just about anything that you want to do. We want our children to look at us as examples, because we're doing this not only for ourselves, but to leave a legacy for [them] as well.
We have a lot going on, [so] we like to spend time together. And when we do, we really cherish it. Even if it's something just like making sure we eat dinner or taking the kids to school together, we know that we need to spend the time with the kids, because it can be gone. I wouldn't call it necessarily a philosophy, but those are the things we live by, trying to be the best parents as possible.
WHAT DOES BEING A MOTHER MEAN TO YOU?
[Being a mother] is something that I wouldn't trade for the world. I look at some [of] the industry people who have come before me—and sometimes they never get to have children. I'm so grateful that I've had this opportunity [to become a mother] and that I still get to do the things that I want to do, as far as working.
WHAT WERE YOUR EARLY DAYS AS A STYLIST LIKE? DID YOU HAVE ANY BIG OBSTACLES TO OVERCOME DURING YOUR RISE FROM ASSISTANT TO WORKING WITH STARS LIKE CARMELO ANTHONY?
You're almost in shock that you're out there on your own with these celebrities. It seems like it just happens overnight. There's so much to deal with, especially with finances involved. If you've never been taught beforehand, It's so hard to know how to manage this influx of money that's coming in all of a sudden. That's one of the things that I've had to learn, to be just a bit more responsible. Initially I think that you run into some bumps. For me, I had a problem with scheduling—I was always scrambling to get things done. So I made a conscious effort to complete tasks ahead of time [and] not to wait until the last minute.
As far as styling is concerned, it's learning what you can bring to the table, learning how you are different, and setting yourself apart from the other stylists that [are] out there. That was one of the biggest things for me—it's like everyone is trying to get into the sports industry now because they see the sports figures are now just as popular as a model or working with a musician. It's just finding your niche, finding out what is important and what to focus on, and making sure that your client's needs are met more than anything else.
HOW DO YOU JUGGLE YOUR STYLE WORK AND YOUR STORE, WHILE ALSO BEING A MOM AND A STEPMOM AS WELL?
It's so funny, because I tried so hard to find a balance in it. And I think that as much as you do try to find a balance, at some point, something gets neglected.
For me, especially this year, I made a conscious decision to create more of a stable environment for my family by completely cutting work off after a certain time. What I don't get done today can wait until tomorrow. Otherwise I'm always going to be working, and I don't want that anymore. That's how I've been able to find a great balance. That time at home is very important, so that's what we've been doing.
My husband and I work together to make sure that if one of us has an engagement or have to work late, at least one of us will be with the kids [so] they're not with the babysitter. That's what's most important: Working together to make sure the household is running effectively, and that [our] time is spent together.