In the age of Google and iPhones, it's hard to remember a time when basic information wasn't readily available, especially for a life experience as universal as pregnancy. Latham Thomas created Mama Glow, a full-service holistic pregnancy outfit to address it. Thomas spoke with mater mea about how she created a revolution in maternal health that has attracted stars like singer Alicia Keys and actress Tamera Mowry-Housley.
"I'm going to be deaf by the time I'm 50!" shouts Latham Thomas, 32, with a big smile. "Or kicked out because of how loudly he plays his music!"
Thomas' 9-year-old son, Fulano Librizzi, stands behind his DJ booth in the pink living room that is the heart of Thomas' home in Harlem. He has been DJing professionally since he was 7 years old, booking gigs for New York Fashion Week, Vogue Bambini, former President Bill Clinton, and the "Today" show, just to name a few. Both Latham Thomas and Fulano nod their heads as he calls up a playlist so funky, so fresh, you wonder why none of the parties you go to feature music as dope as what Fulano is playing on a lazy Saturday afternoon.
Latham Thomas lovingly adjusts the springy curls shooting from Fulano's head as he stares intently at his Mac. To say Thomas loves being a mother would be the understatement of the year—every available surface in her Harlem apartment features multiple photos of her precocious son or saved letters and notes in his slanted handwriting from over the years. It's a love affair that makes up the core of who Thomas is, she explains.
"In becoming a mother, I was birthing my son," Thomas says, "but he was birthing me as a mother and into a different stage of power in my life."
It's an empowering experience that Latham Thomas has replicated for thousands of women as a doula and as founder of Mama Glow, a full-service maternity wellness company that is changing the way women think about pregnancy and giving birth. Her clients, whom include celebrities such as singer Alicia Keys and actress Tamera Mowry-Housley, depend on Thomas and her teachings to shepherd them through their pregnancies.
Though Latham Thomas has provided her services for close to a decade, it seems as though she has been on the path to becoming an internationally renowned maternity guru for years, starting from her childhood in Oakland, California.
"I think that when I was young, I knew that I wanted to be a mom. I didn't really know what that meant," she recalls. "At the time, it was more like putting Cabbage Patch [dolls] in [my] shirt and pretending to be pregnant."
Thomas' concept of pregnancy changed when she was about 5 years old, as her mother and two aunts found out they were all pregnant at the same time.
"[Once] we were all hanging out [and] two [of the] babies—my sister and my cousin—were both having a total ruckus in the belly. We were like, 'Oh my God! People are moving inside their bodies!' It was our first time seeing that. Then we placed our hands upon the belly, and I remember feeling this like…" Here she pauses and sighs before continuing.
"I told my mom it was almost like a rainbow moved through me. It was this incredible experience."
Years later, at 23, Latham Thomas was ready to embark on the same journey she had watched as a child after discovering she was pregnant. Though her background was in environmental science (she graduated with a bachelor's degree from Columbia University in 2002), nutrition and wellness were of a huge interest to Latham Thomas. (She had grown up planting and picking her own food in her family's backyard and cooked healthy meals for her friends in her dorm.) Thomas remembers wondering how she could incorporate those healthy living tenets into her pregnancy.
"When you're pregnant, you're very open and you're vulnerable. You're thrust into this space of wanting to do everything to protect and support the healthy growth of your baby," Thomas says. "I wanted to know everything possible, [and] I also wanted it in a way that was holistic and felt really good to me, that was honoring my beliefs and honoring what I wanted to experience.
"I looked at a phone book [for an OB/GYN]—I know it's a total relic now," she continues, laughing. "I was picking them based on the ads, based on if they paid for a picture ad versus a written ad. I called around in October and they [would say], 'Okay, we can see you in March of 2003,' and I'm supposed to have the baby in July!
"I was just trying to figure out how is it that [in] New York City, you can get a bagel delivered at like two in the morning and go out for Italian at four in the morning, but when it comes to having the holistic resources for the most important process [in your life], there's [nothing]. No resources, no handholding, no information. There's not really a middle ground. You're [either] hippy-dippy, kumbaya birthing on a farm barefoot [and] popping out babies in a squat, or you're [getting] a planned C-section in a hospital. I knew that something was just not right."
Through her own research—a mix of "self-experimentation, going through resources, speaking with practitioners, and vetting products and services"—Thomas was able to create the birth experience she wanted.
"[It] was really powerful and beautiful," she recalls. "I felt that I could do anything. I was connected—the ancestors were in the room with me."
In that moment, everything clicked for Latham Thomas "I knew I had to help moms," she says. "I really wanted to speak to the women who wanted to embrace yoga, be organic, and live a more green lifestyle, but still [be] very urbane."
When Fulano was 2, Latham Thomas enrolled at the Institute for Integrative Nutrition and launched maternity health company Tender Shoots Wellness in 2005, which was rebranded as Mama Glow in 2011. Through Thomas' hard work, word of mouth, and a supportive network, Mama Glow has grown into a movement: Thomas' book "Mama Glow" was published in November 2012, debuting on Amazon at number 1 and now performing well in England; there is an annual Mama Glow Film Festival, which screens movies that shed light on the state of pregnancy and maternal health all around the world; and more women are learning about her work through her appearances on the reality television program "Tia & Tamera."
However, without Fulano, none of it would have been possible, Latham Thomas says.
"I have him to thank for everything that I do," Latham Thomas says. "If it weren't for the birth, and the timing of the birth, who knows how the path would have unfolded?"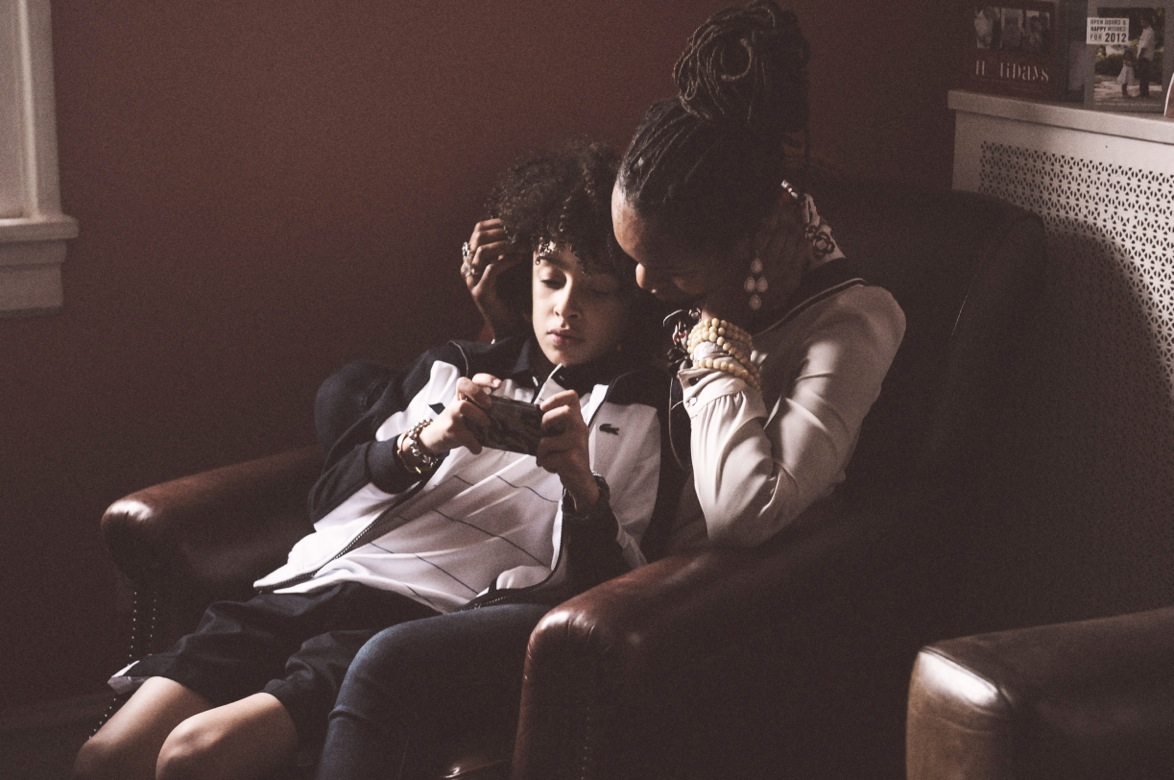 Q&A
WHAT DO YOU ENJOY MOST ABOUT BEING A MOM?
I always reflect and look at the fact that this little person who came out of me is huge now. He's nine, he's a DJ and plays saxophone, and he's into his little things and has his own personality. You think that one day you'll be used to that, but I'm still not used to him. I love that children change and evolve so much in their development that you can never be used to them. There's always something fresh that a child brings—[sometimes] he'll do something with his own sort of quirkiness that I never would have thought to do in that particular way. I love the little commentary and the way that their minds work.
(Laughs) You know, it's the best. The bonding is just so incredible; you carried this person, they come here, [and] you fall in love. It's like a major crush, [but] for forever. Every day he does something that touches my life, and there's no better gift than that. So I can't think of just one thing that I love, but I think that's one thing that I definitely marvel at.
HOW WOULD YOU DESCRIBE YOUR SON'S PERSONALITY?
He's an extrovert, but he has introvert qualities; he's a Cancer, so he can be in his shell. He's very observant [and] can focus very well. He dreams a lot [and] is a big leader. [He] thinks like an adult, so I'd say he's precocious.
He has a certain type of patience, a certain persistence, I should say. Like he'll ask for something, and then you'll say no, and then he'll figure out another way to ask for it. He just doesn't understand the word "no," it's not in his vocabulary.
He believes in justice—he definitely fights for things if something doesn't seem right. He won't stand for it. He tells me he's the lawyer at school, so he defends his friends if something goes wrong. He's always the mediator, the person who will describe what happened as a sort of non-judgmental source. And he's very sensitive—he can walk into a room and he can tell somebody was crying in there, which is also a benefit, because being a boy and being so sensitive is not celebrated in our culture. I try to keep him in touch with that because I think it's part of his gift to look after people through intuition.
WHEN YOU THINK OF HOLISTIC HEALTH, IT'S NOT SOMETHING THAT SEEMS TO BE VERY BIG IN THE BLACK COMMUNITY. WHY DO YOU THINK THAT IS?
I've been meeting people along the way who are doing tremendous work, but I think that [in] the profiling of what is considered healthy, you don't ever see people who look like us. You always see Nordic-looking people, and that's [considered] the ideal look for health. It's really interesting because black women [specifically] are the ones who are affected the most by ovarian cancer, breast cancer, diabetes, and heart disease. We are the ones who are suffering the most, but we are the ones who don't have someone who's speaking directly to us.
There's this interesting protectiveness of our culture in regards to food, because everything seems really appropriated. Our food is now being celebrated as cuisine, but before it was just like peasant food. Now we are so protective of cooking things a certain [unhealthy] way that makes it taste good. But at the same time, [these are] foods we were eating when we were building this country. It was like 17 hours a day working in the sun in Virginia—you could eat collard greens and ham because you needed the fat, you needed the protein to survive. Now we're eating foods that lack the nutrients that they had back then. We are eating tons of processed foods and our lifestyles are totally sedentary in comparison. It's almost like we [don't] even remember that we used to cure and heal ourselves with our foods.
WHAT SPARKED YOUR "AHA MOMENT" TO START MAMA GLOW?
I was writing the book "Mama Glow," and I was sitting with a client and a girlfriend of mine. We were talking, and she was telling me about this doctor's appointment she went to, and the fear that he instilled in her. I [said] "I wish there was a way you could inform and empower women through media." My friends [said] "Why don't you just do that?" And I was like, "I guess I could."
So 20 days and 20 sponsors later, we launched the first annual Mama Glow Film Festival at WellNEST, this beautiful space in the Hampton, with Christy Turlington, Selita Ebanks, and all these wonderful amazing guests and press.
When I went to dinner after the event, there were some guys [who] came up to me and said "Listen, I just gotta to tell you, my mind was blown open today. The things that are happening to women in hospitals…" and just went on and on and on. I'm sitting at this dinner table with Rachel Ash and Haley Binn, the co-founders of Mama Glow Film Festival; we just looked at each other like this is exactly what it's about. It's not about preaching to the choir, it's about bringing people in who have nothing to do with or have no knowledge of [these issues] and igniting a light inside of them they can carry forward.
Then Ricki Lake and Abby Epstein wanted us to do the East Coast premiere of (the documentary) "The Business of Being Born," but we had already done the Mama Glow Film Festival. So we decided to do the Mama Glow Salon Series, which we launched in April 2012; [it] was incredible and well attended as well.
WITH ALL THE THINGS THAT YOU'RE DOING, HOW DO YOU ACHIEVE WORK-LIFE BALANCE?
I feel like work-life balance is a myth. (Laughs) There is a perceived balance, but there is never stillness; we are always in motion. [But] yoga definitely helps me; it's been such a gift to have that. And then to [also] have the support of my son's grandfather, which is basically like having a wife—he's so helpful. I'm really lucky to have him.
I [also] set boundaries. On weekdays, I don't really have conversations at night with my friends because I want to go to bed early [and] I want to spend time with my son. On the weekends, I reserve that time to really dive in and hang out. Certain nights during the week, I'll do some things for myself. I might go out at night once a week or something, but I don't stay out late. And I get a massage—that's a big thing for me too. I just think that you [have to] put an endpoint to where you begin and where you end so people know [what] they can't continue to ask of you—[then] they know that there's a certain point where you're going to say no. But if you never say no, then people just continue to ask you for things and constantly deplete [you].
I believe that "No" is a complete sentence. If you say "no," you're also saying "yes" to yourself. You're saying "yes" to other things if you saying no to things that drain you. "Yes" to things that inspire you. That's kind of how I try to navigate so that I stay energized. Because when I do things that I don't like to, I'm not happy. And that takes away so much of your energy.
WHAT ARE YOUR THOUGHTS ON DATING AS A SINGLE MOM?
It's important to carve the time for personal dating, because you can get in a rut and forget how to date. It's very important in a woman's life to connect and to remember [that] not only is she a mother, but [she's] also a very powerful, sensual being [who] has to express that.
I think when you're a single mom it's so easy to get caught up in your day-to-day, like, "OK, let's hustle. Let's get the kids to school…" You could easily forego your romantic life and even your time with your friends. I think it's so important to romance yourself, to make time for yourself. Get a sitter so you can take a bath and relax, and get a massage, and do things that make you feel really radiant.
And do things with your girlfriends that you would do with a partner if you don't have one yet. [Just] treating yourself the way you would want to be treated in a relationship to develop that awareness and keep those muscles working. Because when a person comes, [and you're] like, "I can do it all! I don't need anything! I'm superwoman!" they don't know how to serve you. You want to be able to be in a space of "I'm ready to be held. I'm ready to be received and I'm also ready to receive what someone is trying to do for [me] as a partner."
WHAT PERSPECTIVE OR EXAMPLE DO YOU HOPE TO IMPART ON YOUR SON WITH YOUR WORK?
Just [the importance of] hard work, and an appreciation for women and the power that they have and what they can do.
He already kind of sees it. I don't hide anything from him, so he learned about menstrual blood very early and understands that. He understands the moon cycle very well already, and he also understands birth. He actually asked me last night for some facts. He says, "I'm writing facts for school, so Mom, can you tell me something interesting about your uterus?" (Laughs) It was so funny that he was asking that. So I told him a fun fact: "Well, the uterus can expand up to 500 times its normal size to hold a baby," and he said, "Oh my God, Mom, that's so cool!" And we had this whole dialogue. He just by proxy learns so much, because he hears me talking about [my work], so he understands in a certain way that many young boys don't.
EVEN GROWN MEN!
Exactly! He doesn't think anything's weird or gross. He's just like, "Oh, yeah, maybe she's bleeding." I really hope that as he grows, he'll be able to be sensitive towards women and really understand that we're totally different, but we need to be honored for who we are.
I know I've already [affected] his work ethic, because he's such a hard worker. He's a DJ and he's very into working and making his own money, because he likes to spend his own money. But I definitely hope that will be something that he continues as he grows up.
OUR ONE-ON-ONE WITH DJ FULANO LIBRIZZI
WHAT'S YOUR FAVORITE GENRE OF MUSIC?
I like classic music, which is from the 1900s. I'm not really into pop, unless it's Michael Jackson or those classic artists that made pop. I just like—well you know—songs that are jazzy and have saxophone. I like soul songs, Hip-Hop. Not all Hip-Hop. I don't like Bruno Mars, I don't like Justin Bieber, I don't like Carly Rae Jepsen. I like James Brown, Tina Marie, Aretha Franklin, Anita Ward, Run DMC, stuff like that.
WHAT DO YOU LOVE ABOUT DJING?
It's very fun that you're able to please a crowd, and get to play music, and get to learn about new music and old music. You get to learn the equipment. You get to do a lot of things because you're a DJ!
WHAT'S BEEN YOUR FAVORITE GIG SO FAR?
When I deejayed for the New York Knicks versus Miami Heat! That was cool!
WHAT'S YOUR FAVORITE SONG RIGHT NOW?
I don't have a favorite song, but a song I've been listening to a lot is called "All the Way to Heaven" by Doug E. Fresh. I just like the beatboxing part it has in it.
IS DJING SOMETHING YOU WANT TO DO FULL TIME WHEN YOU'RE A GROWN UP?
When I grow up, I want to have a lot of jobs like my grandfather. My grandfather had about like 10 jobs. Well, because it was the 1900s, he grew up poor. He had lots of job. And then eventually he moved to New York—he had enough money—and then he became an art dealer, and that's his job now.
It's not that I want to have a lot of jobs. It's just [I have] lots of things that I dream of. Like I want to become a professional basketball player, I want to be in the NBA. I wanna be a professional DJ. I wanna be all these things. I want to be a hotelier, I wanna be a restaurant owner, I wanna be a zoo owner, I wanna be a snake breeder, a marine life breeder… there's a lot of things I want.