Wardrobe stylist Mengly Hernandez has a laid-back attitude that may seem out of place in the hectic, go-go-go pace that is her native New York. But her relaxed approach to life has seen her through a series of life changing events (like her 13-year-old son Ousmane, at 18) that have made the 32- year-old mom stronger. Hernandez spoke candidly with mater mea about how she got to where she is today: a successful businesswoman and confident mom.
When Mengly Hernandez talks about herself, she often references a self-imposed wall that can create an air of chilly remove around the petite 32-year-old single mom, sometime model and full-time stylist and entrepreneur.
"I'm definitely more cautious," Hernandez says. "I've always been a little more guarded so I really take my time with people."
It's a statement that has a really hard time sticking though, with each warm, husky laugh or offer to hook mater mea up with the Dominican hair products Mengly Hernandez swears by that she finds in Washington Heights, the neighborhood she calls home. But when you consider that her 13-year-old son Ousmane is standing right next to her behind that wall, the desire to create some distance starts to make sense.
"I had my son when I was 18, and it was very, very, very, very challenging," Hernandez says, stressing ever "very." "I was forced to take a semester off [of college] because I had to give birth."
Mengly Hernandez went on to get her college degree while working 9-5 at a swimwear company in the Garment District; to say juggling work, school and a newborn was difficult would be an understatement, she says. "It was overwhelming for me because I had school assignments, I had to breastfeed and organize my job. Luckily I've always had my mother around to help out, but it [was] still overwhelming.
"But somehow, you kind of make it through and you become a stronger person for it," she says. "And here I am. My son is almost 14 [and] he's a great kid."
At the mention of her son, Hernandez lights up, her voice—usually a half a beat slower with the unmistakable accent of a native Dominican New Yorker —becomes more animated: You begin to see what life behind the wall is like for the two of them.
The two are very similar, she says, down to their shared business savvy ("He just has great marketing ideas. I'm like, 'You're going to be helping me out!') and eclectic style.
"Sometimes he'll stay over at [his grandmother's] house and she's like, 'You are not going out the house like that. You have like three patterns on!" Mengly Hernandez laughs. "And I'm like, 'Wow, that looks dope! I like that!'
"I'm more of a free person," Hernandez shares. "And my son is a reflection of that."
As is the happenstance story behind how she became a stylist for magazines and big-name companies. Hernandez's look (and that aforementioned aura of cool) has captured the attention of photographers and fashion brands for years—It-girl label Madewell featured her in their "Styled By Real People" section online.
"I met someone at a party years ago," she remembers. "[She] approached me and asked if she could photograph me." The woman turned out to be a stylist; the two chatted for a bit and exchanged numbers, with Hernandez not thinking much of the chance encounter.
"I have a friend of mine who has [styled music videos]," she says. "She's been in the industry forever. So I saw what she did [and] it was never appealing to me. I just saw her lugging bags."
Less than a month later, the woman called Mengly Hernandez and asked if she would be interested in assisting her on a job with Trident gum. Since her job as a PR liaison and creative director's assistant at a fashion label had come to an end, Hernandez said, with her signature laissez-faire attitude, "That sounds cool. Whatever."
One shouldn't confuse taking life opportunities as they come with a lack of direction. After learning the ropes as an assistant under her new friend, Hernandez eventually struck out on her own. She has since established an impressive client list—Bloomingdales, InStyle, Elle Sweden, and Motorola all rely on her skills. And while it's definitely more than schlepping bags, it's far from glamorous, Hernandez reveals.
"It's a very intense job," she says. "It's a lot. It's invoicing, it's keeping track of your inventory. It's trying to make your clients happy. Trying to find that specific color that they're requesting because they saw it in the mood board."
Despite the less than glam life behind the scenes, running her own business suits Hernandez's entrepreneurial spirit. Along with styling, she also sells all-natural body oils made from peach kernel oil, lemongrass and geranium. "I have my own little concoction going," she shares. She recently partnered with ceramic jewelry designer Sheila Cox on a limited edition of her oils featuring Cox's handmade bottle stoppers. And lest we forget, there's Wholly Aesthetic, the line of shawls and linens she designs and sells on Etsy.
With all that she does, Mengly Hernandez is living an example she hopes her son will follow as he gets older. "I want him to create," she says. "It keeps you going, it keeps you happy. It develops you. I wish for him to always use that as a tool in his life to become a better person."
Q&A
WHAT DO YOU ENJOY MOST ABOUT BEING A MOM?
I enjoy learning the most. My son is an old soul, so I've learned a lot from him.
WHAT HAVE YOU LEARNED FROM HIM?
He inherently knows certain things that I just didn't know at his age. And I don't think it has to do with the new generation, or the hormones they put in the milk, or whatever people say. I just think he's a very wise person.
He's also very savvy, even marketing wise, with my oils or with my scarves. He's always giving me feedback. He's a cool little kid.
HOW DO YOU FEEL ABOUT HIM STARTING HIGH SCHOOL?
There's a part of me that knows he's always going to be alright, because he's grounded. But at the same time, high school is very transitory, you know? You have all the hormonal changes. It's a bit nerve wracking in one respect because you think about the outside factors, but at the same time if you feel good about your child—and you feel you gave them a good foundation—then you have faith that they're always going to be alright.
I feel like with kids, it's a day to day process. Some days are great, smooth sailing, he wakes up on his own, he gets his own stuff going and then there are days when he gives me an attitude in the morning. It just depends.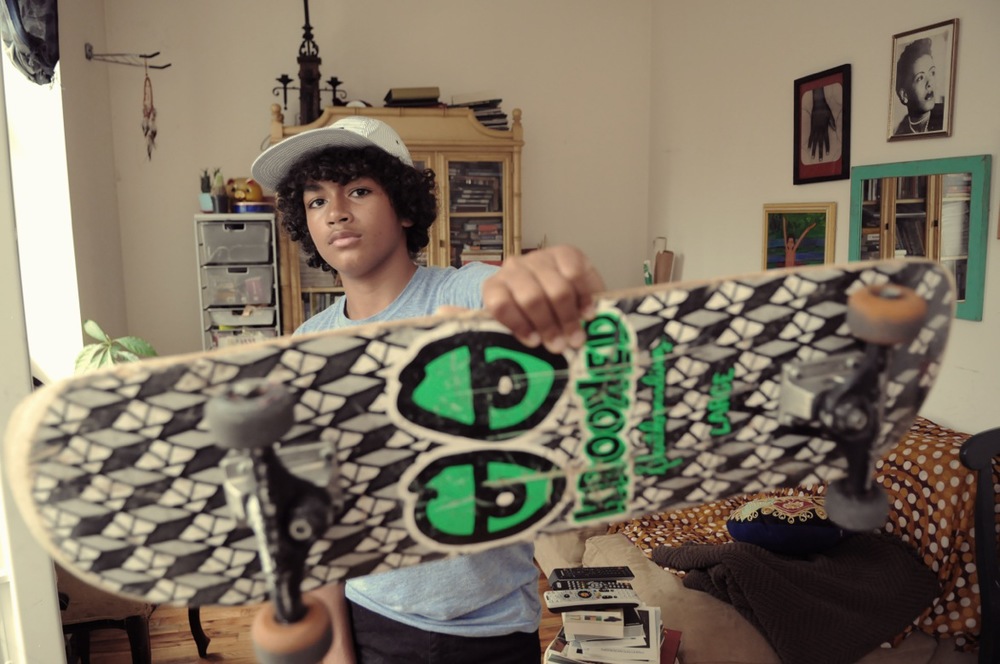 WHAT INSPIRES YOUR PERSONAL STYLE?
I love textiles and patterns. But also strong women. My grandmother is one of my biggest inspirations. Women like Frida Kahlo, Yayoi Kusama. She's a Japanese artist who basically created painting as therapy because she was abused as a child. She's amazing.
"I DON'T FOLLOW TRENDS. I FLOW, I GO OFF MY MOOD. WHATEVER I'M IN THE MOOD FOR."
DO YOU HAVE A SKIN, HAIR, OR HEALTH REGIMEN?
I make my own oils. And before I made my own oils, I used coconut oil. I got it from the Indian store. I use that in my hair and on my body.
I try not to use anything that's artificial because I have sensitive skin. [My] hair, it's very straightforward. I wash with usually Dominican products. My deep conditioner is Dominican because it suits my hair. Those are products that are usually made in Venezuela or Brazil, where women have the same texture as my hair. It's very hydrating and good for untangling.
FILL IN THE BLANK: I FEEL MOST BEAUTIFUL WHEN …?
(Sings) When I'm happy! And when I'm in love. But I guess when you're in love, you're happy.
"I LOVE BEING A MOM WHEN I FEEL VERY BALANCED."
"BEING A MOM IS THE HARDEST WHEN I'M STRESSED OUT AND NOT BALANCED."
HOW DO YOU ENSURE YOUR LIFE IS BALANCED?
I do a lot of yoga. Yoga, meditation, writing. My to-do lists keep me centered. It can go both ways: Sometimes my to-do list drive me crazy, because I'm like 'Sh*t, I have not done what I needed to do.' (laughs)
But yoga really, really has helped my life, specifically for the last six to seven months. I've embraced it fully. I practice between four to five times a week. It keeps me healthy, it keeps me balanced, it keeps me positive.
WHAT'S THE BEST PERK ABOUT YOUR JOB?
I love the fact that when I'm working on a job I get to visit a lot of stores and showrooms. I get a sense of what's happening trend wise because I don't follow trends. I love fashion on a personal level. I respect what great artists do with fabric or accessories.
WHAT DO YOU WANT TO TEACH YOUR SON THROUGH YOUR WORK?
To be a good human being. That's number one to me. I've always told him since he was a kid, "Ousmane, you're a wizard. You can do whatever it is you want to do without your brain being a hindrance."
WHAT DO YOU THINK ABOUT THE IDEA THAT WOMEN CAN'T HAVE IT ALL?
I just feel like you can't have it all. It's not possible. As much as we want to, you only have a certain number of hours in the day. You only have so much energy. And that's basically it. It's challenging to have children where ever you have them. If you're a great parent and you're fulfilling your child's spirit, education, everything, it's going to take work. Your nanny can't do that for you.
Women that choose their careers and wait til they're 40, 50 to have a child… You may have more money, but you don't have the same energy level. It [also] may be harder for you to conceive.
Someone like me who had a child at 18, I can say I missed out on certain things, but not really because I've never been the type of person who likes to go to clubs and that sort of thing. I feel like it was kind of great for me in a lot of ways.
IS THERE STILL A STIGMA ABOUT BEING A SINGLE MOM?
Listen: If you can be with your child's father and be married, fantastic. Because both parents need to help. You can raise a child by yourself, but if you have a son that son needs a male figure. Whether it's friends, whatever it is, they need positive role models. So if it's through your husband that's even better. But I don't think it's necessary.
Is it more of a strain on that single parent whether it's a male or female? Absolutely. It's so much work. I was practically a single parent for many years. Now I have more of a support system because my son's father helps me with everything that has to do with my son and I see the difference.
Right now I'm not the coolest person to my son but he idolizes his father. So it's perfect because I can call up his father and say, "Listen, I need you to handle this" or "Call him up and talk to him." And that has an affect on him.