Running with the bulls in Spain, dancing in discotheques in Berlin… travel and excitement were Nicole Blake's two biggest priorities as a young American expat living and loving abroad. But when she was suddenly struck with a strong desire to become a mother, it all came down to one: her daughter Arianna. The blogger behind the popular travel blog Nicole is the New Black shares how she's raising her German-born daughter as an American abroad.
For most of her life, Nicole Blake thought her career—one that has sent her all over the world and puts her imaging science degree to good use—would be her top priority.
"I was never that girl [who] wanted children, wanted to be married, wanted a family," Blake says now. "I think for a very long time I focused on achieving certain things in life [like] traveling, so I just focused on ticking countries off of my list."
But when her daughter Arianna, affectionately called Poppyseed, was born, Nicole Blake decided to let her career take a backseat. (She currently works part time for a technology company.) "Honestly I can't see myself going back to full time," she says. "They money would be nice, but working part time and having a baby is already a full-time job."
So much has changed since Blake first started living abroad eight years ago. Best known as the woman behind travel blog Nicole is the New Black, Blake has been to 37 countries on five continents. Blake's travels and adventures as a black expat abroad have brought her tons of followers. (Mother and daughter have done their fair share of traveling together, too—"We just came back from Sweden. We've traveled in Germany [and] we've gone into Denmark to visit her dad and his family.")
Born and raised in New Jersey, Nicole Blake went to school in Rochester, New York, then had four major work-related moves in a relatively short time frame, going from Lexington, Kentucky, to Washington D.C., to London, before finally landing in Berlin, Germany where she lives now.
"There's so much diversity here," she says of her new homebase. "The cost of living is so affordable, and it has accommodated me for every aspect of my life."
Five years into living there, Nicole Blake calls Berlin her "kindred spirit," a distinction that makes sense: She owes much of who she is and what she does today to the city.
"I wrote one of my first entries on a house hunting trip after I had gotten the job here," she explains. "People would say, 'Your life is crazy; you used to live in London and now you live in Berlin. How?' I was tired of answering the same questions over and over and over again, so I thought, why not just write about it on the blog?"
Berlin has also seen her through a series of major changes, from the ending of what she thought was a lasting relationship to becoming an unexpectedly single mother. How did a woman who was "never that girl," end up becoming a mom? "It literally was like a switch went off in my head," she says. "'I want to be a mom. I want a family. I want to build a unit with someone.'"
Even though Nicole Blake knew she wanted to have a child, her road to motherhood was a bit complicated. Her partner at the time told her he wasn't interested in having children. "He said, 'I'm older, I already have two kids of my own'" she recalls now. "'I don't want to have more kids. So, I'm gonna let you go, and you [can] find someone who can give that to you.'"
Nicole Blake took the break up in stride, and enjoyed her time as a single woman in Berlin. "The nightlife is off the chain," she says. "Leave work, go out, come back to work in the same clothes I had on the day before. Dating men from all over the world, all walks of life. It was just a crazy lifestyle."
But a year and a half later, Blake's ex came back into her life. He told her, "'I want you, and you want kids, so let's do it,'" she remembers. Nicole Blake jumped in with both feet and, in true globetrotter fashion, discovered she was pregnant after a trip to Spain, three months after the couple decided to try to conceive. "It was right after I came back from Pamplona, running with the bulls," she says, laughing "Leave it to me, risking my life, doing something reckless. Glad I got that out of the way! The universe was like, 'Slow your roll!'"
She was excited to be expecting her first child, but the pregnancy wasn't easy. "It was like I had every symptom possible," she says. "Nothing was comfortable. Getting out of bed was horrible. And then I developed pre-eclampsia."
Her doctors worried that stress was exacerbating her condition, a diagnosis she agrees definitely played a part. "Her father dumped me when I was eight weeks pregnant, and so it was like a dark cloud was over the entire pregnancy." This darkness combined with her workload resulted in her doctor putting her on bedrest when she was five months pregnant. Thanks to Germany's health care system and generous maternal health leave policy, Nicole Blake was able to finally relax.
"I got 100% of my pay to stay home," she says. "The benefits are serious. They said, 'You're not sick, you're pregnant, and if you keep going to work and doing what you're doing, you're going to put the baby's life at risk. It's for the protection of the baby that you have to stay home.'"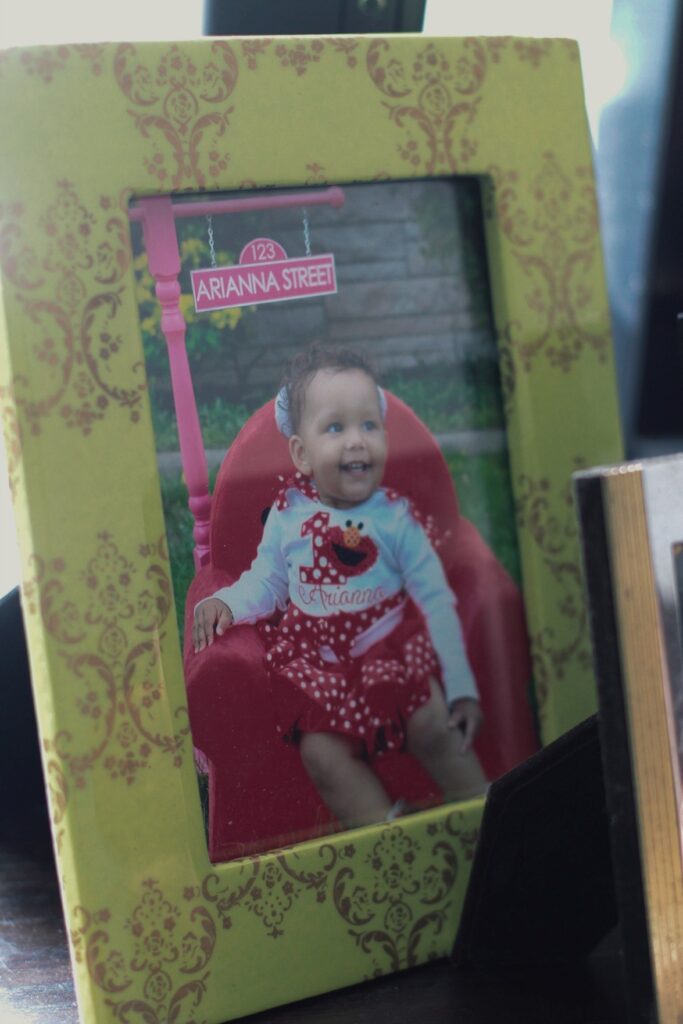 The time off allowed Nicole Blake to take a trip back to America and spend some time with her family. "I got to be just a daughter and a sister before I became somebody's mom," she says. "Everybody spoiled me."
Shortly after returning from the States, Arianna was born in Germany. Arianna has changed every aspect of Blake's life, down to the way she identifies herself. "I have a newer sense of responsibility," she says. "I have to consider her and the impact on her in all things. Before I would say, 'I'm a woman first, [then] I'm black, I'm a daughter, I'm a friend, I'm a sister…'
"[Now] I am a mom first, and that's a really big shift for me, considering I used to travel all over the place, and date who I wanted to date, and go out when I wanted to go out," she continues. "It's taught me a lot about myself and it's taught me a lot about love. Sometimes I don't like her, because she can be a handful, but there's this incomparable love."
Q&A
HOW DO YOU JUGGLE BEING A PRESENT MOM WITH YOUR CAREER AND YOUR BLOG?
Not very well. (Laughs) The blog has suffered the most. It's definitely the ball that I've dropped, which is unfortunate because there are people who have been loyal readers from the very beginning. They've been very supportive. I'm trying to post something at least once a week.
The blog is also evolving with me. At first it was just hair and then it was purely travel, but now I'm not traveling as much because of the baby and the finances. I might start sharing my pregnancy story, or my feelings about being a single mom, or trying to date while being a single mom, stuff like that.
HOW WOULD YOU DESCRIBE ARIANNA'S PERSONALITY?
She is happy. She's always smiling, laughing. Of course she cries, but she waves at everybody, blows kisses; she's a social butterfly. Everybody says she gets that from me, but I don't like everybody. Arianna likes everybody, and if she doesn't like you, your aura is all the way off, because my child smiles and laughs at everybody, even when she's tired.
HOW DO YOU WANT TO RAISE YOUR DAUGHTER AS AN AMERICAN EXPAT IN GERMANY?
I would like to raise Arianna as an international child who happens to live in Germany. I'm American by citizenship but was raised in a very West-Indian household. Her grandparents on her father's side are very active in her life so she has exposure to the Danish side of things, combined with the fact that she lives and will be educated in the German school system.
Of course her primary cultural influences will be German. But I hope that I can tackle some of the things in German culture that I don't particularly care for. For instance, manners are a bit different here. Arianna says "thank you" all the time. [It's] something I say to her when she does what I ask, or hands me something, or gives me a hug. She just knows that when you receive something, you say "thank you." Normal German kids and adults don't do this. They have their own version of manners; I hope she adopts the American version.
On the other hand there are German things I plan to embrace. For instance, children often go on week-long trips away from home as early as 3 to 4 years old here with their daycare and parent chaperones. When kids are older, like 12 or so, they sometimes have international trips to other countries in Europe. Kids take public transport by themselves or walk to school as early as 6 here. This would never happen in the States. There just isn't this looming fear or reality of kids being attacked or kidnapped in Germany. Children have the freedom to be children for much longer.
HOW DO YOU RECONCILE WHERE YOU DAUGHTER LIVES WITH YOUR OWN UPBRINGING?
I think my planned method of parenting will come under fire during the teenage years. German children often have sleepovers with their boyfriends/girlfriends at the early age of 16. I don't play that. If she does manage to convince me that she is responsible to date at 16, she ain't having no sleepovers. To me, partaking in adult activities with a mindset of child have not won Germans any favors. They play house at too early of an age, don't value marriage, and spend years in various relationships, resulting in crazy patchwork families.
In the end, her childhood will probably be very similar to my upbringing. Outside my home was Newark, New Jersey with all its charm, but inside the house I was raised by a strict West-Indian mother and grandmother. I knew I was different and I probably resented it at times but as an adult I totally appreciate it. I also will disregard aspects of my upbringing that I don't agree with. For instance, I don't plan on "whoopin" or beating Arianna.
At the end of the day, I do have confidence in my ability to make decisions, but at the same time I appreciate the ability to ask. It's hard for me, I think, because it's just me. Or when I'm sick! That's really when I [think] "This single mom stuff is no joke." Even when I'm sick or I'm throwing up, I still have to take care of her. And she's looking at me like, "Why are you running to the bathroom every five minutes, mom? I'm bored, I need a hug, I want to play." So I think that's the hardest part: doing it all, all the time, never, ever, ever turning off.
HOW HAS BEING A MOTHER CHANGE YOUR LIFE?
I have never felt as close to women as I have since becoming a mom. My network of moms is ridiculous—it's like a sisterhood.
[They're] sharing clothes and recipes, dropping off casseroles right after you have the baby, holding the baby so I can take a shower. [There are] just so many hands willing to love and accept my daughter. I received countless pieces of advice and help from other mothers because they know and they can relate. I was cool with women before, but now I'm just like, how can you not respect women? How can you not appreciate women when they are really, the foundation? They've been my rock.
Even women I didn't even know that well have become like sisters to me, because we share the fact that we have children or we're single parents. I think for the most part, just the women that have come into my life, after having a child, have just been amazing. I could have never imagined that I would think even more highly of women, but ever since being a mom… it's crazy.
WHAT'S THE BIGGEST CHALLENGE YOU'VE FACED AS A MOTHER?
I think my challenges stem from being a single mother. I'm a discusser. If I'm packing for a trip, I need to ask somebody, "Should I bring this? Have you been there? What's the weather like?" Before I make a decision, I'm always going over stuff. The hardest part about being a single mom is you don't have anybody to bounce ideas off of when it comes to the baby. Do I send her to an English kita [daycare]? Do I send her to a German kita? Should I send her to daycare when she has a fever, or is this really a fever?
WHAT KIND OF PERSON DO YOU HOPE SHE BECOMES AS SHE GETS OLDER?
I hope I don't start crying… I don't know what type of person I envision her being, but I hope that she doesn't feel conflicted about her dad not being here. I don't care that her father and I aren't together, but he really isn't as involved as he could be, or as he should be. I would hate for her to feel that he rejected her. I hope that she will realize that things happen in relationships and most people's issues or reactions to you have to do with themselves. It wasn't anything to do with her.
It kind of hurts my heart when I see men with their daughters, especially biracial girls with white fathers. Why doesn't she get that? She is lacking it. She is friendly to everyone, but tall white males with blue eyes, she just gravitates toward them. And I wonder, "Does she know? Does she think that guy's her father?" Then again, it could just be all in my head. Maybe she's like that with every guy, but I feel really emotional when I see it. I just really hope that I give her enough love so that she doesn't miss her father's love.
AS A SINGLE MOM AND AN AMERICAN, HOW DID YOU GO ABOUT BUILDING YOUR SUPPORT NETWORK IN GERMANY?
My network in Germany, believe it or not, started online. Because of the blog and Youtube videos a few people found me. Other people I found on message boards for English speakers in America or Facebook groups. I also have great coworkers who I consider like family and even have an amazing neighbor who also acts as Arianna's play dad. She calls him Papa. He helped me so much during my pregnancy, building nursery furniture and carrying up the groceries. He loves her so much. There is also another good male friend of mine that adores Arianna. He met her when she was 10 days old and they have been the best of friends since. I am so happy she has positive male figures in her life.
I also have family that live in the south of Germany. They won't be there forever and plan to repatriate but its good to have family close for holidays when I can't make it back to America. We see each other four or five times a year. We have been super fortunate.