As one half of the lifestyle blog Urban Bush Babes, Nikisha Riley acts as a knowledgeable best friend for thousands of women interested in everything from natural hair care to a good Moroccan chickpea soup recipe. With her street style model good looks, it's easy to mistake her serenity for a life devoid of problems. The recently affianced Riley, 29, talked to mater mea about having her son, Jaden, when she was 16 and what dating in New York was like as a single mom.
Rihanna's "We Found Love in a Hopeless Place" might as well have been about dating in New York City. In a city noted for its tendency to attract… characters… it makes trying to find "The One" feel more like a mix of improv comedy and contact sports without pads, even for a gorgeous and wildly successful lifestyle blogger like Nikisha Riley. (Yes, she's that Nikisha—the co-founder of Urban Bush Babes, which has over 6,000 Facebook fans and 4,000 Twitter followers eating up her thoughts on natural hair, fashion, music and life.) But Riley had more reason than most twenty-somethings to feel guarded about dating in the Big Apple: her 12-year-old son Jaden.
"I've dated a lot of doozies," Riley laughs. "[But] I learned that I wanted somebody that I would love Jaden to be if he were older. I can look at a man and be like, 'You know what? If Jaden could be this man, it would be great.' It doesn't make any sense to date someone that you would not want your children to end up being like."
After all those "dooseys," Nikisha Riley is now enjoying being engaged to graphic designer / aspiring director Carl Brunson; she's getting ready to leave New York City for the Virginia / D.C. area with her husband-to-be and son in tow.
"I looked for someone who was stable, very smart, outgoing and could do things with us, like bike riding, hiking," Riley shares. "Someone who was very family oriented so they're not about partying. Someone who wanted a real commitment and enjoyed being around kids.
While the initial shock of being a teen mom definitely took a toll on her, it didn't keep Nikisha Riley from pursuing her own education. "Right after I had him, I went to college," Riley says. "He was only three months old. It was really tough because when I didn't have anyone to watch him, I would bring him to class with me, bottles, everything in tow. I'd be home doing work on the computer [and] falling asleep. I grew with him."
After a brief stint with modeling and acting, Nikisha Riley later went back to school to get her master's degree in education. She now teaches a preparation course for students who have been accepted to Lincoln Technical Institute out of their Brooklyn office, after teaching at an elementary school for a bit. "I still get to help people everyday I go to work, which is great," Riley says.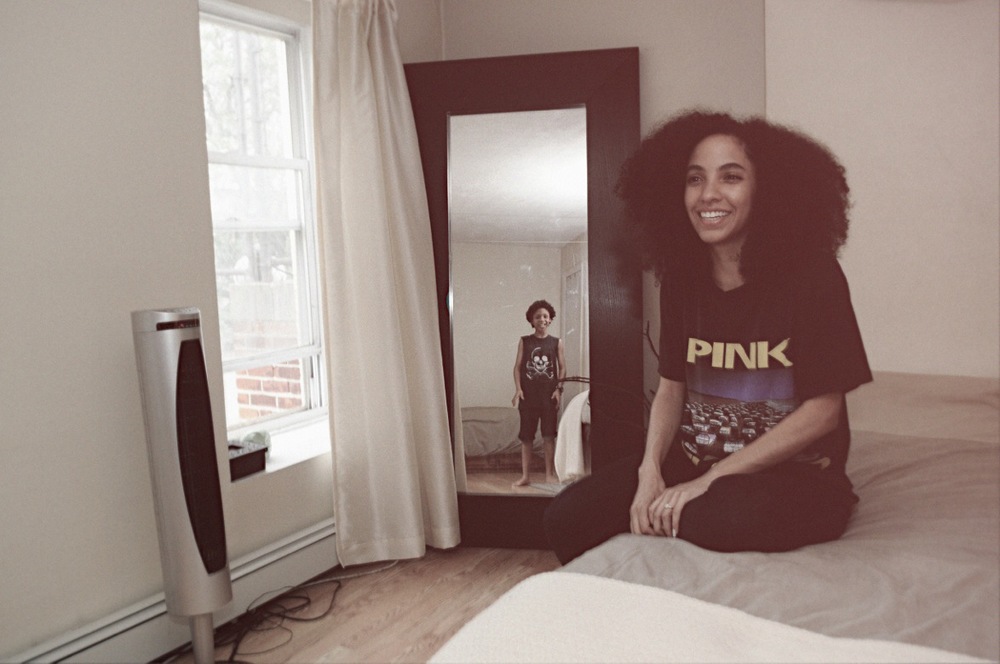 "My son needed to see what a real man looks like," Riley continued. "Because he's not going to get that version of a man from me. I'm a woman. I can teach him but so much."
Perhaps Nikisha Riley is being a little too modest—Jaden can stand to learn a lot from his mom, who had him when she was 16. Having a child so young was an experience Riley says was "really scary."
"I was in shock," Riley recalls. "I thought the doctor made a mistake and switched my urine test with someone else's. I was also terrified of everything! Terrified of what my mom, my family, my friends, and everyone at my high school would think, terrified of what would happen with my life. I felt like everyone was ashamed of me and tried to talk me out of having him. God is good though, he gave me the grace to keep him through one of the toughest times of my life. I raised him on my own with the help of my mom when she was off from work. It was a struggle."
That same desire to help others is what led Nikisha Riley and her best friend Cipriana to create Urban Bush Babes, which—along with posts on great music and tasty recipes—is a solid resource for natural hair tips, products and styles.
"One day Cipriana came to my place and her hair was in this fabulous hairdo that looked like this beautiful sculpture," Riley says in awe, remembering the casual meeting that led to the site's creation. "I was like, 'Girl!' We started talking about natural hair and taking care of it. And I was like 'You're into that? I'm into that!' We knew a lot of information about it, so I was just like 'Why don't we start a website?' and she was down.
"It's something we started to do for fun, just because we wanted to share our journey, our experience with hair," Riley continues. "We knew it all ready and we love helping people. We didn't know it was going to turn into what it has turned into. Which is a beautiful blessing."
Wanting to help others is a character trait Nikisha Riley also shares with her son, Jaden. "He has a big heart," Riley says, her voice brimming with pride. "He [and his friends] bought this old woman some fries from Five Guys across the street the other day, and then they helped her get on the bus in her wheelchair."
It seems like Jaden has already latched onto the biggest lesson Nikisha Riley hopes to impart on him through her own work. "I definitely want him to learn that he has a purpose here, that it's not just for himself: he's here to help others and be extraordinary," she shares. "Anytime you can take the focus off of yourself and put that energy into somebody else, you'll always feel so much more rewarded and much more at peace then just trying to live a life of feeding yourself, or feeding your ego."
And with those words of wisdom, Nikisha Riley cements the reason why she's our girl crush du jour: her smart, insightful takes on life make her a great friend and an even better mom.
Q&A
HOW HAS BEING A MOM CHANGED YOUR LIFE?
It's a journey and it's taught me that there's no such thing as a perfect mom. It's taught me about love. I really know what it is to love another human being unconditionally.
WHAT DO YOU ENJOY MOST ABOUT BEING A MOM?
I love the fun that I can have with my son. We have a lot of fun together. He's like my little partner in crime sometimes. They definitely give you an innocent view of life, and they definitely keep you young.
WHAT'S A TYPICAL DAY LIKE WITH JADEN?
I know a lot of people don't like the label, but my son has ADHD. He's definitely hyperactive, so he's not a morning person. It's kind of a fight in the morning—I have to find a way to get him out of the bed and keep him in a good mood.
So it's basically being on top of him all day. Make sure you brush your teeth, put this on. After [school and homework], we'll talk. I try to keep a relationship where we're always communicating and I'm trying to find out what's going on in his world. He's usually always bouncing off the walls, so I'm usually trying to rein him in. It can be really frustrating because a lot of times he doesn't want to listen, and the fights, the battles, everything.
CAN YOU DESCRIBE A TIME WHEN, AS A SINGLE MOM, YOU WISHED A MAN WERE THERE TO HELP RAISE YOUR SON?
The discipline part. Because when he's not doing well in school and I'm trying everything, like every type of "I'm taking away your video games" and "You're not going trick or treating," it doesn't work. So you wonder like "Ok, does he need that male around for that discipline? Is that going to help him do better in school?"
WHAT'S THE MOST GRATIFYING PART OF YOUR JOB?
You know what? The answer's the same for the both of them. The fact that I get to drop some life-changing wisdom to people is the most important thing to me and the thing that feels the best. When I can sit there and keep it real and share my experience and help somebody else out, that's why I do it. That's what keeps me inspired. That's what keeps me going.
FILL IN THE BLANK: I LOVE BEING A MOM MOST WHEN…?
I love being a mom when my son needs me. When he's in that state of like "Mom, what do I do" or maybe he just needs a hug or support or some affirming words. I love being a mom when we can laugh together. And I love being a mom when I can watch him and learn something.
WHAT IS YOUR BEAUTY REGIMEN?
With my hair, I wash it once a week with an all natural shampoo from Trader Joe's. It's Trader Joe's Tea Tree Tingle Shampoo. Before that I deep condition it usually to detangle. I just wet it and deep condition it for an half hour to an hour, depending on how much time I have. Then I wash it out with the shampoo. I condition again either with Darcy's Botanicals Pumpkin Seed Moisturizing Conditioner or Yes To Carrots; I switch up on my conditioners [and] I usually try to make it all natural. It just works better on my hair and I know it's healthier for my body.
After that I kind of squeeze out a little bit of excess water—usually with my son's old t-shirt. Then I apply a leave-in moisturizing cream—Camille Rose's Moisture Butter or I use Giovanni's Direct Leave-In. Then I apply an oil—like argan oil—to seal in the moisture or Treasured Locks African Argan Oil Elixir. And then I let it air dry—either I leave it out or I put it in twists or a loose bun.
For my skin regimen, I use black soap, usually by Shea Moisture. I find that's the best black soap for my skin. And then Aubrey Organics, this moisturizing face cream called Vegacol that I get from the Vitamin Shoppe. I juice every single morning. It's just about taking care of yourself.
FILL IN THE BLANK: I FEEL MOST BEAUTIFUL WHEN …?
When I'm just in a T-shirt or jeans and having awesome skin day, like when I'm ovulating like every other woman. Your skin glows. Just real simple. Or usually when my son tells me, "Oh, you look so pretty today!"
WHAT INSPIRES YOUR PERSONAL STYLE?
Music is my first love, so I would have to say music influences my look. Even though I get some inspiration from movies, I would definitely say music. Ever since I was four, I was into Tori Amos and Radiohead, David Bowie, Sade—these are all people that I still love even though I was 4 years old. Definitely that music influences my style.
ALSO, THINGS THAT COME FROM THE '60S, '70S, '80S, '90S—I'M REALLY STUCK IN THOSE ERAS. IF I FIND CLOTHING FROM THOSE ERAS, I WILL GET IT.
WHAT INSPIRES THE WAY YOU DRESS JADEN?
One of my old friends told me years ago, "You dress Jaden the way you want your man to dress." I [want] him to be comfortable in his own skin, and for him to realize that he can rock anything.
He's at the point where I try to pick things out and he's like, "No, I don't like that." I have to let go and let him be himself. He tends to want to wear more flamboyant stuff and I'm like a real minimalist. He wants to get something with some crazy design and colors and I'm just like "Ah!" We find a happy medium.
WHAT DOES JADEN LIKE TO DO?
He's always into hip-hop dance so I definitely have to get him into a class ASAP. He's into animals, he loves being outdoors and just identifying animals and giving a million bits of information about it. [He likes] studying animals, watching documentary shows about animals—anything he can find, he'll watch it. He's just starting to pick up skateboarding too.
HOW WOULD YOU DESCRIBE HIS PERSONALITY?
Very outgoing. He's a people person, so I know he's an extrovert. He'll get close to you really quick, especially if you're a male. He's goofy, he's intelligent—he has an argument for everything, so he better be a lawyer.
HOW DOES IT FEEL TO HAVE FOUND CARL FOR YOU AND FOR JADEN?
I feel blessed and highly favored. I know God has given me more than I deserve and I'm grateful for him everyday. Jaden is still young, so I know that he will appreciate him a lot more as he gets older. Right now Jaden loves having someone who helps take care of him and looks out for his best interest. He also likes that "man" time and he feels very blessed.
HOW DO YOU FEEL ABOUT LEAVING NEW YORK?
Bittersweet. I've been here since I was 3. The thing that I know I'm going to miss is of course the culture. This is the only place where you can meet every person in the world.
I'm a big foodie, so [I'll also miss] all the access to tasty restaurants. And just the concerts, the street fairs, just all the things that go on in the summer time. But I'm not going to miss the noise or the rude selfish people. I hope to move to a warm weather place eventually—I definitely won't miss the winter.