Being a mom isn't easy, but the task gets harder when life throws you major curveballs. No one knows that more than former CBS anchor turned parenting blogger Rene Syler. The mom of two teens, Rene Syler spoke with mater mea about her reinvention in the face of great loss.
Rene Syler is a TV mom—and we mean that in two distinctly different ways.
The mom of two worked on local networks for 12 years before landing a co-anchoring spot on CBS' "The Early Show," and she's also the epitome of your dream mom, plucked out of a nuclear family sitcom and into a sprawling, personality-packed home in Westchester, New York.
You can practically hear the laugh track as she jokes around with her 16-year-old daughter Casey and her son Cole, who is 14. She's a flurry of energy, pulling frozen teriyaki chicken out of the freezer (and taking the opportunity to cool off—"I am shvitzing here, holy cow!"), pouring lemonade in tall glasses, and launching into stories right and left, interrupting herself mid-sentence to check in on any one of the five things she's started that afternoon.
The jaw-dropping home, the well-mannered and gorgeous kids, the solid marriage, and that boundless energy all seem to have that television magic sparkle. But Syler's story—and the back-to-back obstacles that set her on the path to an unforeseen reinvention—isn't one that can be wrapped up in under 30 minutes.
"I'm all about keeping it real, and there ain't nothing easy about what we're doing," Rene Syler says. "We've been through health crisis, we've been through job crisis, and you know what? It's frickin' hard. This was not at all where I thought I would be at 49."
If one were to rewind the tape to find just where things began going south for Rene Syler, it would begin towards the end of 2006.
"I had a great job at CBS: I had the opportunity to meet these really famous people for three minutes at a time and I had a paycheck attached to it," Rene Syler says, setting the scene. "But I also had people looking over my shoulder, telling me what to do, making sure [I was] following the procedure. If you didn't do something right you heard about it."
Along with that pressure came a new network president who made his feelings about the show's existing four-anchor setup known when he let Rene Syler go.
"I never ever thought I would be in this place," she says. "I never saw myself doing anything else but anchoring the news."
Two weeks after being laid off, Rene Syler underwent a preventive mastectomy due to her family's history of breast cancer and dealing with close-call mammograms and biopsies over the years.
"It got to the point where it wasn't really how I had envisioned my life," Rene Syler says of regularly undergoing these procedures. "It wasn't an easy decision and it's not the right decision for everyone, but it was the right decision for me."
A year later, the other shoe dropped: While touring to promote her parenting guide "Good Enough Mother: The Perfectly Imperfect Book of Parenting," Rene Syler came down with a case of asthmatic bronchitis that put her in the hospital for three days.
"When I got out, I had a meeting at CNN and I went right to the hairdresser and got my hair relaxed. A week later it fell out," she said.
Losing her hair was traumatic—Syler had spent years working in the visual medium of television, where your main currency is the way you look—but it brought her to a place of strength.
"All that external beauty was stripped away and you have to come face to face with the essence of you, the thing that makes you you when it's not hidden by the trappings of physical beauty," she says. "It was really this journey of self-exploration and acceptance—that's when I let my hair grow in natural.
"I was like Job," she continues. "How much worse could things be? I lost my job, I lost my breasts, I lost my hair. But now I look back and I think in losing all those things I really found myself and who I'm supposed to be."
It was then that Rene Syler began taking back control of where her life was going.
"I had gone to my agent and said, 'Look, can we get anything else for me?' And he was like, 'What am I going to do with you if you don't want to do TV news anymore?'" she recalls.
Facing slim prospects in a field that has made its feelings about "women of a certain age" well-known, she began to write.
"It was the only tool in my arsenal that I had, and the only thing I have in my power that could really change the course of what I was doing."
Her blog, Good Enough Mother, tackles the big questions of being a mom and has resonated with countless parents; Rene Syler regularly makes public appearances and has an online video series answering questions like "How do I respond when my kids say something terrible about me on social media?"
The site was founded as a response to the idea that one has to be perfect to be a great parent, or that once you have kids, your life becomes all about raising them.
You can be a great parent and still make mistakes and you will," she says. "This idea that once you have kids that you stop living for yourself is just, I think, ridiculous. I'm a big believer in the fact that your hopes and dreams and goals and aspirations don't have to die just because someone else is going to live."
Syler's career took a total 180, with her finally steering the wheel.
"I didn't really want Good Enough Mother to be a business because I was trying to get back into television," she says. "About a year ago, I started to understand that 'Oh, wait a second. I can actually make money doing this.'" Now Good Enough Mother is a bonafide business, with advertising and campaigns along with regular content.
"More than anything one of the reasons why I started Good Enough Mother and have put so much sweat and equity into it is because I never want to be in a position again where someone can tap me on the shoulder and take away everything.
"I lost everything," Rene Syler continues. "And I never ever want to be in that position again. That's why I was up at 4:30 in the morning today and will be up until midnight. Because I'm going to build something that no one can take away from me unless it's with a check with a whole bunch of zeros behind it."
So call it whatever you want: a reinvention, a second act, or, in television parlance, a spin-off. But this TV mom turned blogging and branding maven is having the best time of her life.
"The biggest change between me now and then is that fear is my bitch now. After you've been in that place, you're like, I can take it."
Q&A
HOW HAS BEING A MOM CHANGED YOUR LIFE?
I remember someone saying once you have a kid, you can't go to sleep before making sure everyone in the house is safe. That sums it up: You're always thinking of someone other than yourself. You just have this understanding that there is always someone else that you would put ahead of yourself.
HOW HAVE YOUR THOUGHTS ON PARENTING CHANGED AS YOUR KIDS HAVE GOTTEN OLDER?
What I've noticed is that when they're little, parenting is sort of a malleable path. While there are some things that stay the same, the methodology changes. When they're little, they're very labor intensive; they need you for everything. [But] then they get older and it's fun to see the work that you poured into this vessel come to fruition.
HOW WOULD YOU DESCRIBE YOUR CHILDREN'S PERSONALITIES?
My daughter, even as a child, was this caring kind of person. She really works hard to make sure that people around her are good and taken care of. When she sees me getting stressed or crazy, she says "How can I help?" If I'm sick, she's always right there to take care of me. It just warms my heart and it makes me think, 'Oh, you're going to be a good mom."
My son is sort of the wild side of me. I always say when I'm older, [my daughter] will come by and sit and have tea with me. And then [my son] will come in a sports car on his way to Vegas. It doesn't make one any better than the other, they are just different.
He's the more outgoing of the two. She's quieter. He could be the mayor. Everyone knows him.
FILL IN THE BLANK: I FEEL MOST BEAUTIFUL WHEN…?
I'm sitting on a beach with a cocktail with an umbrella in it all by myself.
The biggest thing to me is I'm no longer looking to other people to affirm my beauty. I don't need to walk down the street and turn heads. That's fun, but it's not necessary.
I suppose after I left CBS, I went through that serious transformation. All that stuff that makes up external beauty was stripped away. You have to come face to face with the thing that makes you you when it's not hidden by the trappings of physical beauty.
I've always liked myself, I've always liked the person that I was. But I never realized how strong I was. What I think makes me attractive is not what people see when they lay eyes on me; it's about who I am, and the things that I stand for, and the things that are inside my head and not on my head.
You get to a deeper understanding about yourself and what beauty is [as you get older]. I've felt this way for the last five or six years.
HOW DID YOU FIND THIS AMAZING HOME?
We moved in 2003 from Texas and we wanted a place where there was a lot of land because the kids were little. I wanted new construction and I didn't want it to be on a busy street. And look where we are: in an old house on a highway.
I've never been in a house like this before that had great bones. I was like, "Oh my God, I love it." But we rapidly outgrew this place. So about 2005, we undertook this major renovation.
WHAT INSPIRES YOUR HOME DECOR?
Two things: comfort and cost. I'm a huge vintage, flea-market shopper. I like to buy things that have a life prior to the life I give it. I use pipes as candle holders, I do some decorative painting.
I knew what I wanted. But I didn't want my house to look like I decorated it all in one day. Some rooms we had to get in here and live in them for a little while. [Some of my decorations] came from the flea market up north, and they're like $1 each. It's my whole philosophy: You don't have to spend a lot of money to look like you spent a lot of money!
Your home and your life and your clothes should always be a reflection of you. There is no right or wrong. People will come into my house and go, "Why did you do that?" Well because I like it. "Why would you paint that bathroom red, it's so small? Dark colors in such a small space…" [Because] I like it!
So my husband is a cook, not me. But I knew that I wanted the kitchen to be kind of a place where everyone can eat. I had this vision. This was a marble slab that literally weighs—I want to say 2,000 lbs. It took six men to get it in here. I knew that I wanted this to look like a farm table, so even though this cabinet is actually built in, it's actually a table. And I like that everything doesn't match.
I first started getting into flea markets—I love flea markets, garage sales, the whole thing—when we were back in Texas. There's a big, big flea market there called First Trade Days in Canton, Texas. I bring [home] all these lamps and things and my husband's like, "Really?"
I'd go to Canton and take $500 in cash and take all the seats out of the van. I would come back and my husband [would say] "What are you going to do with $500 worth of sh*t?" And I said "Relax. You're going to like it. You can't see it right now, but when I get it cleaned up and on the walls you're going to be happy with it."
Every so often he would balk at something but I'd say "Look, we all have a role to play in this marriage: you handle the finances and the cooking, and I'll handle the decorating. I don't question where we're putting our money, so you shouldn't question where I'm putting things on the wall." And he's never been unhappy, he just knows that that's my thing.
WHAT WAS THE BEST ADVICE YOUR MOTHER, OR THE MOTHERS IN YOUR LIFE, GAVE YOU?
My own mom has given me great advice, but along with those great nuggets from her came one from a stranger. She must've been able to sense that I was nervous or something about having this kid and she said, "Don't worry. You're going to be the best mom this baby could ever have."
I always took that piece of advice with me because it meant that I was going to be good enough, and that good enough was going to be exactly what this baby needed. It immediately put me at ease. I would say that's the best advice that I got, from a little old lady on a park bench.
WHAT PERSPECTIVE OR EXAMPLE DO YOU HOPE TO IMPART ON YOUR CHILDREN THROUGH YOUR WORK?
I want my kids to see what it takes to be successful in this life. A lot of times the kids look at us [and] they don't know what we do. They ask for things and [it] mysteriously appears—they don't know what it's like to be hungry, thank God. We've worked so hard to keep the struggle from them.
My husband and I both work from home—we've never worked this hard. It's good because our kids are getting to see what building an empire looks like. I want them to know what it takes to be successful. That's what I think is important for them to see up close and personal.
I just want them to be upstanding citizens. More than anything I want them to be happy. And to do whatever they need to do to make them happy, within [reason].
I hate being a mom when I have to yell and try to get them to listen to me. You have to lay [down] the rules on that. It sucks sometimes. Doesn't mean I won't do it, because it needs to be done, even though I don't enjoy that part.
One of my big tenets about motherhood is that it's not all fun and games. There's a good deal of it that is hard work. And part of that hard work is laying the ground rules and then following through. I see and hear a lot of moms say they get tough with their kids, but then they don't follow through with whatever the punishment is that they were going to mete out.
[When you do that] you end up undermining your authority and your word—you've become a paper tiger. So if you say, "I'm going to take away your phone if you don't clean your room," well then you need to take away the phone if the room isn't clean. A lot of parents for some reason don't follow through there; that's the step that gets glossed over, forgotten… And I think that's not a good thing.
We have a tendency, for some reason, in this sort of modern motherhood [to] act like we can't ever make a mistake. And I believe that your children are going to learn from your mistakes. Failure is a powerful teaching tool. It's not necessarily something to avoid—let it happen, look at it, embrace, and learn from it.
HOW HAS BREAST CANCER AFFECTED YOU AND YOUR FAMILY?
The family history impacted me personally and it's one of the reasons why I made the decision to have the preventive mastectomy. I think that it's one of those things that's never far from my family's mind.
Breast cancer is something that's just kind of like the fifth member of our family. We talk about preventive care, the things that they will have to take into consideration as they get older, as well. This isn't just for my daughter, but my son as well and my husband—obviously this is a big cause for all of us.
HOW DO YOU FEEL ABOUT YOUR TRANSFORMATION FROM CBS ANCHOR TO A PARENTING BLOGGER?
I never ever thought I would be in this place. I never saw myself doing anything else but anchoring the news, and I certainly didn't see myself working as hard as I am, or struggling the way that I am. There's beauty in the struggle. I had a friend who said, "You have to respect the process." And I thought that was so deep because it's true, there's no shortcuts. You've got to experience it, you've got to experience every single aspect of it.
I wish I had a dollar for every time I pulled into my driveway and broke into tears because I was like, "Is this going to work?" I don't know if you want to call it a second act or a reinvention or whatever, but I feel like I've fared better than a lot because I have been really ready to embrace everything that comes along.
This is the new reality. I have a lot of friends who are 50, 52, 58 and they're longing for this thing that doesn't really exist anymore. They've worked for the same company for 23 years, they have no idea where to start. My thing is, you better start learning.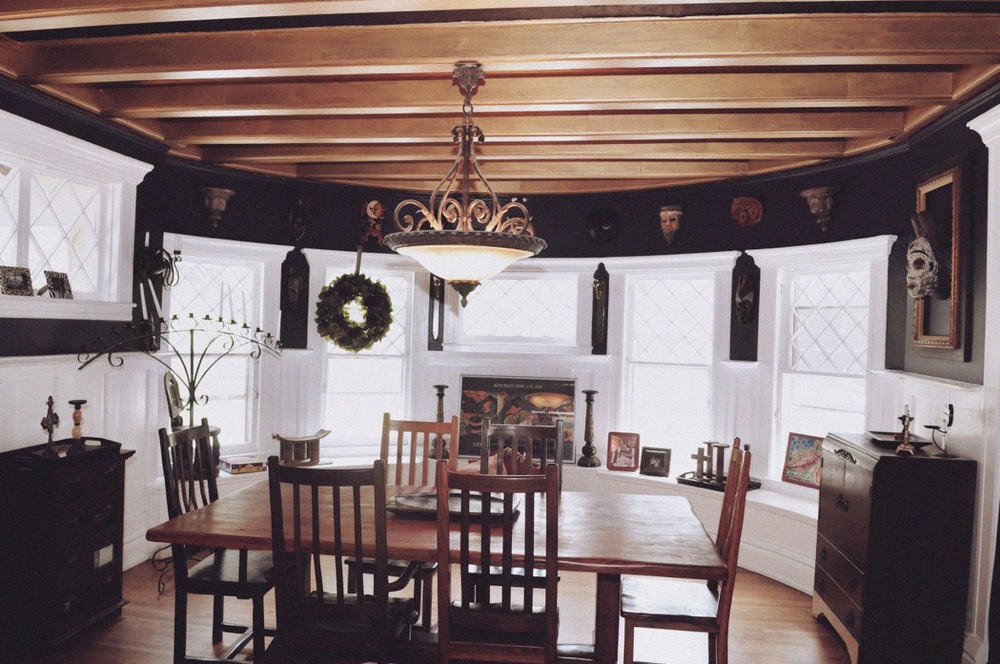 CASEY, HOW WOULD YOU DESCRIBE YOU AND YOUR BROTHER'S RELATIONSHIP?
It's kind of like a love/hate. I love him, but I hate how he annoys me and bothers me. But I would be devastated if anything happened to him.
WHAT'S ONE OF YOUR FAVORITE MEMORIES WITH YOUR MOM?
There's a recent one where we had a little falling out in our family, so my mom just took me to the city.
RENE: Really, that's your favorite?! Aw, that was fun. We went shopping during Christmas. Like most families, we had a huge to do. The boys were fighting—my husband and my son—and Casey and I were like, "We're not dealing with that." So we jumped into the car, drove into the city and we blindbooked a hotel on Expedia, just the two of us. We shopped at H&M, got sushi, got street peanuts, and went back to the hotel. It was kind of an impromptu girls' trip.
CASEY: It was just so spontaneous!
WHAT'S A LESSON FROM YOUR MOM THAT YOU REALLY CHERISH?
If something bad happens, just go on with it. [And] you can't please everyone.
COLE, HOW DO YOU FEEL ABOUT STARTING HIGH SCHOOL?
I don't know. I feel nervous, [but] it's just like going into any other grade.
WHAT DO YOU DO FOR FUN?
All of my games [on the Xbox] that I have are really good; I can't pick favorites.
WHAT'S YOUR FAVORITE THING ABOUT YOUR MOM?
I like how she's really funny.
WHAT ARE SOME OF YOUR FAVORITE MEMORIES WITH YOUR FAMILY?
The first time I went to Disney World.
WHAT'S ONE THING ABOUT YOUR MOM THAT YOU KNOW THAT YOU THINK NO ONE ELSE KNOWS?
CASEY: She's not crazy. When she's around other people, she's kind of very outgoing, but really she does have a serious side. She's not all jokes.
COLE: I would say the same thing.
RENE, WHAT DO YOU THINK OF THE IDEA THAT A WOMAN CAN'T HAVE EVERYTHING: A SUCCESSFUL CAREER, A SUPPORTIVE PARTNER AND CHILDREN?
More than anything, one of the things I hope women understand [is that] they have to do what works for them. And if that means working 55 hours a week outside of your home and having your kids go to daycare or having in-home care, that's great. If it means working 55 hours a week from the confines of your own home with your kids right down the hall and no in-house care, well that's good too.
I hope that women will understand that if you want to have it all, you need to first identify what that is for you. Then you need to do whatever it is for you and not for anyone else—not because it's expected of you or because that's what you should do, or that's what someone else did, or whatever. It needs to be because that's what you want to do.