Although the new mom was worried about her now 5-month-old Zuri would "soften" her, the poet Staceyann Chin is as open and outspoken about motherhood and pregnancy as she is about racism, imperialism, and all the other –isms plaguing the world. Chin spoke with mater mea about her difficult pregnancy and how being a mother has changed her life—and her work.
When speaking to poet Staceyann Chin, it's hard not to be taken by the sound of her voice.
That voice—that honey-thick Jamaican accent that makes a point of emphasizing every other syllable—is unmistakable. Chin's unique cadence has served her well, whether on stage at New York's storied spoken-word spot the Nuyorican Cafe, on Broadway as an original performer on the Tony-Award winning "Russell Simmons: Def Poetry Jam" or during any one of her one-woman, autobiographical shows; it adds even more weight to her work about the space she occupies as a radical, progressive, half-black, half-Chinese lesbian who has adopted New York as her home after leaving her native country because of homophobic persecution.
Her voice has been a tumbling rush of passionate, revolutionary zeal ("I am at once livid / ashamed and paralyzed / by the neo-conservatism / breeding malicious amongst us"). But now, seated on a soft foam play rug composed of puzzle pieces in primary colors, it is calm. It is serene. It is the voice of a new mom.
"Right, Boogie?" Staceyann Chin cooed to her gurgling 5-month-old daughter Zuri who is all big eyes and dark, soft curls. "Right, momma?"
Before she underwent in-vitro fertilization last year to have her daughter, Staceyann Chin was worried that motherhood would take the fight out of her.
"I felt like I would be sitting around writing poop poems," she says, tongue-in-cheek. "I thought that she would make me less able to talk about the unpleasant things in life or be loud or want to go out there and march."
But, Staceyann Chin says, "the feminist in me is frightened to say that Zuri's arrival—motherhood—has made me more centered, more steeped in my politics. I worried that she would soften me in ways that would make me less effective as a human rights activist, but I think she's underscored the need for that kind of work and has connected me with other women."
Motherhood and this newfound centeredness didn't come easy. Staceyann Chin wrote in a brilliant Huffington Post essay called "Coming Out Pregnant" that she had wanted to have a baby for 10 years, but fear kept her from becoming a mother.
"I waited I think because I was afraid to do it by myself and I wanted to do it with partners who themselves weren't ready," Staceyann Chin says now. "I kept using my partner's lack of readiness [as a reason to not] go for it on my own. [But] I think the biological clock started ticking louder and louder and louder. And as I inched closer to 40 I knew if I wanted to do it this way, I would have to do it now. So I did."
Chin's pregnancy, by her own admission, was "traumatic." "All those damn happy pictures with women looking into the sky, looking beatific, it's a f*cking lie," Staceyann Chin says, laughing. "It's a lie, it's a lie. We all sit around being miserable."
This statement isn't an exaggeration, especially in Chin's case. "It was traumatic from going into that clinic that first day to say, 'Ok, can you look at my girly parts and see if they still work?' and finding out that some places didn't work, to doing surgery to correct that, to doing the IVF," she said. A series of complications in her pregnancy—including early contractions at 14 weeks—left the mom-to-be bedridden and dependent on friends for six months. (Her girlfriend at the time had left; she wasn't ready to be a mom.)
"I had a subchorionic hematoma, I had something called irritated uterus syndrome, I had placenta previa," she says. "I was bleeding all the time."
Staceyann Chin was confronted with emotional pain as well—her decision to have a baby was met with raised eyebrows and bruising, insensitive comments from the black community ("Where's the good, Christian father? Wait… Aren't you a lesbian?") and the LGBT community ("Where's the other mother? Aren't you a lesbian?").
"Generally speaking Americans don't feel like single women should have children," Staceyann Chin says. "They feel like we should find someone and have the child and ape as much as we can the heteronormative nuclear family. When one person decides 'I'm going to get up and use my own womb to get pregnant with my own kid and push it out of my own vagina,' people start having problems."
Zuri's arrival brought an end to Chin's physical and emotional pain as she continues to cultivate her own community of diverse and like-minded friends to raise her daughter around.
"I'm hoping that all the trouble with the kid came [during pregnancy] and this will be a breeze from here to college," Chin says.
Always mining her rich set of experiences for material, Staceyann Chin is working on a new book about motherhood. "I'm hoping to make something that explores the funny side of it, the heartbreaking side of it," she says. "I'm not trying to get women to get pregnant nor am I'm trying to discourage them. I'm just trying to tell my own story."
Chin looks down at her daughter, who is curled up snugly against her breast. "Even though you drove me CRAZY in utero!" she exclaims in that new mom voice, laughing, her face within inches of her daughter's.
Q&A
HOW HAS BECOMING A MOM AFFECTED YOUR LIFE?
I think watching a human being come into consciousness makes you reconsider any monolith of consciousness you had prior. It forces you to question your own tenets, the things you thought were immovable and sturdy and steady. And invariably when you look at things that are fixed, you'll find that they aren't so fixed, especially when it comes to identity and humanity and human relationships. I mean, I have relationships that are changing as we speak based on what's happening with my kid, like how I view myself as an individual who will raise a kid, how I might be looking at other people raising their kids. You find yourself bumping against people in spaces you never imagined.
Before I don't think I argued too much with people about tiny things. But [once you have a kid] you argue more with the people who are closer to you, you have more meaty conversations with them, more meaty disagreements and arguments. You're also aware that some relationships will fall away. And you have to be ok with that, because it's really choosing your kid or the relationship, and when it comes up as that kind of choice, it's no choice.
WHAT DO YOU ENJOY MOST ABOUT BEING A MOM?
Her, I think! I hadn't expected her to be such a whole person. I think that I had this idea of a baby. Oh, this baby is going to come and this baby is going to do this or that. And from early [on] it seems you can tell [her personality].
[Zuri's] very kind of chill. There are very few things that are non-negotiables for her. When she first meets a person, she likes time to decide whether she wants to be held by them, whether she wants to go to them, whether she wants to laugh with them. And that's a non-negotiable. She makes up her mind about that. You have to let her—if you don't let her then you'll have a fight on your hands. She hates the car seat. And she hates it in a way that is heartbreaking. There's nothing that you can do or say to her that will make it better. And she screams the entire time she's in the car seat almost, unless she falls asleep.
But [later] she wakes up pleasant, smiling. She's pretty adaptable. She's flown to and from South Africa. She's flown to Jamaica. She's flown to Utah [and] Seattle. She kind of rolls with the punches. She's very, very malleable that way. She seems sort of easy. She's got an easy personality. She eats fairly comfortably. I found her [to be] quite a pleasure. Like, I like her! I wasn't prepared to like her as much as I do.
I'm surprised that I like her. Because I know from some of my friends that not everyone likes their kid, that it can be kind of a hassle and negotiation. Like if I were 6 months old I would want to be friends with her!
DID YOU FEEL PREPARED TO HAVE A BABY?
I think before she came I felt vastly underprepared. I thought, "Oh my God, what am I going to do?" But then she arrives and you know. You've got your boobs. They work for milk. There's a place to bathe her. For now she needs room to crawl, you chuck some furniture, give her some space to walk around.
I thought I was less prepared than I was. I was prepared to be upset—upset as in everything overturned. I was prepared to be stressed and frazzled and out of sorts. And I've been anything but.
FILL IN THE BLANK: I LOVE BEING A MOM MOST WHEN …?
In the moment when things have gone wrong, things have gone wrong, things have gone wrong and then they go right. Like all morning she hasn't been able to sleep. She's been cranky. The feeding hasn't gone right, she's kind of teething. I'm fussing and tired.
And then she just laughs and she takes a feeding and then she goes to sleep and then she's snuggled up next to me and then she wakes up and then she looks up at me and giggles. There's something about it that's quite wonderful.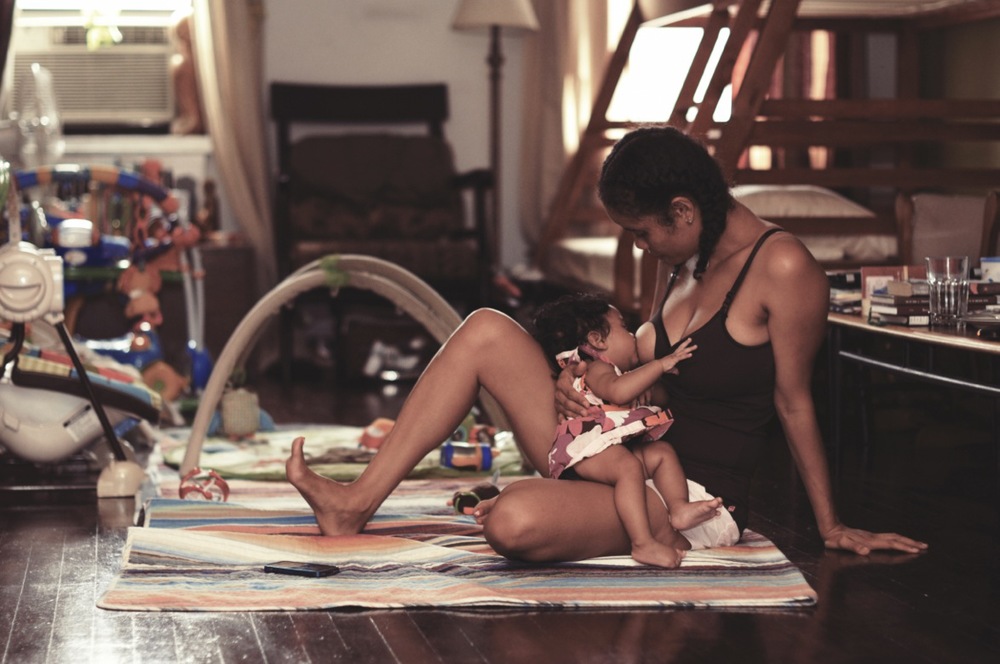 FILL IN THE BLANK: BEING A MOM IS HARDEST WHEN …?
When you realize she has limitations that she needs to push [through] and your instinct is to push them for her.
Like when she's able to crawl, but she can't. She's afraid to be on the floor. And so I know that she needs to be on the floor to fall, to roll over and knock her face and figure out the balance herself, and all I want to do is be under her or around her so she doesn't fall.
I hate being a mom when she has a difficult obstacle that I can remove for her, but I know she has to remove it for herself. Because I imagine bigger things. Like when she's scared and doesn't want to go to college, or when she's being bullied at school and she has to take it on and I want to go in there and knock the other kids out for her, but knowing that the better thing is for her to figure it out herself even if she requires my help. She needs to head that movement.
WHAT'S THE BEST ADVICE ON MOTHERHOOD YOU'VE EVER RECEIVED?
My friend Aaliyah in Jamaica said to me, "Listen to everybody's advice and then go home and follow your own." I'm finding as the days pass that that's a truer statement than any I've ever heard about mothering.
HOW DO YOU KEEP HEALTHY?
Do I exercise? I used to, my darling. Now I don't exercise at all. I pick up the kid. That's what I do for exercise.
WHAT'S THE MOST GRATIFYING PART OF YOUR WORK?
I like to think I make the world better. I like to think I encourage women toward their own voices, and that's really fabulous and fits squarely within the task of raising a girl.
HOW HAS ZURI CHANGED YOUR PERSPECTIVE OR THE WAY YOU WRITE?
She changes the way that I see art, changes the way that I write my own life because my own life is different now. Before Zuri I used to think about "Oh, saving little girls," these arbitrary little girls. When I put pen to paper now, the ink spread begins with her and then it radiates to the other people in the world who I might want to save as well. But now there's this sort of tangible, focused person for whom I would like to make the world better.
WHAT EXAMPLE DO YOU WANT TO SHOW YOUR DAUGHTER THROUGH YOUR WORK?
I don't know, man, I just want her to do her thing. I just want her to find her own voice. I just want her to do the thing that she loves. I want her to be able to take care of herself, fulfill the requirements of her own desires. If she wants to live in a house, I want her to be able to procure a house. If she wants to live in a tent, I want her to be able to put up a tent. If she wants to be a person that roams, I want her to know how to roam in a healthy way.
People often say that she looks like me. I think her toes, her little, itty-bitty toes curl under just like mine. Her fingers are long like my fingers. I think she has a big forehead just like her mother. But the rest of it I'm waiting on.
I think she will go through a life with a lot of people comparing her to me. [At] every turn I want to be able to tell her anytime I push her to be like me that at the heart of me, at the core of me, all I want is for her to be herself.
DO YOU THINK WOMEN CAN HAVE IT ALL?
Nobody can have it all! That's ridiculous! It's very American. It's almost kind of utopian. Nobody can have it all. Everything you do is about making choices. What you can do is prioritize and find the things that you most want, [then] figure out how to get as many of the things you want out of the top of that list as you can within the limited context of your own resources, your own physical ability, your own location…
I think I'm more about doing things that I like and liking the things that I do. I'm less about some preconceived list of things that I ought to have and I ought to be happy with. It's ridiculous. You can't be sitting and standing at the same time. You always have to make choices.
DO YOU EVER WORRY ABOUT RAISING HER IN NEW YORK?
Here she has a Caribbean community where she might not feel weird about having a mother with an accent. Or a mother who's gay, or two mothers who are gay, I don't know what will happen in the future.
HOW DO YOU FEEL ABOUT YOUR MOTHER'S ABSENCE NOW THAT YOU ARE A MOM?
Sometimes I'm happy about that, and sometimes I miss having that kind of grandmotherly presence or someone who I can say, "She belongs to me as mother and therefore I can call and ask for things."
I hope I would have the courage to always tell [Zuri] what I know of things that are difficult. Things will be difficult. I would hope that I would teach her that unless somebody is being brutally hurt, that the way things are—even though they may feel tragic or seem tragic, the true tragedy is not having the emotional tools to navigate it in a healthy way for yourself.
HOW DO YOU THINK YOUR RACE AND SEXUALITY WILL INFORM WHAT KIND OF PARENT YOU ARE?
I will tell her that race and sexuality is as relevant as your shoe size: If you're not going to hold it against somebody that they wear a size 7, then you can't hold it against them that they're a lesbian. And I hope that follows through her whole life.
I'm hoping that I won't pass on my own prejudices to her. I hope that I will teach her to deconstruct and analyze and question everything so that even when she says, "But mom! You don't like my rich white friend!" I'll be like "Ok, let's talk about that." I'm betting that she will force me to grow, even inside my own politics. I'm hoping. I hope.