Working mom Stephanie Pope Caffey, 48, has had two distance and vastly different careers: as a Broadway performer and actress and as a Bikram yoga studio owner and teacher in Harlem. And she's all but too happy to share the lessons of both experiences with her 9-year-old daughter, Mari, and with mater mea.
The entry wall of Stephanie Pope Caffey's bedroom is covered with the ephemera of her early Broadway days. An autographed poster of "A Funny Thing Happened On The Way To The Forum" with a caricature of actor Nathan Lane. A tight close up of Pope Caffey's face, staring right into the camera as her arms frame her face.
But one in particular stands out: Stephanie Pope Caffey ebullient in a top hat, her large eyes and smile wide as one of her incredibly long legs extends out, the photographer catching her mid can-can.
Despite the toothy grin and successful shows, the 48-year-old mom left Broadway behind at 39 to stay at home with her then 1-year-old daughter Mari. Becoming an older mom spurred her decision to leave the limelight behind, ending the "me, me, me, me, me" period being a theater performer often demands, she says.
"The interesting thing about theater performing," Pope Caffey says, "[is that] you feel young forever. A lot of women in theater forget time is ticking. I am so grateful. I felt there was not a whole lot more I was able to give. I needed something else in my life; I needed to be fulfilled in another way.
"[When] she turned 1 and I was still performing I said, 'No, this is not how I want to do this!'" she continues. "I had my child in tow, going from airport to airport, theater to theater. So I said, 'No, it's time to take a break.' And that's what I did."
Stephanie Pope Caffey stayed at home with Mari for four years and loved every second of it; it was a welcome break after working for most of her life (she had her first professional dancing job at 14).
"I loved being able to bring her to school, come home, take care of the home, and then be there for her when she came out of school and be there for all her little activities," Pope Caffey says. "Just really being actively involved in her life was a good feeling."
But, as kids are wont to do, Mari got bigger and Stephanie Pope Caffey began to think about what was next. Returning to theater was out of the question—she still wanted to be close to home and her 5-year-old little girl. "Whatever it was going to be, it was going to be something where my daughter could be around," Stephanie Pope Caffey remembered thinking.
And then it dawned on her: having practiced yoga for 20 years (with a few of those years under the tutelage of Bikram yoga founder Bikram Choudhury), she would open up a yoga studio in her own community.
"My spirit said this is what you can do. [I] have a passion for it, I knew I wanted to bring it back to my community, back to Harlem where I was born and raised," she says. "And once I acknowledged that, the universe just said 'Ok. Then let's start.'"
Stephanie Pope Caffey and her sister Jennifer Pope opened up their studio, Bikram Yoga East Harlem, in November 2008—better known as the period when the bottom fell out of the nation's economy. But the two sisters and their studio weathered the storm, and have gone on to become an integral part of the community, bringing yoga novices and enthusiasts from all five corners of New York to Harlem. "[People] just love the feeling they have when they're in our studio. That's the most important thing for us," she says.
What's more, it's a space where her daughter, now 9, can visit. The multi-talented Mari (an aspiring fashion designer who says she'd consider acting as well) also practices yoga; she rolls out a purple mat on the ground in their backyard and contorts her long-limbed frame into frog pose, smiling. No problem.
Stephanie Pope Caffey joins her outside in the last of the summer sun and asks her daughter to spot her as she slowly pulls herself up into a headstand on the mat, her legs (they do, in fact, go for days) slowly and incrementally rising until she creates an exclamation point with her body.
Yoga has actually prepared Stephanie Pope Caffey for her next act: an unexpected return to Broadway after a 10-year hiatus. She'll be in the ensemble cast of "Pippin" and an understudy for lead actress Patina Miller (who was the original Sister Mary Clarence in the Broadway production of "Sister Act"). After a three-week workshop, rehearsals will start in October.
"I wasn't sure what it was going to feel like. I was a little bit afraid," Pope Caffey admits. "[But] once I got back in it was like, 'Oh, I remember what this is!'"
With the prospect of stepping in for 27-year-old Miller, Stephanie Pope Caffey says "thank God for the yoga, because I think that's the thing that sustained me through the period [I wasn't performing].
"It feels like getting back on a bike and riding," she said, smiling. "It's nice to have both worlds back."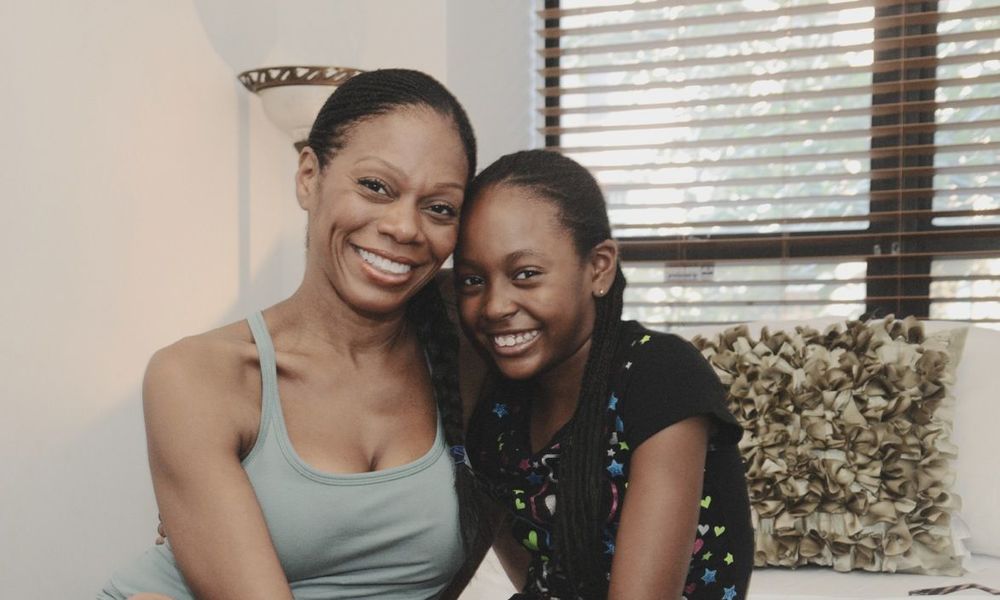 Q&A
HOW DID YOU GET YOUR STUDIO UP AND RUNNING?
I had been asking everybody I knew who practiced bikram—or [who were] planning to go to teacher trainings because you have to be an instructor to open up a bikram yoga studio—if they were interested in opening a studio with me.
My sister had been practicing since 2006, but she comes from the corporate world and I thought, "No, way!" You know coming from theater you understand you might not make money. She came from the corporate world where you get a check every Friday and you get benefits, and I thought there's no way she would be interested in doing this crazy thing. [But] one day I finally turned to her and said "Would you want to?" and she turned to me and said "Well, how come you never asked me?" All of a sudden we were both like, "Of course, yes!"
And then we just started looking. We knew we wanted to do it in our community; our studio is literally a block away from the projects where we grew up on 116th Street.
That again was the Universe. [It] was the first location we saw [and we] fell in love with it: there were high ceilings, no beams, no pillars in the middle, lots of windows, lots of light. The back of it looked out onto a beautiful courtyard—we just thought, "This is perfect!" We looked around some more, just to be sure, but nothing was quite what we wanted other than this location. Thank God it was still available. And the rest is history as they say.
We put our ["Coming Soon"] sign up. We got held up with permits and construction and everything. We thought we would be open in June, July… the latest we thought was August, but we didn't open until November. So that was crazy.
We had done weekly pre-opening sales for classes. People were trying to get their money back, saying you guys are never going to open, but we eventually did! We'll be celebrating four years this November.
It had its share of challenges, as any new business does, especially opening up in 2008 with the recession. But we kept strategizing and coming back and restructuring and seeing what works and what doesn't work.
WHY ARE YOU RETURNING TO THE THEATER?
I am returning to the theater for two reasons—actually three. [With this economy] I needed something to supplement my income. The yoga studio is more a labor of love and a way to give back to my community than a big money maker. Life sort of dictated that I add something to the mix and other than the yoga, theater is what I know, love and have a passion for.
Second, I did not have any theatrical pictures of myself hanging in my home in Jersey. When I moved back to Harlem and started opening boxes and hanging my theater pictures up, my daughter was so fascinated by them. It dawned on me that there was a whole part of me that my daughter really knew nothing about. I wanted to fix that!
And thirdly, I needed to reconnect with that part of me that I basically gave up after I married and had my child.
HOW HAS BEING A MOM CHANGED YOUR LIFE?
In every way. I think my priorities have totally shifted. I have learned what battles to fight. The things that used to be so important to me are really meaningless compared to making sure that my daughter is healthy and happy.
DID YOU HAVE ANY FEARS GOING BACK TO BROADWAY?
I had a lot of fears going back. I was the leading player in the musical "Fosse," I played Velma in "Chicago," then to go back into the ensemble I was like, "I don't know." I know the choreographer and I said, "Look, I'm not what I would call 'boxer shape,' but I'm going to work my butt off for you," and he was wonderful and supportive.
FILL IN THE BLANK: BEING A MOM IS THE HARDEST WHEN…?
… when I see my daughter frustrated.
… when I see her having difficulty with something or when I see her being afraid.
… when I see her unhappy about an issue.
That's the last thing I want to see is my child somehow feeling frustrated or sad or feeling confused. And it's difficult having to explain that that's also part of life. It's normal to be afraid, to feel anxiety about things. Yet finding ways to explain to her how to navigate it, how to get around it, how to trust that things will be ok. It may seem very challenging right now, it may seem very difficult right now, it may seem like it will always be this way right now. But [I'm] helping her to see that it won't always be that way [and] you won't always feel this way.
HOW WOULD YOU DESCRIBE MARI'S PERSONALITY?
She can be very outgoing [and] she's very creative. She hardly ever stays still: She's dancing and leaping and jumping and twirling and singing. She probably comes by that a little vicariously; I was performing while I was pregnant, so I just think somehow she just heard music. She loves singing and dancing and running around.
I'm not saying this because I'm her mom, but she's a beautiful girl who has an amazing sense of humor. I find that so charming in anybody, so I really love that quality about her.
DOES MARI DO YOGA WITH YOU?
She does. She actually takes her own yoga classes at a studio called Land Yoga and occasionally she'll come and take classes [at my studio]. We have an advanced class just for invited teachers and practitioners with more experience. And she'll come to that because that's the fun class. That's the one where you can do all the crazy postures. You can stand on your head a lot, do a lot of the challenging postures, which kids can do like it's nothing. She prefers taking that class.
MARI, WHY DO YOU LIKE YOGA?
I think that it helps you get flexible, it's really good for you, and it helps you open up your pores, so all the bad stuff goes bye-bye.
WHAT KIND OF WOMAN DO YOU HOPE MARI BECOMES?
She's already book smart—I want her to be life smart. I want her to be able to make good decisions about herself [and] her life. And that takes understanding yourself. You have to have a good foundation and I hope that I'm able to provide her with that.
WHAT INSPIRES YOUR PERSONAL STYLE?
That is a question that is very hard to answer for me because I've never really been a fashionista. I love comfortable casual clothing. I tend to be someone who will wear black and will try to accessorize that, especially in the fall and winter months. You'll often find me in a turtleneck and leggings with some funky boots on. In the summer time I really love to wear cool dresses.
But more often than not, if I'm not in my leggings and t-shirt or turtleneck or something, you'll find me in a pair of jeans. That's kind of my [thing]: throw on a pair of jeans, go to the studio, and do my thing.
WHAT'S THE MOST GRATIFYING PART OF YOUR JOB?
I think being a part of and helping to facilitate positive change in people's lives and actually being able to see that. When I was performing, you're up there on stage; when you look out it's totally dark, you can't see the audience, you can't see anything. Unless someone takes the time to wait at the stage door or takes the time to write you a letter or something, you really don't know how you're affecting people. It is so gratifying to me to literally be able to see the effect that the yoga has on someone's life: physically, emotionally, even spiritually. It's the best feeling in the world.
HOW DID YOU MEET BIKRAM CHOUDHURY, THE FOUNDER OF BIKRAM YOGA?
Over 20 years ago, I lived in California for a little bit and that's where he had his first studio. That's where I met him and studied with him for years. he encouraged me to teach, but I was dancing and doing my thing. I was like, "I know nothing about yoga, so why would I want to do something like that?" But when someone like that plants that seed, it stays with you
WHAT'S YOUR BEAUTY REGIMEN?
Internally my beauty regimen is to try eat as much fruits and vegetables as I can. To try to stay away from too many cakes, cookies, and sweets. I love food though. I've been really fortunate for most of my life, because I was a dancer for so many years, I never really had to concern myself with my weight so much. That's kind of changed now that I'm older, but I still try to consciously combine my foods. I try I to do fruits in the morning, I try not to do carbs and protein at the same time. I try to do the conscious food combining, which is really good for digestion and energy.
HOW DO YOU GO ABOUT RAISING A SMART GIRL?
[Her father and I] are actually older parents; we don't know if that has [anything] to do with it. She's always had a sort of natural inquisitiveness. We try to stay on top of her school work, but I don't know how you raise a smart child. I think they are just born with their own gifts and you just try to nurture the gifts as best as you can.
I'm a firm believer that it doesn't matter where you're [from]. I grew up in Harlem; she was born in Harlem, but then we moved to Jersey and we just recently moved back. A lot of people say you become a product of your environment, but I think you become a product of your home environment. I think that makes a difference.
MARI, THIS IS SO COOL! CAN YOU TELL US ABOUT THIS POSTER?
It was a project that I had to do for school. I had to study an American hero and I chose Rosa Parks. You had to make a poster of them, but you had to have the face cut out. And you had to memorize a summary for it, like a documentary but without it being a video. So I did Rosa Parks with a Metrocard and the Constitution of the United States.
FILL IN THE BLANK: I LOVE BEING A MOM MOST WHEN…?
… when my daughter just for no reason comes over and gives me a hug [and] she wraps her arms around me.
… when she comes home very excited because she got an A on a test.
… when she crawls into bed with me.
I can just go on and on and on. It really is the best. I mean first of all, to be able to create a life. It's the miracle of all miracles. And then to be blessed enough to have created a life with 10 fingers and 10 toes and two eyes and a nose and ears. You can't stop thanking God for that miracle. Because it truly is a miracle. And then the miracle just continues to grow and blossom and develop. And you see so much of yourself raising this being, this beautiful child, you see so much of her father… It is beyond words.
Prior to having my daughter, I remember being around moms and not caring about the conversation. First of all, I had really nothing to contribute because I don't come from a family with a lot of kids. I really just could not bother. When I became pregnant, oh my goodness. I felt as if a whole secret society opened up. And all of a sudden you are meeting other moms and mom groups and having the experience of someone actually giving you their seat, just all that stuff. You don't think about it or you think does it exist? A whole other world just opened up! I call it the mommy secret society. Unless you have experienced it, you really don't know that it exists.