At the age of 19, Agatha Achindu traveled to the United States from her native country of Cameroon to embark on the next chapter of her educational journey. Within a few years, she landed a six-figure job as a software executive with a growing tech firm. Yet in 2006 she decided to walk away from it all and pursue her passion for providing children healthy food. Achindu chats with mater mea about how she started her successful line of organic baby food that empowers mothers everywhere.
There's very little room for resting in entrepreneur Agatha Achindu's packed schedule. Even when her two younger children have been tucked in bed for a few hours, Achindu is still at it, working on another round of paperwork and food prep that awaits her in the kitchen of her home in Atlanta. As the founder of Yummy Spoonfuls, a line of organic baby food sold in retailers like Whole Foods, sleep is a luxury the 46 year old left behind years ago, thanks to the demands of caring for her sons—Georges (23), Malcolm (15), and Jared-Zane (9)—and running her own business. Although the constant shuffle can be hectic, Achindu believes that the level of sacrifice is worth it.
"The biggest challenge to me is being in a million different places at a million different times because of how I choose to parent," she says. "Everything is hands on. We don't do any fast food. We don't do any processed food. No matter how busy I am, we have to cook. That is my biggest challenge, but at the end of the day I am grateful that I have the opportunity and [the] willpower to do it."
Juggling tasks is nothing new for Achindu. Before she launched Yummy Spoonfuls in 2006, she spent hours building and testing code as a quality assurance executive for a software company called Agilysys.
"If you go to Las Vegas, almost every hotel has the Agilysys software," Agatha Achindu explains. "My team was based there and I traveled back and forth from Atlanta. Our job was to make sure that all the software used at casinos, hotels, and spas was bug free."
The travel took her across the country providing IT products and services for some of the biggest named hotels and entertainment outlets on the Las Vegas strip. The income was more than enough to support her and she absolutely loved her job in corporate America.
When she wasn't overseeing her team of developers and coders, Agatha Achindu spent after hours and weekends cooking for friends at home. "I had a friend who loved french fries. She would eat them all the time," Achindu recalls. "I told her, 'Come over and I will make french fries that you'll love.' I rubbed the potatoes in coconut oil and baked them on parchment paper. She loved them!"
Spreading the word about nutrition and healthy eating was always a part of her routine. She wanted the people she met at work or church to enjoy eating healthy, something Achindu carried with her from her childhood in Cameroon. "I remember at home the kitchen was where everyone settled," she says. "We were always in the kitchen. This person is cooking while another is talking. We were all there telling stories. As a kid, I really loved cooking. I was the person in the house who was always trying new things."
When Agatha Achindu came to the United States as a 19-year-old college student, she noticed something significantly different in the way people ate stateside —it wasn't the farm-to-table model she was used to. Maintaining her childhood diet turned out to be pretty tough and often times disappointing. 
"Back in the early '90s you couldn't just find organic just anywhere," Achindu says. "I had to do my research. I realized that [even] the brown bread was different. I took a bite of that bread and I knew that something was wrong. Everything we made at home was made fresh. It's not special to us; that's how we grew up. You get up in the morning, go to the farmer's market, go to the butcher's and you cook and you eat. For lunch you cook and you eat. And for dinner you do it again."
Although she held a passion for her career and cooking kept her busy, her romantic life left something to be desired. The idea of marriage and children was attractive, but her options were limited. It wasn't until 2001 that she reconnected with the man who would become her husband. "I have known Georges since I was 9 years old. We grew up in the same city in Cameroon and he was friends with my brother," Achindu says. "During the '80s and '90s we'd see each other at parties, but never dated. We reconnected years later at my cousin's wedding in Seattle. I just looked at him and my heart just melted. I can still picture the room and the setting today. We hung out that day and the next day. I love him to death and he is the best thing in the world to me."
 
Agatha Achindu married Georges, a registered nurse, in 2003 and started thinking about adding to their family (sons Georges, Jr. and Malcolm are from Georges' previous relationship). "It felt like it took me forever to get pregnant," she says now. "For me, it was a long journey and everyone else was there already. It took me a full year to conceive. I found out I was pregnant in April and I kept it a secret from everyone, including my husband, until our anniversary in May. We were blown away."
The first-time mother took to pregnancy quite easily. "I used to feel guilty about how good my pregnancy was—no cravings, illness, etc. I'd go to the gym three times a week and do yoga. My pregnancy was joyful and very uneventful until the end; things changed a few weeks before I gave birth."
In late December, a very pregnant Agatha Achindu wasn't feeling well. She told friends, family, and her doctor about her concerns, but it was written off as typical third-trimester discomfort. Several days later, she was rushed from her doctor's office to the local hospital for an emergency C-section: Achindu was suffering from pregnancy-induced fatty liver disease. She gave birth to a healthy boy, Jared-Zane, but her own health was in a precarious state. 
"I was sick and hospitalized for three weeks," she says. "When I was sick in the hospital, I would stand in front of the mirror and pray. I was begging God, 'If you give me this opportunity, I will be more purposeful and more giving to all of the children in the world.' I told God that I would help the entire community. I would tell Him, 'If you heal me, I will glorify your name forever,' and I knew that I would make it through somehow."
After the initial scare, as Achindu settled into motherhood she remembered the promise she made to God and approached a local hospital about offering nutrition workshops for mothers. "When I started teaching, I still had the corporate job, but I was able to answer that call from God," she says.
She taught mothers at various hospitals around the area about the benefits of a healthy lifestyle and how to make some of her signature dishes like orange-glazed green beans or quinoa carrot cake. It was a way to pay forward what she learned early on about the value of eating unprocessed food without chemicals and harsh preservatives.
Friends and friends of friends started clogging her inbox and voicemail, tapping the busy working mom for her baby food creations. Fresh, creative, and most importantly organic, the simple recipes made mothers rethink the jarred food that lined their pantry shelves. Agatha Achindu began to batch-cook carrot and pea purees for her friends who paid her in food. Soon she had 300+ moms as clients.
"Some would say, 'I made the peas, but they didn't taste like yours. Can you just make it?'" Achindu explains. "My husband and I said, 'This could be a business.'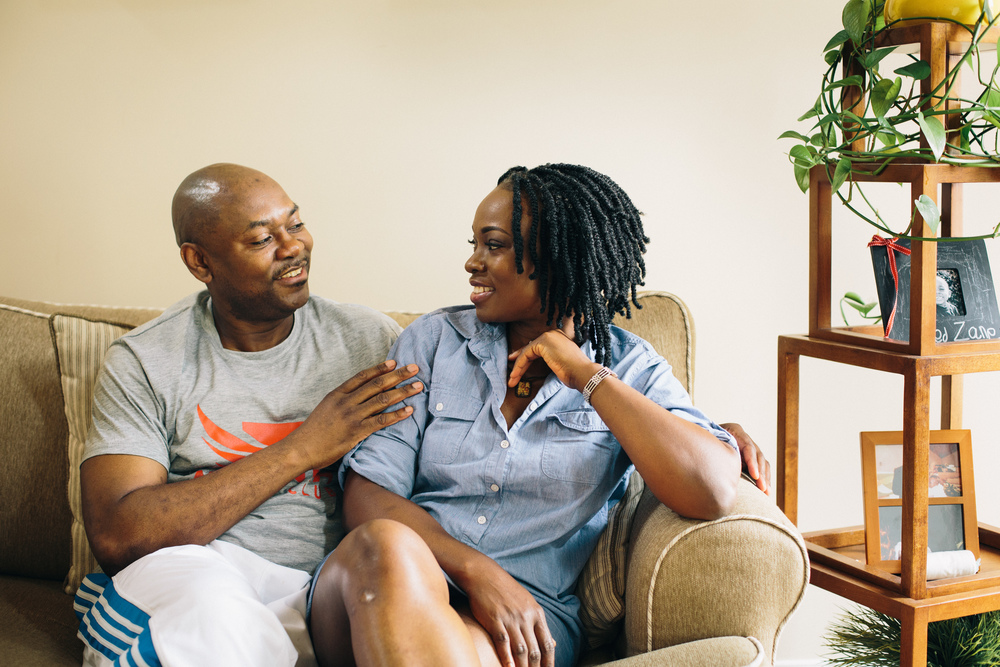 Until then, Agatha Achindu was comfortable in her executive IT role; she was making more than enough money to cover her household expenses and her side project. That all changed in 2006 when she realized she had a solid product that people liked. Still she worried. 
"'Are you going to make the sales?' 'Are you going to please clients?'" she wondered. "In corporate America somebody else is doing the worrying. When you become the owner, you become that top layer. You have to worry about it all."
Agatha Achindu set up shop with a small staff, cooking small batches for Yummy Spoonfuls' growing customer pool. Soon others started to take notice, but it wasn't until she entered a baby food contest in the parenting magazine Cookie that there was a measurable shift for the business. "I sent in samples of my food, like apricot and brown rice and lentil porridge, and I found out a month later that I had beaten all of the competition—all 12 of them. We won "#1 Baby Food: Best Taste" [and] "Best Overall," and received five out of five stars in every category. Then we were called by CNN for the first time and I said, 'Okay, this is really happening.'"
Though the switchover from corporate America to small-business owner was not seamless, the payoff has been worth it, Agatha Achindu says. "The first year I missed the paycheck, but I love what I do. I tell people all the time if you want to start the business and it is going to be successful, it has to be something that you love. It is going to be a lot of hard work. Sometimes I would go 24 hours and then realized that I hadn't had any rest.
"Between taking care of the kids, the husband, and the household chores, it's a lot," she continues. "Lack of money was a major obstacle. We were used to a certain lifestyle that was now out of reach—we had moved from a two-salary to an one-salary home. The things that we took for granted were no longer a priority. We were more mindful of money and just grateful for what we had."
But there are some wins here and there that make the sacrifice worth it, Agatha Achindu says. One of her major goals was to sell her line at Whole Foods. She would drop off samples to team leaders at her local store regularly and teach them about her approach to food and nutrition. Soon she landed a pitch meeting at the Whole Foods' regional office. "When I got there," she says, "I did not know that the woman I was meeting with was a new mom. She tasted the carrot, sweet potato and broccoli [puree] and loved it. I didn't even have to show my presentation. My product was in Whole Foods after two weekToday Yummy Spoonfuls is a national company featuring 27 types of high-quality baby food made from fresh fruits and vegetables sourced from local farmers and suppliers. The company ships across the country and has a large customer base on Amazon. The brand has been featured in Martha Stewart's Living magazine, on E! Network's Tia & Tamera show, and on Bravo's Real Housewives of Atlanta.
"I love making a difference," Achindu says. "I get emails from parents, from people who didn't realize that healthy eating was possible. Creating awareness is a blessing to me."
Q&A
HOW DID YOU FEEL WHEN YOU FOUND OUT YOU WERE GOING TO BE A MOTHER?
I felt [a] feeling of being responsible for such a huge gift. [It's] something that I can't even describe. I tell my friends all the time, "There are women all over the world. God just chose me to birth and guide this child."
WHAT HAS BEEN THE BIGGEST SACRIFICE YOU'VE MADE AS A MOTHER?
Not everyone is blessed to be able to nurse and I was. I prayed to God that he would nourish me enough to produce enough breast milk to nurse my baby and not have to give him formula. I nursed him for 16 months.
My best friend was my breast pump. I was often out of the house and would have to pump five times a day. Breastfeeding—nursing while having a full-time job—was the biggest sacrifice I made as a new mom. It wasn't the easiest, but it was the most fulfilling. It meant pumping breast milk in airport bathrooms and almost every major retailer! I was committed and it has paid off every day with Jared-Zane's good health. It is that initial gratitude to God for his healthy birth that motivated me to give my son the best and that included breastfeeding.
HOW DO YOU KEEP YOUR FAMILY A PRIORITY?
Separating business and home was a huge obstacle in the beginning. When I worked for someone else, I would come home and be done with my job. I didn't have to bring work home with me. With the new business, I would bring work home: scheduling meetings and always thinking about next steps. You have to work at being more mindful about separating business and family. What has worked for me is using a planner. I schedule everything including date night. Unless someone dies, my schedule doesn't shift. During playdates with my boys, the phones are turned off and we play uninterrupted. Never underestimate the power of planning and keeping a schedule. That has really worked for me. At the end of the day you feel good and you don't feel guilty.
WHAT IS YOUR PARENTING PHILOSOPHY AND HOW DO YOU EXECUTE IT?
I think for me one thing that I know is that I am not trying to be their friend. I mean, I love my kids to death but I am the parent. I am here to guide you and direct you. I am consistent in my parenting. We have rules. My kids are smart—they know. We do homework. Monday through Thursdays at home there is no TV. On Friday after school [and Saturday and Sunday] there is TV, but during the school week there is nothing. They get home and do homework. If they get done early, then we can do another activity. It is not even something that we fight over because there is not enough time to do too much.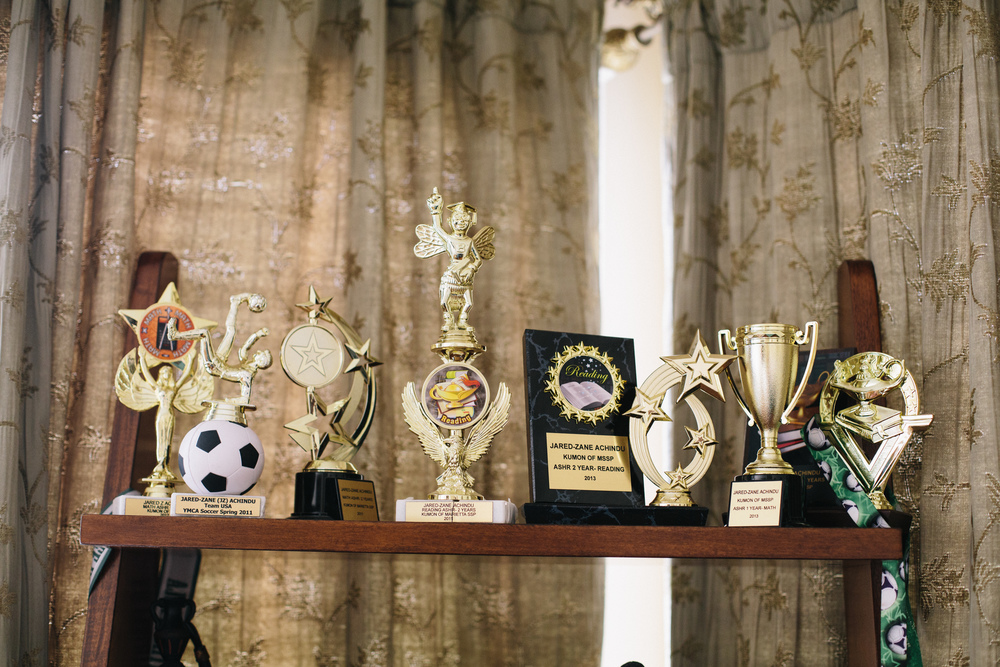 WHAT KIND OF PEOPLE DO YOU HOPE YOUR CHILDREN BECOME?
I tell them as African Americans you are not just some random person. You come from a deep tradition, a deep culture: the way you talk to people, the way you dress. You are big. You are strong. You are smart. The only person who can make you believe this is you. No one can make you believe that you are not smart enough or strong enough. Society might [try to] make you believe that, but you have to be strong and proud because of your ancestry. On Sundays I have them dress in African wear for church. My father would visit and draw out the family tree, explaining to them our culture, what men would do, how they take care of the family.
"GOD JUST CHOSE ME TO BIRTH AND GUIDE THIS CHILD."
Jared-Zane goes to Catholic school. He is one of three black kids in his class. They just did a project and I can see the pride in him. He had to write about someone he admired and he chose Nelson Mandela. He was doing the research and was shocked by some of the injustices. I tell him, "Yes, that's why I want you to be educated. That's why I want you to be proud and know who you are. That's why if you don't know who you are, then someone is going to tell you who are and you'll fall for it."
WHAT'S THE MOST GRATIFYING PART OF YOUR JOB?
The ability to touch other peoples' lives is the best part of my job. I have a ton of stories—a lot of parents don't realize that baby food is old. Saying to a mom, "Oh, those peas could be two years old," and seeing the light bulb go off in someone's head [is so gratifying].
I truly believe that if we start babies off properly with the right foods, we wouldn't have the problems that we have as they become older with not wanting to eat the proper nutrition. Even at this age, I crave what I know and that is real food. If you start a child with processed foods, that is what he will crave. I see it with my sons. My son will eat everything from raw okra to raw cabbage. There is no smoothie that we make that he will not try. I know from experience that starting a child off right is the key to a healthy lifestyle. Maybe your child was trained to eat [junk], but you can untrain your child with a bit of tough love. I tell people if you don't want your child to eat then don't bring it into the house. That way you don't have any conflict, [and] then you don't have to fight for everything. You can train a child. Keep trying.
WHAT DRIVES YOU, AS A BUSINESS OWNER, TO KEEP GOING?
This business is me answering a call from God. I really try to help parents understand the importance of nutrition. This is how I think God works all of the time, providing opportunity. This business started from pure charity and trying to serve: Mothers I used to teach kept coming back for more. The requests from moms kept coming in, and from 2004-2006 I did over 40 workshops while I was still working in technology. The workshops fulfill the promise to God that I made and now we have a business.