Questions, questions, questions—life is full of them, no? But for the career-focused women nearing a certain baby-bearing age, there only seems to be on: When are you going to have a baby? Crystal Black Davis was decidedly in the "never" camp when it came to that question. She tells mater mea how an unexpected blessing changed her mind… and her life.
It's a truth that few women can run away from: once you start hitting certain life milestones, the big question—When are you going to start a family?—is sure to follow.
Crystal Black-Davis had the loving marriage (she and her husband Anthony Davis just celebrated their 10th wedding anniversary, and have been together for 15 years), the successful career (she's owner of a gourmet food marketing firm) and the years were starting to make that irreversible flip against her if she wanted to become a mother (as everyone—including her doctor—reminded her).
Pretty sure she didn't want to have children, Black-Davis decided to share her decision with the masses in a 2010 Essence.com article titled: "I'm Not Ready For Kids."
"My professional dreams are finally coming to fruition and I'm ecstatic," Black-Davis, then 35, wrote. "I don't want to rush into motherhood because I'm scared to wait any longer and then wonder whether the responsibility held me back."
"I was the poster child for waiting to have a baby," she says now. "[For] putting your success and your career first."
But as the saying goes, if you want to make God laugh, just tell him your plans.
"That article came out at the end of September, and I found out I was pregnant a month later," Crystal Black-Davis says, laughing. "I got a three-pack [pregnancy test] and I took all three. They were all positive.
"I think I knew at that point that God saw it fit for this to happen. I never would have done it on my own," she continues. "[My son] Elijah has been the biggest blessing to me
Though Elijah was a blessing Crystal Black-Davis didn't see coming a year ago, her mother, Margaret, always knew he was on his way.
"My mom said, 'When that magical day happens [and] you finally decide to conceive, you're going to have a boy,'" Black-Davis recalls. "She said, 'For your lifestyle, you're going to need a boy—someone who you can brush his hair and go.' She would always say that, so when I got pregnant, there was no doubt in my mind that I was having a son."
Elijah, who at 1 moves at a clip that suggests he'll be a track and field athlete just like his dad, relaxes in his mother's arms as they walk around the family's modern two-bedroom loft in a converted Jersey City warehouse. It's a scene that was inconceivable to Crystal Black-Davis a year ago; at that point in her life, she was focused on growing her company Savvy, the gourmet food consulting business she founded in 1998. Savvy initially started as a way to continue her love of event planning and fundraising she developed as a member of Alpha Kappa Alpha sorority in college.
Back then Black-Davis did Savvy on the side while working full-time, developing global business strategies for a software company. But when she was laid off after her company was acquired in 2006, she saw an opportunity.
"After being downsized from the technology field, everyone thought [I was] going to do technology marketing," she says. "[But] that [didn't] make me happy. Food makes me happy! I wondered what would happen if I devoted a fraction of the time that I put into that corporation into [my company]. And that was the birth of what Savvy is today."
Even though her first client was Australian celebrity chef Chris Smith, growing Savvy into the global force it is today was far from easy, Crystal Black-Davis recalls.
"Anthony was in grad school full time [then], so there were some challenges. There are times he could have [said], 'Crystal, I don't see how we're going to be able to sustain our lifestyle if you don't go [back to] work,'" she says. "A lot of my projects and my income is cyclical. The second challenge was that I hadn't worked in food. So I couldn't really present my resume and say, 'Look at all these amazing brands I've worked with.' I had to really sell my skill set, and convince clients that my [experience] was transferrable … in the food world."
To say growing Savvy kept her busy would be an understatement. And if that weren't enough, Crystal Black-Davis began exploring another side of her creativity by penning "Shaken and Stirred," a novel focusing on the professional and personal lives of a group of women in their 30s.
But in the midst of being a poster child for having it all, Black-Davis suffered an unexpected blow: her mother's sudden breast cancer diagnosis and death.
"It was a quick sweep," she says now. "She was diagnosed in February of '09, and passed away in August. Blindsided all of us. She was about to turn 56."
Losing her mother effectively ended any maternal inkling she might have had, Crystal Black-Davis says.
"I was like, 'There's no point now,'" she says. "[My mom] would always say that she would be out here for the first three months with me and help show me the ropes. I didn't have that [any more and] I felt like there was a void."
Now, almost four years after losing her mother, Elijah has brought out the maternal side Crystal Black-Davis had previously told the world she didn't have. He's also brought her closer to her mom—just one of the "many ways" her son has been a blessing, she says.
"When Elijah was a small infant, before he began to social smile, every morning, when the sun would rise … and [it] would cast this gorgeous glow right above our staircase," Black-Davis says, with a thoughtful smile. "And every morning Elijah would just smile and gaze at it. I [felt like he was] encountering my mom's spirit. I felt like she wasn't far. She was still with us, checking in on her baby every morning."
Q&A
WHAT DO YOU THINK OF THE OFT-REPEATED MAXIM THAT THE MOST IMPORTANT DECISION A WOMAN WILL MAKE IS THE MAN WHO SHE IS GOING TO MARRY?
I agree. I think he needs to be able to complement you. One thing that I can say is in my marriage, first and foremost, we are best friends. And that's how it started. He complemented me, I complemented him. We didn't have everything in common, but the things that we did not understand about each other, we respected. We're best friends, and I enjoy my time with him, and the love is just a plus.
I know I can't be as successful as I am if I didn't have him in my life. He supports me. He could have easily said, "You need to find a job, do this on the side," or "I don't really think that you should put all your eggs in this basket." I have an encourager, a cheerleader who expects me to swing for the fences. I couldn't be who I am without having that [kind of] life partner.
HOW HAS BEING A MOM CHANGED YOUR LIFE?
I feel like now frivolity is not necessarily what I'm able to engage in anymore. Every moment and every minute has to have a purpose. Because I'm a mom, I want to focus on him, so there's not a lot of idle time. I still make time for me, but I want to make sure that I'm balancing my time, and [that I'm] being a good mom to him and being able to devote the time that I have to my business.
I always think the biggest change is just making sure that I'm managing my time and making sure that every minute has purpose, even if the purpose is to rest, and to be able to indulge in a little me time. But it has to have a purpose.
HOW DO YOU BALANCE EVERYTHING?
It's time management, it really is. I know sometimes I feel like I'm being extremely anal, but on my computer calendar, everything has a block of time. And that's the only way I can get by, because I know I can't rely on my memory to know I need to be doing this next.
I think understanding that there has to be balance and that everything is not urgent anymore [is important]. I used to live by a rule where if it came up, then it must be done right now. Not anymore. I prioritize, I delegate, and I do things differently now because my time has to have a purpose. But I also have to make sure that I have me time, and that's very important because if [you] didn't, as a mom, you would literally feel like you've lost yourself.
FILL IN THE BLANK: I LOVE BEING A MOM MOST WHEN …?
(Laughs) There's so many! I love being a mom most when I'm watching him sleep. I know that sounds crazy, but he is my angel. Just to watch him in the most peaceful state… I mean, he is so angelic and it warms my heart. It's that unconditional love I never knew that I could feel for someone.
[Anthony and I] go down and peek in on him. We'll ask each other, "Are you going to peek in on Sweetie Poo?" We'll stand over him for 10 minutes sometimes, just rubbing his back and watching him.
FILL IN THE BLANK: BEING A MOM IS THE HARDEST WHEN …?
When he is entering a new stage of development, because what we thought was predictable and routine becomes chaotic again! (Laughs)
DO YOU HAVE A BEAUTY REGIMEN THAT YOU FOLLOW?
I'm more regimented now than I was before; I just want things to be streamlined and time efficient. Makeup is very minimal; [on] special occasions I'll do makeup, but [it's] typically lip gloss, mascara, bronzer on my cheek, and I'm gone.
My hair is natural. I [usually] wash on Friday night, because it typically takes two days for it to really settle into [its] pattern, and [on Sunday] I want to look nice for church. I do plaits, cornrows, bantu knots at the end with a pin, and every morning I just shake that out and go. It's so easy.
I'm a devotee to Moroccan oil. I love the smell, I love how it makes my hair feel. I don't have the brittle ends that I used to have [and] I don't get that shedding anymore. It's good stuff. Just the smell alone will take you to another place!
FILL IN THE BLANK: I FEEL MOST BEAUTIFUL WHEN …?
… I'm not trying to be beautiful and my husband says that I'm beautiful. That makes me feel like despite the hard day, despite the makeup-less face, the disheveled hair, and … the mom uniform, he still finds beauty in that, and I think that's wonderful.
Second, there are certain glimpses where I can catch myself in the mirror and I look just like my mom. It's a split second, but if I open the medicine cabinet [and] close the mirror, [that] first glance, I'm like, "Wow, that's my mom." And she was beautiful, absolutely beautiful. Everyone comments to this day, "Your mom was sharp. She was regal." And she was.
DO YOU HAVE AN EARLY MEMORY OF WHEN YOU REALIZED THAT FOOD WAS YOUR PASSION?
My dad always had Travel + Leisure and Food & Wine magazines. I think it may have been a sweepstakes that he entered in, because he was getting these magazines that he would always throw away. (Laughs)
[I would] always ask him every month, "Did we get the magazines?" I would lose myself in Travel + Leisure, looking at different places I knew I wanted to travel to and experience when I grew up, and in Food & Wine, looking at all these wonderful, exquisite things that I don't see on a daily basis.
My mom, she wasn't a cook. (Laughs) She was someone who kind of did easy packaged foods, and most women in the 80s did that. That was like the Hamburger Helper era; I didn't see foie gras in the house, I didn't see Piave cheese. These are things I read about and I was like, "Wow, when I grow up, I'm going to experience that." That really shaped my love.
I also had an uncle [who] spent a lot of time in his early twenties in Germany and picked up a lot of cooking techniques there. So when he moved back to Indianapolis, he would always be the one that would take it over the top when we had holiday dinners. Here we have greens, macaroni and cheese, and a soufflé. (Laughs) So he kind of helped to spur that as well. I just loved the whole culinary culture. It was just intriguing, and it still is to me. A lot of people have their favorite designers and their favorite artists—I have my favorite chefs.
WHAT'S THE MOST GRATIFYING PART OF YOUR JOB?
The fact that I'm actually in control. I love being able to look at an ad in a magazine and say, "I actually contributed to that," or see a product on a shelf and say, "Wow, that's mine. I helped to get them to this point."
The majority of my clients are what I classify as legacy brands: They've been very successful in Europe, or India, or West Africa, and a lot of times it's their ultimate goal to export to the U.S. Savvy's job is to ensure that the success they've had over in their native country will translate over to the U.S. [It's almost like] building a brand from scratch because it's a completely different audience [and] a completely different set of experiences. [I'm] making sure that once it's on the shelves, consumers know about it.
That's very gratifying, to be able to see in the retail space where consumers are actually not only being exposed to this brand, but they're also engaging the brand: They're talking about it and they're loyal. It's very fulfilling to see that come to fruition.
CONGRATULATIONS ON THE RELAUNCH OF "SHAKEN AND STIRRED"! WERE YOU ALWAYS A WRITER?
No! It's crazy because I started journaling back in '98, the year I met Anthony. There were a lot of milestones … I just felt like I needed to remember this, because this was a good time in my life. A couple years later, I picked up my journals, and my life story read like a book. It was the journals that helped me to build scenes and to be able to create emotion. I fictionalized my journal and created "Shaken and Stirred."
Part of why I felt like "Shaken and Stirred" needed to be published was for some strange reason, we have lost our balance in the African-American voice. Back in the 90s, we had all these great movies like "Love Jones" and "Brown Sugar" that told our stories and balanced the "Boyz N the Hoods," which [is] a part of our story as well, but not all [of it]. There was also a time where you had … the Bebe Moore Campbells and Terry McMillans of the [literary] world. All these women who were upstanding women you aspired to be. There was balance. What happened?
Now all we have is "Love and Hip Hop" and "Basketball Wives." I'm totally fine if another "Basketball Wives Chicago" comes out next year, as long as there's something to balance that image. The moment we become one-sided, we've lost the management of our brand as African-Americans. We need to regain some brand management because that is not all we are.
Elijah just happens to be a huge fan of mater mea! He navigated to the site all by himself.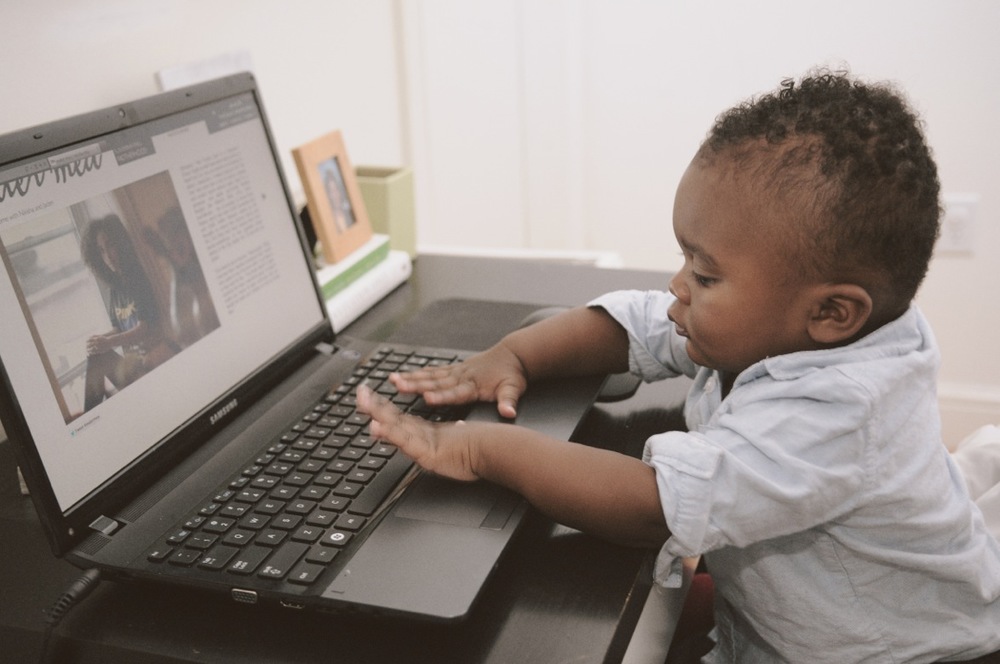 WHAT PERSPECTIVE OR EXAMPLE DO YOU HOPE TO IMPART ON ELIJAH IN YOUR WORK?
Making sure that you live up to your claim. I have this funny saying: I always give my clients Cirque Du Soleil service. I would bend over backwards, do anything to make sure that they're getting what they paid for. At the end of the day … all you have is your reputation.
WHAT KIND OF MAN DO YOU HOPE ELIJAH BECOMES?
Like his dad. Someone who is serious about education and [is] just a successful, well-rounded person [with] a sense of humor [and] a love of God. He's got a great example—Anthony, as the head of the household, exemplifies all of these things. Elijah sees this, and all I can do is hope that he is just as great as his father, and if possible even better. Which is very hard to do. (Laughs)
HOW DO YOU FEEL ABOUT RAISING A BLACK SON, THE WAY THE COUNTRY IS RIGHT NOW?
I feel like he is a shining example of what the country should see. He comes from a good family. Here is a little African-American boy [whose] grandmother is getting her PhD and actually marched in Selma. His grandfather has a degree in math and he was a part of the sit-ins; his dad has his MBA; and his mom's a college graduate. He's got a lineage [where] this is expected. This is not anything that he would even have to consider. This is his heritage.
My hope is that he'll never live up to stereotypes. As a parent you do whatever you can to ensure that they go the way that you steer them, but I feel like he's going to be a shining example of what we know is a good black man. We're setting him up for success. Anthony and I always say if he fails, it's going to be of his own choice, not because of circumstance.