There is a tremendous amount of movement in Makeda Thomas' life, which is unsurprising since she has been dancing professionally for 15 years. Thomas, 35, has toured and showcased works with several big-name, Brooklyn-based companies, while somehow finding time to found her own self-named dance company in 2003. Thomas and her 3-year-old son, Shiloh, split their time between New York and Trinidad. Thomas speaks with mater mea about her two homes, and how each place keeps her grounded.
If choreographer Makeda Thomas had her way, she'd never leave her house. On the first floor of her New York home, her sister runs a daycare where Thomas' 3-year-old son Shiloh spends his weekday mornings and afternoons with other children, while Thomas heads into the studio or works in a small office in the attic. Many of the matriarchs in Thomas' family reside in New York, and were on hand when she gave birth to Shiloh in their home. There is a garden out back where she and Shiloh grow "everything from carrots, to tomatoes, to ginger, to okra" for big, Caribbean dinners with family and friends. She almost has everything she needs.
"My friends always tease me because I could very happily stay in this house for months and never come out," Thomas says. "I bought this house in 2001 because I wanted to set those foundations. Now that I'm 35 years old, I can have the freedom and mobility that I have built on those foundations," Thomas says.
That mobility includes having a home in Port-of-Spain, the capital city of Trinidad and Tobago, her home country.
"In Trinidad, we have way more people around us because it's this kind of village life. Your neighbor's not across a two-lane street; your neighbor's right there. The scale of everything changes," says Makeda Thomas. "My mom and my sisters are in New York; and in Trinidad, Shiloh has a much more male space that includes his dad and his grandfather, to whom he is incredibly close. That's the best part of what I do: the freedom."
Makeda Thomas often uses the word "freedom" to explain her motivations and goals.
The origins of her decision to start a dance company took root in 1999 when she was still dancing for Ronald K. Brown/Evidence, a New York-based dance company focused on stories of the human experience and the African Diaspora respectively. Thomas was no older than 21 then—the youngest person in the modern-dance company at the time—and had joined the group at an especially exciting moment. Ronald K. Brown was "on fire" and its projects were being performed by companies like Alvin Ailey American Dance Theater, Thomas explains. The group had a hectic schedule, but Thomas felt prepared for the pace after an earlier apprenticeship with Urban Bush Women, a troupe whose themes center on women of the African diaspora.
Makeda Thomas remained with Ronald K. Brown for a year before returning to Urban Bush Women when a full-time company position opened up. Then, still not slowing down, she left UBW after three years to join the premier hip-hop group Rennie Harris Puremovement, where she spent another three years choreographing works that toured internationally around Africa, Europe, and North America. Though she enjoyed her work, Thomas felt something was missing in the dialogue she was creating as a dancer.
"Ron used to say all the time, 'Who is going to tell your grandmother's story?'" she says. "That stuck with me because although I was performing in works by black artists, it was definitely a black-American experience, and I saw some space for my own experience to be told." That feeling led her to create own company in 2003.
Being responsible for the business side of making art increased Makeda Thomas' workload "tenfold," but she felt prepared. After earning her MFA in Dance from Hollins University in Virginia and before her first stint at Urban Bush Women, Thomas had briefly worked at Sony Music and Coach in the media and public relations divisions where she developed a "good head for business." And creatively, "like all young artists," Thomas says she initially pulled inspiration from the many people she had worked with before settling into her own vision: multimedia performance projects with "an Africanist aesthetic."
Makeda Thomas put her undergraduate degree in English to good use and devised experimental, multi-genre works that went beyond the stage and could be filmed in gallery spaces or outdoors, such as 2008's "Costa del Alma," the seven-minute film she made with Finnish videographer Panu Kari, which takes place in the Indian Ocean at low tide, just off the coast of Mozambique. Or her current work, "Speech Sounds," a partly improvisational work named after an Octavia Butler short story in which "the only likely common language [is] body language."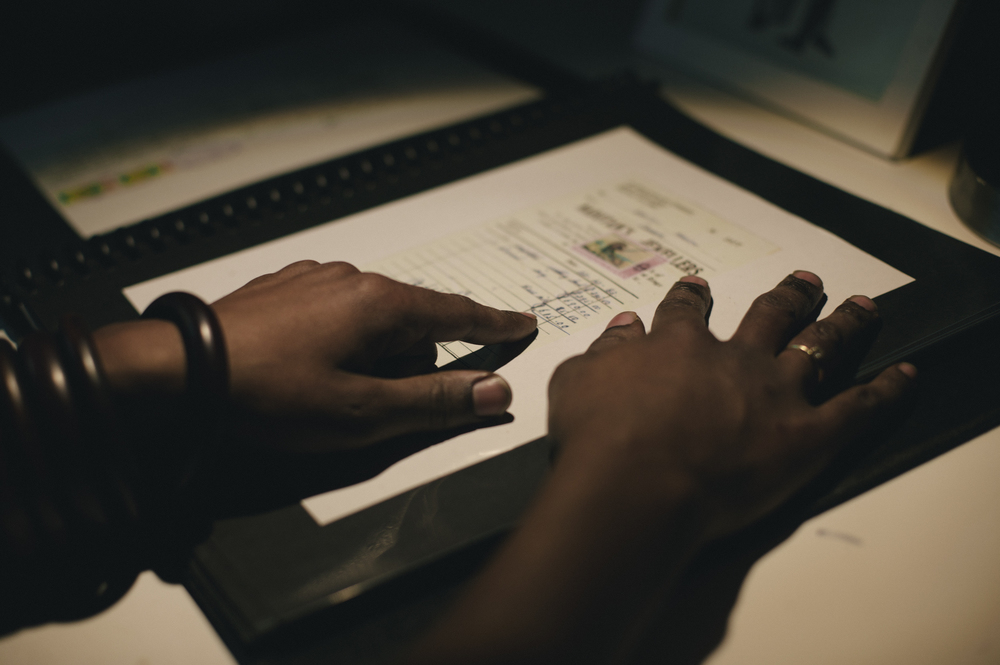 Though these projects may appear to be a leap from what Makeda Thomas had done under the banner of other artists, experimenting with literature and other media comes naturally to her, especially as she gets older.
"With each work that you make your voice becomes clearer and the idiosyncrasies of your personality become more apparent. So I'm really proud of where I am right now," she says. "The companies and artists I worked with before starting my own company were like parents. They lay a sort of foundation, and then you step away from that and come into your own. That's what's happened for me in the last decade. Now, I can experiment more and make myself out more in the complete image of all that I've learned. I'm just in my own skin—and certainly after I had my son."
When Shiloh was born in 2010, Makeda Thomas had been living in Trinidad for four years. She returned in 2006, five years after the death of her father.
"The arts community in Trinidad is vibrant," she says. "Visual arts in particular are incredible, and the literary art scene is highly-regarded and well-known. But in Trinidad there is a lot less energy, support, and fewer conversations happening around dance, the body, and how we physicalize our experiences."
Trinidad and Tobago didn't necessarily lack an arts scene—Thomas notes that artists like Pearl Primus and Geoffrey Holder are known internationally—but the scope of the arts in Trinidad is much smaller-scale. And though she was from the island and had visited every summer, Thomas was, in a way, the new kid on the block.
"I was in the United States when people were going to school with each other in Trinidad and developing relationships with one another," she says. "So I had to have patience. I had to get to know people and cultivate relationships with them, and include myself in conversations about the work that was already being done there."
After four years of establishing herself in the community, she felt ready to launch the Dance & Performance Institute in her home country in 2010. Since its inception, the Institute has been a space for important conversations about the body, movement and cultural production for an international community of dance and performance artists.
"I started the Institute to create a space where dominant discourses on art and culture could be challenged and where new progressive languages could be spoken," Makeda Thomas explains. "[It's] a space where dancers could dance and be healed from the laborious hierarchies of imperialism and colonization; a space where we could "each re-strategize our own personal vision."
Makeda Thomas was five months pregnant with Shiloh when the first artist-in-residence arrived so, as she puts it, "children have always been part of the vision of the organization and very present."
"Tony Hall, a Trinidadian playwright and scholar, has this process he calls the 'Jouvay process,'" Thomas says. "It describes a way of seeing the world and making work that reflects what you're seeing. I was a mom, so it made sense to me that this should be a part of our vision."
Unlike many other residencies, Thomas' Dance & Performance Institute allows artists to have their children on site and makes space for them when it is necessary. Her team also helps families scout for housing in the area and makes classes available to youngsters. For Thomas, making it possible for people with families to take part in the Institute isn't about pardoning exceptions, but following through on a commitment.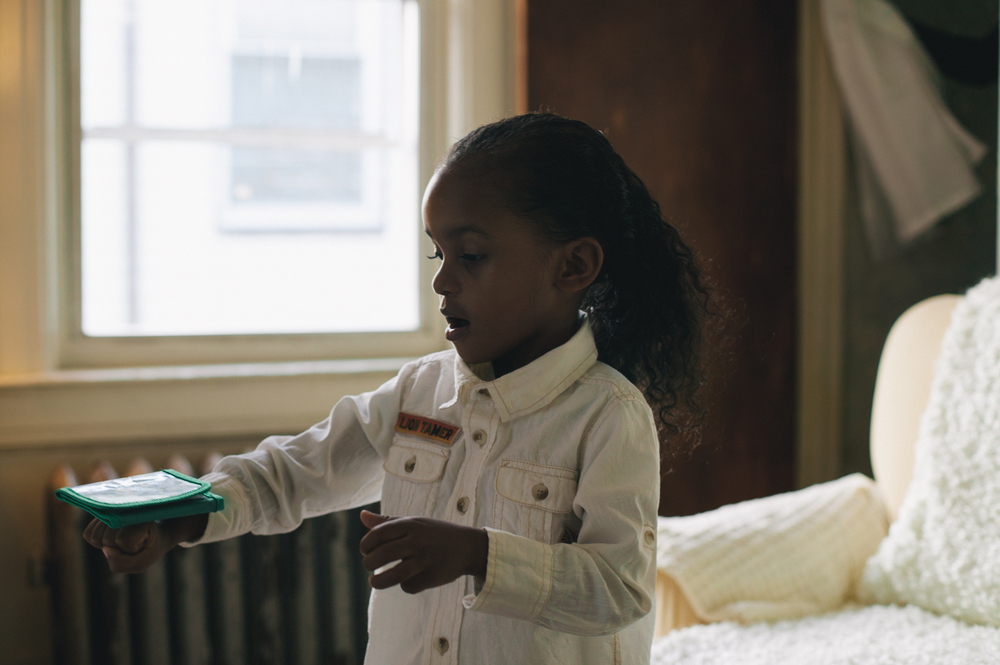 "I responded to what my circumstances were and what my environment said to me was necessary, because I was pregnant and running this program," she says. "But also, if we're going to talk about different kinds of communities, and communities that include children, we're going to have to make a way for those to exist."
Another promise that Makeda Thomas is making good on is continuing to explore the work of artists in other places of origin in the Caribbean diaspora. Although the program has taken place in Port-of-Spain every summer since it started in 2010, this year the two-week intensive seminar Thomas runs will be moving to Haiti, a shift Thomas believes is a natural progression.
"I want to expand the conversations we've had in Trinidad as far as the art-making process, Caribbean art theory, or even the idea of what the Institute means as a community," she explains. "All of that stuff—discussions about what it means to be free, and to be a Caribbean artist—shifts when we move into Haiti, which is really the birthplace of the entire black experience in the Americas, in a way. I think it'll be a prime place to form political, social, and cultural alliances with the artists who are there."
And beyond that? Maybe more children, and definitely more travel, more movement, and more growth. "I love the fact that I can focus on writing and be in a more scholarly space if I want to," she says, explaining the importance of fluidity in life. "I can be in the studio, or dream up an incredible program that I think is missing from all the programs out there—and then I can make it happen."
Q&A
HOW HAS BEING A MOM CHANGED YOUR LIFE?
It's made me firm in my convictions—all of which were up for rethinking with the birth of my son—and I'm more compassionate to all of the different kinds of people that there are. I used to be able to watch certain violent scenes in films or television, but I can't anymore. I'm always thinking, "That could be somebody's child."
DID YOU ALWAYS KNOW YOU WANTED TO BE A MOTHER?
Always, always, always. It happened in the best way possible, though I always imagined I'd be much younger. I didn't think I'd be 32 years old and having my first child. All of the women in my family had their children in their 20s, so that's was my idea of when you started. But I wasn't concerned because it was a great time for my family. I was dancing and performing and had just gotten my MFA, and I was in Trinidad since my mother was getting married. So when I learned that I was going to be a mom, it was the best timing: I was ready and Shiloh's dad was happy.
WHAT WAS YOUR PREGNANCY LIKE?
I enjoyed every moment of it; it was a great pregnancy. I was still doing dance, which requires quite a bit of travel, so I went back and forth to Trinidad and came back to New York for the last two months of my pregnancy so that I could be spoiled by my sisters and my mom. I had a Colombian doula and a Jamaican midwife, so the process felt very natural and I loved it. I also breastfed Shiloh for three years because, to me, breastfeeding is just what there was; it was a choice. If I couldn't do it, then I'd have to make another choice, but it was what I wanted and was able to do. I knew that it was healthiest, and I wanted to have that amazing experience of bonding.
I knew this as a dancer, but what I really learned during my pregnancy was how intelligent the body is. It can create and lead the right nutrients to the right places. It's a being that knows exactly what to do, and it's amazing. So I learned to step back and honor that [that] wisdom, which included breastfeeding, was completely natural. And letting Shiloh breastfeed until he wanted to come off was the way to go and made sense.
WHAT ABOUT DANCING AFTER HAVING A BABY? WHAT HAS THAT BEEN LIKE FOR YOU AND HOW HAS THAT CHANGED YOU PROFESSIONALLY OR THE KINDS OF WORK THAT YOU DO?
Luckily, my body did not change that much and I still feel very good about it. I'm probably thinner now because of breastfeeding, so that helped me get back to my size very quickly. Being a mother has, though, made me think a lot differently about how I want the female body or the body of a mother to be perceived, thought about, and performed.
For example, my whole relationship to even my breasts has changed dramatically. I don't want to make this whole thing about breasts themselves, because there's also a discourse about the overexposed, oversexualized black female body that I'm aware of. And yet, I want to assert and expose the power of all the stories and experiences that the body has to tell. This kind of thinking underlines some of the choices I've made artistically—"Speech Sounds," for one, does feature some nudity. And I don't think that kind of perspective I have now was possible before I was a mother.
WHAT DOES "BALANCE" MEAN TO YOU, AND WHAT ARE WAYS THAT YOU RECEIVE SUPPORT OR GIVE SUPPORT IN ORDER TO MAKE THIS WORK FOR YOU?
I happily can say that I exist outside of those conversations about work-life balance. I live in movement so, for me, balance is necessary at points—but only so that I can continue to move. I'm always aware that life is going to be in flux, and the flux involves people in my community who are invaluable to me: my family, the rest of my neighbors in Trinidad, and my Institute family as well. Every summer, when I have a big group of people around me I say, "If you see Shiloh, in that moment, he belongs to you." And that goes for any child that's in the space at the time. This is a very West Indian thing and sometimes we have a very international group of people who may not know what's appropriate or what they can say to someone else's child—but we tell them it's okay: If you see a child, they are your responsibility in the moment that they're in your eyesight. This is automatically a community, and I could not do what I do if it were a different kind of environment.
WHAT DO YOU ENJOY MOST ABOUT BEING A MOM?
Re-seeing the whole entire world with Shiloh and having him in my life. Kids really do challenge you. You have to walk the walk with your kids. I'm not one of those "Do as I say, not as I do" kind of parents because I know that doesn't work. If you tell your son to be honest, for example, he'll just hold you up to it. Everything that you say you're about you have to be in front of your children. That's been the greatest challenge for me—to meet that expectation, which ultimately makes you better.
WHAT HAS BEEN THE BIGGEST CHALLENGE YOU'VE FACED AS A MOM?
Figuring out how to make sure to include his father in everything since Shiloh and I go back and forth between New York,Trinidad, and Tobago, where his dad is. On top of that, we have the traveling that I do for work, and Shiloh goes to everything with me. With that kind of schedule, I have to be really conscious to make sure that he spends quality time with his father, just the two of them.
WHAT IS YOUR PARENTING STYLE AND HOW DO YOU EXECUTE IT, ESPECIALLY WHEN YOU EXPERIENCE DOUBT AS A MOTHER?
I'm encouraging Shiloh to be seriously independent. I think the only true way to honor the self is if you ask questions and explore, and try and fail—and all of these things require that you have a really independent spirit. I want him to have that even if it means that we disagree, which I imagine it will. But I still want him to ask his own questions in his own ways, and to find his own answers. That's important to me. That's honoring the divine, and it's all I want him to do.
HOW WOULD YOU DESCRIBE YOUR CHILD'S PERSONALITY?
Oh, he's funny. I see a lot of my father in him every day. Shiloh's very cheeky; he has a really wicked sense of humor, but is very sweet and very loving. He's also a flirt and is very, very charming and knows when to turn it on. We can't believe it. Right now, he's a very heterosexual male. That could change—I'm open—but right now he has all these little girlfriends. His whole self just changes, it's hilarious.
WHAT IS IT LIKE TO SEE HIS PERSONALITY EVOLVE AS HE GETS OLDER?
It's wonderful. It's one of the rewards I imagined being a mother would give. That's why I love it the most when he makes me laugh—I'm collecting all my mother coins. Going back to the idea of being independent, I encourage him to be himself because that's where the most magic and joy will come from for me. Not from getting a little replica of me who's doing exactly what I'm doing, but from how amazing it will be to learn from him other ways of doing things.
WHAT IS THE BEST ADVICE YOUR MOTHER, OR THE MOTHERS IN YOUR LIFE, HAVE GIVEN YOU?
I can't think of anything they've necessarily said, because some of it is old Caribbean nonsense like, "He's two days old—don't pick him up yet! Stop spoiling him now." (Laughs) But what these women have shown me is how to love their children, unconditionally. They have walked away from harsh relationships with men, and certain supposed stabilities and securities, in order to stand by their children.
WHAT PERSPECTIVE DO YOU HOPE TO GIVE HIM THROUGH YOUR WORK?
The most perspective he's probably been getting is that art is life. Because he's been very much in the middle of everything, he probably doesn't recognize that work is a kind of separate thing. I think it could be very powerful if he could learn a very different kind of work ethic. My mother's father, for example, worked very hard his entire life and was honorable because of that, but I think what gets lost is that connection that I want Shiloh to maintain. You can work so hard, sometimes, that you forget the magic. So if Shiloh can learn how to make work part of his life and be enjoyable—but not be consumed by it—that would be awesome.
WHAT KIND OF PERSON DO YOU HOPE YOUR CHILD BECOMES?
I don't want to say that there's nothing in particular I want him to be, because that's not true. If he said "nothing," there would be tears after all this raising him. I hope that he remains connected to himself, to me, to his family, and to his history. That's it.