Rhonda Ross, 41 has enough jobs and passion projects under her belt to make us wonder is she's found a way to freeze time: she's president of a boutique real estate brokerage, a musician and a performer. If that's not enough, Ross has also taught her precocious 3-year-old son Raif four different languages. The daughter of music icon Diana Ross spoke with mater mea about how she does it all.
There's a lot to marvel at in Rhonda Ross' Harlem home. From a purely real estate level, one could be in awe of the three-bedroom apartment's high ceilings, original woodwork, and large foyer that's home to life-sized wooden African fertility figures. Any visitor would be forgiven for having a hard time keeping their hands to themselves—there's so many photos, tchotkes, and art occupying every available space on the apartment's walls, end tables, and many mantle places, just begging to be touched.
Then there's the fact that Rhonda Ross is a Ross—daughter of Motown legends Diana and Berry Gordy—who shares an incredible likeness to her mother (she's all big hair, sharp cheekbones, and expressive eyes).
But right when you're about to ask if you can move in, the home's real star pads into the living room, barefoot and playing with a police car. He rushes up to his mother, skinny arms outstretched and looking for attention.
"Maman, maman, maman," her 3-year-old son, Raif-Henok Emmanuel Kendrick, cries before carrying on a conversation with his mother in an adorably breathless stream of French. Rhonda Ross responds back in kind, telling him to play with his toys avec papa in another room; Raif tucks his police car under his arm and runs away.
At only 3 years old, Raif can speak and understand French, Spanish, English, and Mandarin, and reads the first three languages at a second-grade level. He can also recognize "like 50 characters" of Chinese, Ross says.
"We get in the cab and he says, 'Bonjour!' Then he looks at the person and he says, 'Oh no… Hola!'" she laughs. "I love, love, love all that we've given him."
But why so much for such a little man?
"I have so many reasons that we're doing this, but one of them is that I want him to be able to walk the world and be comfortable wherever he is [and] be comfortable in his skin," Rhonda Ross explains. "I want him to be able to communicate with people without demanding that they come to him, like so many Americans do."
Walking among and experiencing different worlds is something Rhonda Ross, 41, has mastered. She was raised in Beverly Hills, California, spent some of her youth in Greenwich, Connecticut, and went to school in Europe. The ability to jump from one mindset to another is also mirrored in her wide array of jobs, which vary depending on the day: president of a boutique real estate brokerage, artist, and jazz singer to name a few. (Rhonda Ross is also hard at work creating Limitless Mind, a line of teaching aides for parents who also want to teach their young children to speak and read multiple languages.) One could probably get winded just looking at her calendar.
"I end up being so busy because there's so much I want to do, and there's so many ideas [I have] that I think, 'Yes, the world needs this and I can do it!'"
Rhonda Ross credits her "I can do anything" verve to her mother. "She didn't downplay her greatness, but we never felt lost in the shadow of it. We felt that somehow we could also be great," she recalls. "She was able to look at each of us and not dictate who we became but just support and encourage who we were becoming."
"That thought of 'I'm going to follow me as opposed to somebody [else just] because they have some letters at the back of their name,' I know I got from her," Rhonda Ross continues, "because she always said, 'You know stuff, you know it in your gut. You know it and you can rely on it.'"
A core of self-confidence and passion is something Rhonda Ross strives to pass on to her son. And even though her inner compass is relatively steady, she does admit to regularly grappling with the big questions of shaping a child's identity—especially a black male child with "energy levels through the roof," she says.
"How much [do] I need to curtail him and make him fit society? How much leeway does a child get to have to explore who they're going to be?" she wonders. "I know I want to raise a child who follows his own compass, and yet I want him to understand how the world works at the same time. What I want to steer clear of are some of the self-imposed limitations to that. 'Oh, well, you're black so you can't do that.'"
A black kid who can speak four languages is definitely one way to do it—but that too comes with it's own possible landmines and baggage.
"We think about this all the time," Rhonda Ross admits. "I'm figuring the balance day by day because I also want him to fit in in the middle of Harlem. I know [black Americans] of all people have the ability to code switch; we know how to do this here and do that there. Then the question is, you do that, but [then who is your true self]?
"I love the idea of him walking the world—Beijing, Paris, Madrid—and he doesn't need a translator, he can walk that soil. But he can also walk Harlem and 125th Street and know how to speak that language [through] his body language, his everything else. That's my husband's job," she laughs.
Later Raif and his mom sit on a mat, reading from flash cards with funny phrases in French and Spanish ("La lengua del niño esta azul!" The boy's tongue is blue!). He's pleased with every correct answer. He then jumps to his trucks and begins racing them.
"Attrape!" he yells to his mom. Catch it!
No matter what world he occupies in the future (or the language he speaks in it), Raif has got this—just like his mother and grandmother.
Q&A
WHAT DO YOU ENJOY MOST ABOUT BEING A MOM?
I enjoy watching Raif grow and learn. We threw a lot at him as a newborn, and it's been so exciting.
HOW DID YOU BEGIN INCORPORATING FOREIGN LANGUAGE INTO RAIF'S LIFE?
I speak French; I learned it as a teenager. It's been a blessing in my life and I thought [that] I'd like to give that to my child someday. [When Raif was] around 5 months old, after giving him baby sign language, we started to give him French. Then I hired a part-time French-speaking babysitter. He was clearly starting to understand the French, and then we'd started early reading with him. He was really young—like before he could crawl at 7 months, he was seeing the word "clap" and clapping. He was recognizing the word "head" and touch his head.
I thought, "Any child can do this, this is amazing!" So we kept moving on. Once I saw he enjoyed the French, I start putting him in Spanish environments and got a Spanish-speaking part-time babysitter—just a few hours a week. Then I was like Spanish is great for America, but you need Chinese for the world!
WHY DID YOU WANT HIM TO LEARN SO MANY LANGUAGES AT SUCH A YOUNG AGE?
I really believe there's a new generation of kids that get the concept of perspective. They get that I can call this "water," and you can call it "agua," and someone else can call it "l'eau," and It's still water: We don't have to go to war about it. There's an understanding of perspective that happens when you speak more than one language where you can understand that.
But clearly we are going a different way than many parents with the languages and the early reading. There are some schools of thought that say you really shouldn't do it. I'm in disagreement. I think teaching can be … part and parcel of fun and love and nurture and all those good things. (Laughs)
I think there are a lot of people who think you shouldn't teach, let's say early reading, because it's somehow giving children academics before they should have academics. But I believe you can integrate learning with play. To Raif reading is play, letters are fun!
HOW HAS BEING A MOM CHANGED YOUR LIFE?
It didn't necessarily change how I see the world, but it deepened me and where I am and where I see myself in the world. My spiritual beliefs have had to become practical. If I believe in "do unto others," for example, I have to figure out how that looks in practice. How do I teach that practically, how do I exemplify it practically to this child who is copying everything I do and learning way more from what I do than what I say?
The other part that's changed [is that] the minute I got pregnant with Raif and then had a newborn in my life, I realized how hard this job is.
I always wanted to be a parent; I love children, so I was very critical about how people did it. I was judgmental. And literally the minute this kid came into my life, I said, "This thing is too hard. I'm doing the best I can, I'm going to assume you're doing the best you can too."
My judgments went out the window. That doesn't mean I agree with everything, because I clearly don't, but boy do I get we're all out here trying to figure this thing out.
WHAT ARE YOUR FAVORITE THINGS TO DO TOGETHER?
We're big music people, so he's becoming a big singer. We sing together— we love to do that. We read together. We like to play in the park. This summer, we did a lot of swimming, that was really fun for us. We do what's very typical mom and kid stuff, but we just do it in different languages!
FILL IN THE BLANK: BEING A MOM IS HARDEST WHEN…?
When I don't know which way to go. What decision to make, which decision is in his best interest. [I usually have this feeling about] more subtle decisions like, "How much do you curtail behavior that might be tied to the expression of his spirit?" How much do you curtail that so that he fits into society's rules or even more to the point that I, as a mother, fit into society's rules?
YOU HAD A MORE THAN 10-YEAR-LONG STRUGGLE CONCEIVING BEFORE YOU HAD RAIF, AND HAVE SAID YOU FEEL LIKE YOU'RE A BETTER MOTHER TO HIM NOW THAN YOU WOULD HAVE BEEN IF YOU HAD HIM IN YOUR 20S. WHY DO YOU FEEL THAT WAY?
I feel like I have a better understanding of these questions now. I wasn't asking these questions in my 20s, I certainly wasn't answering them in my 20s. I didn't know enough in my 20s to be conscious enough in my decisions so that I wouldn't have regrets.
I feel like I'm a much more conscious mother with him now than I ever could I have been in 20s. I understand the weight of my choices. Every choice, from when I raise my voice to when I don't, to timeouts, to all of it. To what joy he gets to see me in, to how much he sees me work, to how much he sees me play, being present with him, all of it. I'm aware of all the impact of all of those things in a way that I don't think I would've been aware of in my 20s.
I also had a chance between 20 and 40 to try a lot of things, to travel, to do all those things I wouldn't have done if my focus was on him. Now I may still do them, but my focus is on him. Everything comes through him now and I'm happy for that.
WHAT'S THE MOST GRATIFYING PART OF YOUR WORK?
I love learning and I love sharing what I've learned. That is really what I do in pretty much every capacity I show up in. Whether that be through the stage through a song I've written, or poetry, or a public-speaking event.
I'm not arrogant enough to think that everyone wants to hear what I have to say, but I believe there are some people who do, and there is an audience out there for the information that I have to share. I've come here to learn, evolve, and share with those who are likeminded. I really love doing it—that's the most gratifying. When somebody takes a nugget and says "That helped me!" it's gratifying.
WHAT INSPIRES YOUR HOME DÉCOR?
I like comfort. I really like being at home in my house. I don't have any rules. People come in [and] they say, "Do I have to take off my shoes?" No. "Can I eat in the living room?" Yes. I don't want my son drawing on the walls, but other than that we're pretty loose.
I want to feel comfortable in the home; I want people to come into the home and feel comfortable.
Functionality is another driving force. I don't want a room that you only go in twice a year for the holidays. Most of the rooms here have dual functions. This was officially the dining room, but now it is my office and Raif's playroom.
Clearly it's Afrocentric. We love having it around us. We love the energy of it, we love the beauty of it.
I love pictures of family. And I love art.
WHAT INSPIRES THE WAY YOU DRESS?
You mean this old thing? (Laughs) The same things that inspires my home decor: comfort and functionality.
I would love to be in three-inch heels, but that's not functional for me. I want to get done in my life what I want to get done in my life. I want to be present with Raif, I want to be there for him so he's safe, I want to have fun… You can't do it in three-inch heels. Maybe someone can, but I can't.
The only caveat to that I feel [is] the way I wear my hair. For a long time I had dreadlocks. I cut my locks about seven years ago and I've been playing with different versions of natural since then. I will never relax again, that's OUT of the question. That is less of a functional, comfort thing—that's more of the way I walk through the world, the way I define my beauty.
WHEN DO YOU FEEL THE MOST BEAUTIFUL?
When I'm laughing and the moments where I feel aligned with God, with my power, with my beauty, with everything that I was given. And that can come at different times. It comes often through reflection and meditation and there'll be a moment when everything comes together.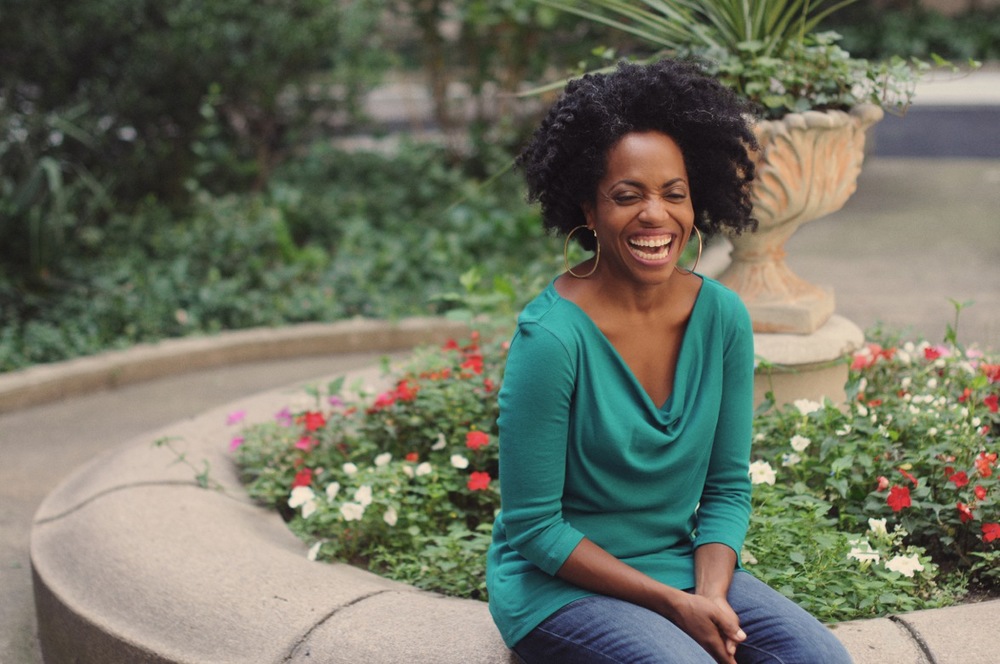 It's not just a physical beauty: it's like a power. It's like an alignment. It's a feeling of "I can do this." And in that feeling there's a recapturing of beauty. Sometimes that can come when I'm dressed up and I'm about to be on the red carpet, but it can also come at 11 at night eating whatever I'm eating in bed. It comes a lot around my son and playing with him, but it comes at moments when I don't expect it.
Our dear friend Abbey Lincoln introduced [me and my husband, jazz pianist Rodney Kendrick]. She [was] a jazz vocalist; she died about a year ago. And she was beautiful, but she was beautiful for those reasons! For an understanding of her power, of her worth, of her value, of her alignment to source and to the ancestors, and her understanding of the importance of the work she was imparting to us. There are women like that, and when I think of them and I feel connected to them I feel beautiful. So it's not about my mascara!
WHAT DO YOU DO TO STAY GROUNDED AND IN ALIGNMENT?
I pray. I meditate. If drawing a picture will align me in a certain way, I'll take a few minutes to draw. If listening to a piece of music will do it, I'll listen to music. I try to stay in alignment as often as I can, because I feel like everything I do is easier and better when I am.
I have a lot of tools. I like affirmations. I love the Bible. I pray and "listen" to God. I love walking in Central Park, I love playing with my son. I'm usually in a good place and every now and then I'll dip down—so I'll figure out what to do to bring myself back up. That's something that I make sure I do every day.
I do whatever I can to lift my spirits. I know it's nobody's job to lift my spirits. It's not Rodney job—though sometimes I think it should be! It's not Raif's job to behave in a certain way to lift my spirits. It's not my government's job, it's not the guy on the corner who screams at three in the morning's job. It's not their job! It's my job! So I take that really seriously.