Hip-Hop is more than a genre of music for Zuhirah Khaldun-Diarra—it was one of the biggest forces in her life, propelling her into a fast-paced career as publicist to some of music's biggest stars, including Jay-Z and the Roots. Zuhirah Khaldun-Diarra explains to mater mea how she translated her passion for music to a new career that, much like Hip-Hop, offers empowerment and inspiration to many.
"Stevie Wonder, Sali. Doesn't that sound good?"
If there was ever a 2-year-old who would love old school Stevie Wonder, it would be Salimata Diarra. Her father, G. Idrissa Diarra, is an African Reggae singer, while her mother, Zuhirah Khaldun-Diarra, spent a big part of the late '90s taking some of the biggest names in Hip-Hop (think Jay-Z and Ludacris) beyond ciphers and mixed tapes.
Salimata reaches up as her mother pulls the record from its sleeve, making pleading "give-me-give-me" motions with her tiny hands. But as soon as the record needle hits wax, and the opening trumpet of Wonder's "Uptight (Everything's Alright)" fills the apartment, Salimata is moving. She is tapping her feet, she is wiggling from side to side and twirling in front of her mother and an unseen dance partner—her baby sister, due in March.
Much like Salimata, Zuhirah Khaldun-Diarra was born loving music and performing.
"I wanted to be on Broadway when I was young," she recalls. "My aunt (the late famed actress Clarice Taylor) played Addaperle the Good Witch in 'The Wiz' on Broadway, and I remember going to see her when I was an itty-bitty. I tap danced, did musical theater, and always loved music."
While pursuing a bachelor's in economics at Barnard College, Zuhirah Khaldun-Diarra found herself drawn into the school's music scene—first as a DJ and then as music director for the school's radio station. Zuhirah Khaldun-Diarra soon became more and more inspired by golden age Hip-Hop, she says.
"I just saw the power and excellence of Hip-Hop. It brought all types of people together, gave voice to young people, and [created] understanding amongst them," she says. "As an economics major, I couldn't help but also notice the economic impact that it had on the music industry and what it was able to do for urban entrepreneurs. I began writing [all of] my papers in college on Hip-Hop. For economics, [I'd write] on the birth of independent labels; for a women's poetry class, on female MCs.
"Hip-Hop became my life. I was living, breathing it. I was of course in the clubs," she continues, "I was DJing it, I was putting on artist showcases at Columbia (University), I was holding unsigned MC competitions."
So although she graduated in 1996 with an economics degree, Zuhirah Khaldun-Diarra decided to follow her passion—even though her first gig offered very little in the way of compensation.
"I took a job working for [subway] tokens at Loud Records," she says, shaking her head, laughing. "After this $100,000 education, I was working for tokens. [But] eventually I got a $5/hour full-time internship at Interscope Records in the international marketing department."
The days of working for subway tokens would soon be far behind her. She went from Interscope to Geffen Records, landing a role as The Roots tour publicist during the band's tour for their acclaimed album, "Illadelph Halflife." She later moved to Tommy Boy Records, working with the iconic rap group De La Soul, before landing at Island Def Jam Music Group, where she handled publicity for (not to brag) Jay-Z, Ludacris, DMX, Ja Rule, and Redman.
"It was dizzying," Zuhirah Khaldun-Diarra admits now. "I'd be criss-crossing the country with these guys, then on a night off I'd run into, Jay or Damon [Dash] downtown at a party, and we'd throw up the diamond sign. They'd be so surprised to see me outside of work—we worked when everybody slept. We were entertaining the world. The beat that the world was moving to on the weekends and their off-time was our full-time life.
"To be able to take that music and get Jay-Z his first feature in The New Yorker and his first appearance on 'Saturday Night Live,' to launch Ludacris' career and get him his first feature in his hometown newspaper, The Atlanta Journal-Constitution, it's just like, wow! It felt really good to be taking this music that I loved to the world."
As passionate as Zuhirah Khaldun-Diarra was about the music she felt moved the world, the breakneck pace was soon too much for her. "I felt as if I was just on this sort of treadmill churning out press releases," she says. "My body couldn't physically keep up with the pace—even my doctor cautioned me to quit. It was really 24/7."
Zuhirah Khaldun-Diarra left Def Jam, and took a much-needed trip to Bermuda to visit her family (her mother is from the island). But she soon returned to the hustle and started her own business, doing PR and marketing for clients—with music tie-ins of course—eventually taking a brand management position with Converse, one of her clients. When Nike absorbed Converse, Zuhirah Khaldun-Diarra, not interested in working for "the mammoth that is Nike," went back to her academic roots, taking a three-year hiatus to get her master's in cultural analysis at the University of Amsterdam.
If the transitions and travel are hard to keep up with, just imagine how it was for Zuhirah Khaldun-Diarra. Her singular focus on her career kept her moving forward. She soon found an unexpected new way to channel her passion for building and empowering talented people (and new reasons to do it, after meeting her husband in 2009 and having Salimata in 2011).
Khaldun-Diarra's circuitous path led her back to the States and to a contract position with the National Urban League, a nonpartisan civil rights organization working towards economic empowerment for disenfranchised communities.
Now marketing director for the historic organization, she says the position offers an opportunity to combine all of her passions and talents.
"I've always been for the people," she explains. "Even my work in Hip-Hop was to a certain extent propelled by wanting to help empower people, because I feel that Hip-Hop does do that for folks. So this work is definitely, for me, an extension of that sort of life mission to help make the world a better place."
It's a mission that's at the front of her mind now that she's a mother, and far from the downtown scene that made up a big portion of her life. But the tales of economic woe and social unrest Zuhirah Khaldun-Diarra encounters on her job—and in the hooks of her favorite rap tracks—are nowhere to be seen as Salimata shimmeys and Stevie Wonder sings, "Baby, everything's alright, uptight, out of sight."
Q&A
DID YOU KNOW THAT YOU ALWAYS WANTED TO BE A MOM?
Yeah, I think I always wanted to have a family. When I was young, I was [asked] "What do you want to be when you grow up?" I knew I wanted to be happy, I knew I wanted to have a family. But I sort of lost that along the way. I got busy with my career, and didn't find that person for a while that was going to be my partner. I didn't have much experience with children. I never babysat, never had young cousins, was not around many babies. So all this joy that the baby's bringing is all very new to me. It wasn't that I was craving this child, it was craving sort of the family around [having a child]. So, yes, the partner was a very big part of that, and I wasn't able to find this person.
I went off and I traveled and lived abroad for a while, came back, and sort of gave up on that dream. [I] was like, "My life is great. I had some wonderful experiences, great career, great friends, and if it happens, it happens." I wasn't like, "Okay, this is the time."
[Then] I met my husband, downtown in SoHo, in the summer of 2009 at a friend's birthday party. We met in July of 2009, and by April of 2010, we were married. I found out two months later that I was pregnant. So it all happened very quickly.
HOW DID IT FEEL? YOU'RE STILL IN THE HONEYMOON PHASE AND THEN YOU FIND OUT YOU'RE GOING TO BE A MOM!
I was 34 by that time, so I was like, "I'm married and I'm going to have a baby with the man I love." I was very excited about it, even though I had no idea what I was in for. (Laughs) But I was excited entering this new phase in my life with my husband.
HOW HAS BEING A MOM CHANGED YOUR LIFE?
Prior to getting married and having the baby, I guess I was a bit of a—I don't want to say party girl (laughs)—but I definitely loved the nightlife. I was a globetrotter who traveled quite a bit; I had worked in the music industry before and maintained a lot of that lifestyle even though I had transitioned into working for nonprofits before I had the baby. I was still out on the New York nightlife scene two to three nights per week.
Burning the candle at both ends with that sort of lifestyle and a corporate lifestyle simultaneously up until I got pregnant prepared me to be a mother. There's a lot of sleepless nights right after you deliver, and sleepless nights for many months after you deliver, and maybe for the rest of my life. (Laughs) [That lifestyle] gave me the stamina to deal with being up four times a night feeding the baby and having to go into the office the next day.
It's been a drastic change. I'm not spending my nights out hanging out with friends and dancing anymore. I'm spending them at home with my child; since I do work, the evenings are our special time together. We're weekend warriors as well.
I think it's changed me professionally [as well]. I've become much more serious. There are higher stakes in life. I find myself more productive in the office, taking my career much more seriously. I've always been a high-obtaining individual, worked very hard, but I think being a mother definitely has helped me as a professional as well, in terms of a seriousness that I bring to my professional life and the work that I do, in managing my time. If I'm going to be away from my baby, it's going to be for a good reason, and I'm not going to waste any time doing it either—the hours are going to be well-spent. I think that mothers are magicians, in terms of multitasking, and also in terms of having the seriousness and the focus.
WHAT DO YOU ENJOY MOST ABOUT BEING A MOM?
I've always been a person who likes the next thing, the new thing. And being a mother, every day there's something new—as my child is growing with her own development, but also [with me] doing things with her. So going to the grocery store is not just going to the grocery store anymore, it's going to the grocery with my daughter. Everything is new and exciting, and I really like that aspect.
And then her smile. She has my dimples. She's a really happy girl, and so the joy that she just has for life brightens me and brightens my world.
I've always been a person who likes the next thing, the new thing. And being a mother, every day there's something new—as my child is growing with her own development, but also [with me] doing things with her. So going to the grocery store is not just going to the grocery store anymore, it's going to the grocery with my daughter. Everything is new and exciting, and I really like that aspect.
And then her smile. She has my dimples. She's a really happy girl, and so the joy that she just has for life brightens me and brightens my world.
YOU'VE HAD QUITE THE CAREER—HOW DID YOU TRANSITION TO THE NON-PROFIT WORLD AFTER YOU LEFT THE MUSIC INDUSTRY AND CONVERSE?
I knew that I still wanted to do some academic work on Hip-Hop. I'd started [writing] papers while I was in undergrad, but there was even more [for me to write] at this point in time, after working in the music industry and then for brands that used the genre to sell their products. I really saw the power and the force of the culture, and I wanted to look at the how and the why: how this music was able to become this global cultural force that was used in marketing campaigns and political campaigns and also become a voice and language of a generation the world over.
I wanted to travel, so I went to the Netherlands. I [got my] master's in cultural analysis [at the] University of Amsterdam, and did my master's thesis on Hip-Hop aesthetics. I lived in Holland for about three years—it was amazing. It's my second home. Since I've been back [in the United States], I go back every year. I got to take my daughter to my old stomping grounds in the Netherlands and visit people who'd become family.
[After] my three-year hiatus, I came back to the United States. I got a call from a former colleague who was at the National Urban League. I didn't know much about the Urban League, but it was interesting because I started off as an economics major and wanted to do economic development, which is the thrust of what the Urban League does. [Also] my father is an educator—he helped found and run the Harlem Children's Zone—and my mother runs the Bermuda Economic Development Corporation, so this job really speaks to a combined legacy that my parents have given me. I am able to use my marketing and communications skills from the music industry and my work with the brands to help spread the mission and the work of the National Urban League.
So I had a three-month contract [and] they offered me a job. It's been interesting because I started here in 2008 shortly before Obama was elected. It's been very exciting to be at the table with all that's happening politically and economically in this country. We do a lot of work in D.C. in lobbying the government, and also administering social programs to help people during the recession. It feels really good to be a part of the work to empower people on a daily basis, and it's something well-worth getting out of bed for. (Laughs)
We've gone to the Netherlands and to Burkina Faso, her father's birthplace, [together]. She's also been to Bermuda, where my mother and one of my brothers lives, and when she was just 3 months old, we took her to Mexico, so she has quite a few stamps on her passport. She came with me to two of [the National Urban League's] conferences because I was breastfeeding for a while. She was in utero [at our D.C. conference], but then [she came to] Boston and New Orleans, [and] she came to our empowerment summit in Atlanta.
She's been on the road quite a bit since she was born, and that's something that's really important for me—to travel and to be able to continue to travel even though I'm a mother. I think that showing her the world [and] that's she's a citizen of the world [and] that the world is hers is very important. That's something I want to impart onto my children and make sure they explore and love and understand. That's one of the most important things that I hope that I'm able to impart on my children.
HOW DOES BEING A MOM INFORM YOUR WORK?
You're very in touch with the future. What type of future, what type of world are we creating for our children? [With] the educational advocacy and economic opportunity work that I do here, I feel like I'm part of the solution of making a better society and nation. It's all very personal.
WHAT'S THE MOST GRATIFYING PART OF YOUR JOB?
It's that I'm part of solutions for helping people make a better society. It's just amazing. Especially when we [did our] economic empowerment [event] in the middle of the housing crisis—just to see the people come and line up for these events… they are so in need of help and guidance, just to talk to somebody, a counselor, to find some way out of their current problems.
The need is so great for lots of services that the Urban League provides. It's really great to be a part of it and [to] let them know that there is help available, and that the Urban League is there, has been there, and continues to be a force in urban communities.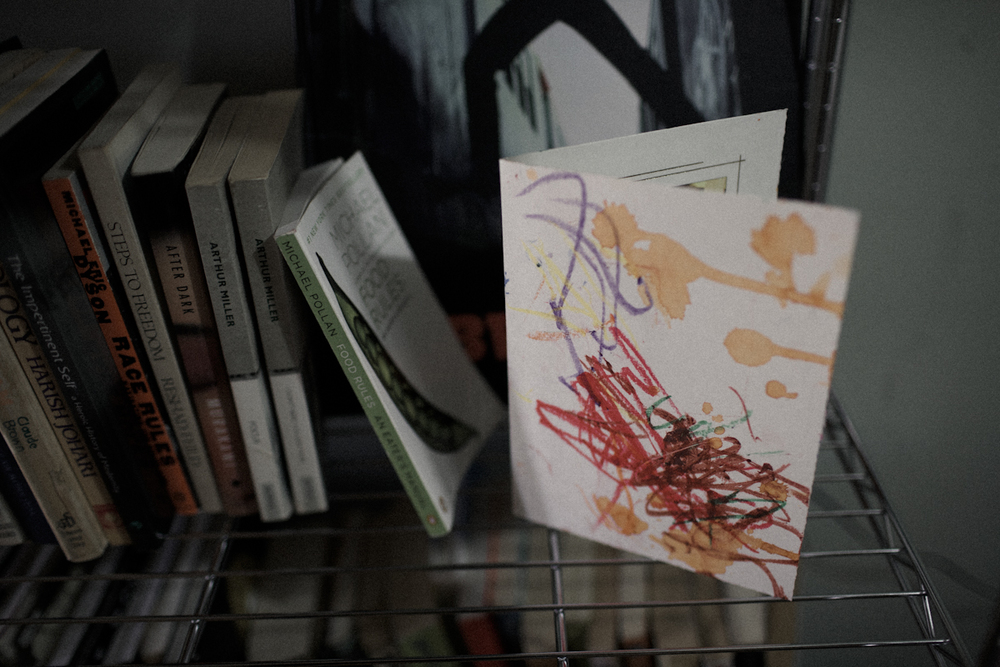 WHAT PERSPECTIVE OR EXAMPLE DO YOU HOPE TO IMPART ON YOUR CHILDREN THROUGH YOUR WORK?
I hope my daughters see a dedicated person that is able to contribute to the world in a positive way, no matter what. I hope that's what I've done, even with my work in the music industry and here at the Urban League: that I'm contributing something positive to the world that we live in. I hope that I can impart that to my children: that you [have to] care about other people, and that we want to make the world a better place. [I hope] they see themselves as apart of a community that they should work to make better.
WHAT DO YOU THINK ABOUT THE IDEA THAT A WOMAN CAN'T HAVE EVERYTHING (A SUCCESSFUL CAREER, A SUPPORTIVE PARTNER, AND CHILDREN)?
I think it's about how success is defined. At this point, with the current state of the economy, anyone having a job is successful, right? I think that it takes balance.
My boss here is a mother, and she's a great role model. My mother is a very successful businesswoman and has been a great role model. My mother wasn't there when I came home from school, and while I think it's great that some people do have mothers that were there when they came home from school, there are other ways and other things you can do to be a good mother. The most important thing is that your children know that they're loved.
I think that it's all about your definition of [having it] all. I think it's definitely possible, but you definitely need help, a community, a partner… I don't think anyone can do it alone.