Endyia Kinney-Sterns has a C.V. that any entertainment professional—and let's face it, most working adults—would envy: She's clocked significant time and earned kudos for her work at some of the biggest names in the industry, including BET and now the Oprah Winfrey Network. But it took a major blow to her professional life to teach her what matters most. Kinney-Sterns chats about the misstep she didn't see coming, but wouldn't change for the world.
Listen to Endyia Kinney-Sterns closely, and you can hear how deep her faith goes, as well as the hard-fought-for lessons she's acquired during the course of her 30+-year career in the entertainment industry. It's in the soft yet commanding timbre she's acquired from years of impressing casting directors as a child actress. You can imagine her using that same confident tone in development meetings for the popular shows she's helped launch, such as BET's "The Mo'nique Show" and TV One's "Unsung." That voice lets you know that Endyia Kinney-Sterns lives a very purpose-driven life.
"I truly believe that God gives you everything that you need for every season and every level he wants to take you," she says.
Endyia Kinney-Sterns, now the vice president of programming and development at OWN, the Oprah Winfrey Network, has lived this statement for most of her life, sometimes without her knowledge. Now the mother of two boys, Judah (9) and Cairo (5.5), becoming a mom was the furthest thing from Kinney-Sterns' mind when an acquaintance shared an unexpected bit of insight with her.
"'I know this is going to sound crazy, but God is telling me to tell you you're going to have a son," Kinney-Sterns' recalls the woman telling her while the two shared a car ride. "'You're going to have him soon, and birth control is not going to be a factor.' And I'm like, 'Right.'" Three years into her marriage to music composer and producer Brigg Sterns—and living on the income of two freelancers—"we had not by any stretch of the imagination prepared for a baby," she explains.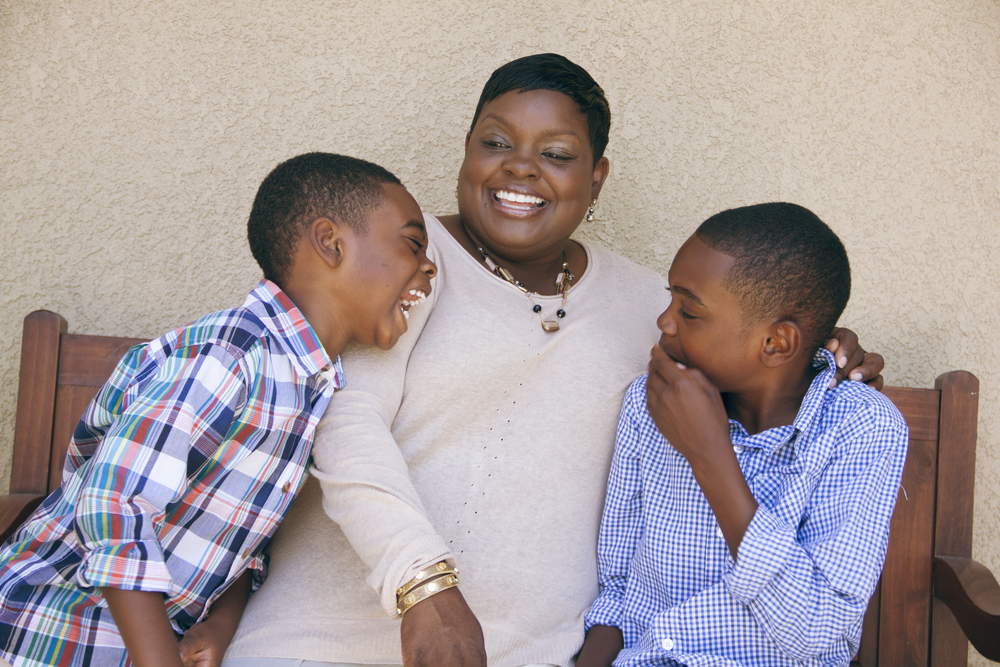 But two months after that seemingly random conversation, Endyia Kinney-Sterns realized her period was MIA, even though she was definitely taking birth control. A pregnancy test and a trip to the doctor confirmed that she was indeed pregnant—"My husband's like 'Shut up!' and I'm like, 'I know!'"—and "within those nine months, we got everything that we wanted," Kinney-Sterns says, with a smile. 
Although motherhood admittedly caught her by surprise, Kinney-Sterns had a firm grasp on what she wanted from her professional life. Being an entertainer was a calling she's followed since she was a child growing up in Fort Worth, Texas.
"My mother asked me what I wanted to be, [and] I said I wanted to be on TV," Kinney-Sterns recalls. "She said, 'I don't know how to do that, but I can put you in theater. If you can wow them in front of a live audience, maybe you have something.'"
Her first audition at the age of 4 landed her a spot in her local theater's summer stock. By 5 she was an Equity member (the Screen Actors' Guild for theater actors) and attracted an agency's attention for her work at an area playhouse. In 1987 she appeared as Topsy in the television movie "Uncle Tom's Cabin" alongside esteemed actors Samuel L. Jackson, Phylicia Rashad, Avery Brooks, and Bruce Dern.
"That's sort of how I got my [first] taste of TV," she says now. "And I loved it."
Endyia Kinney-Sterns spent the better part of her childhood and teen years acting, appearing in Disney movies, commercials, and sitcoms as well as touring with theater companies in Texas. But after starting college at Pepperdine University in Malibu, California, "I sort of pumped the brakes on the TV end," she explains. Now a little heavier than she was when she was younger, Kinney-Sterns made a plan: After graduation, she would go to law school, lose weight, and then stage her return to acting. But she quickly realized that just wasn't going to happen.
"I got to law school and I didn't like it. There was nothing creative about it. I was miserable," she says of her year at Pepperdine Law. "I started auditioning again, and then as I got older it became more about a look than my gifts. It wasn't that I couldn't do the part or say the lines; it was that I was a little too short, too dark, [my] hair wasn't quite the right texture, or [I wasn't] skinny enough. It was always something.
"I realized, 'Man. I don't want to live my life based on someone else's approval of me,'" she continues. "So I decided I wanted to be a person that could affect change. I wanted to be able to write more parts for people who were like me, offer more opportunities for people of color and beyond. And so I began my quest to get on the other end of the camera, to be a game changer and a decision maker."
Empowered by her new life's mission, Kinney-Sterns jumped into the production side of the industry, working her way up through a number of positions: first as an intern turned assistant story editor at Edmonds Entertainment, then as a development associate at VH1, followed by six years as a freelance producer for a variety of programs including "The Wayne Brady Show" and "Big Brother".
In 2005 Endyia Kinney-Sterns became a full-fledged television executive when she was hired as the senior director of original programming at BET. After a brief stint at TV One, she returned to BET in 2009 to launch a number of successful unscripted series, her most popular including the gospel-singing competition "Sunday Best." Though the network's sensibilities didn't always mesh with hers, she was proud of the work she developed there. But just as Kinney-Sterns had found a place in the world that had once rejected her as a young actress, the rug was pulled out from under her again.
"I had been at BET going on two years, and they were going through a series of layoffs." Kinney-Sterns explains. "I did not believe that I would ever be laid off; I had been working for 13-14 years in the business, and had never once got laid off in my life."
Despite her credentials and accolades, Kinney-Sterns found herself a casualty of the network's new focus on scripted television series. However the layoff couldn't have happened at a better time: Endyia Kinney-Sterns was entertaining offers from three different networks. 
"Between my salary and my husband's salary, we were making really good money; we lived like nothing could ever go wrong like a lot of people do," she says now. "[But] over the course of six to seven months, each opportunity fell away. I met every president of those three networks, [and] all but signed the dotted line [at] two of the three." Fallout from 2009's economic downturn kept a deal from going through at each network, leaving Kinney-Sterns reeling.
"My phone stopped ringing, it just became radio silence. It took me about nine months—and I think that's symbolic—to say, 'Ok, no matter what I do, no matter how much money I make or not, I have to go back to the basics [and] use all my gifts to fuel the passion that God put inside of me to help others and to please Him.' Once you get free of all the other junk, it makes it easier."
This time around, a humbled Endyia Kinney-Sterns picked up the phone instead of waiting for it to ring. She reached out to friends at production companies to offer her services and drummed up a steady stream of business as an independent consultant, giving her more time to spend with her family (which now had grown to include her youngest son, Cairo).
"Did I have the house that I had before? No. Did I have the same cars? No. But I had so much more," she says now. "Piece of mind, stability, [and] more connection with my family."
As luck would have it, one of her networking phone calls would bring her to where she is today. Endyia Kinney-Sterns offered her consulting services to a friend at the Oprah Winfrey Network during the height of the network's well-publicized struggles. Her friend shared there was a position available in the creative development team, but Kinney-Sterns had reservations.
"'Do I really want to go back into the network side of things?'" she wondered at the time. "I talked to my husband and he said, 'You know what? You've always wanted to be in an environment where you believed in the mission and the core of that place. You should take the meeting."
Two weeks later, Endyia Kinney-Sterns had found a new home at OWN. And this time, she's succeeding on her own terms.
Q&A
HOW DO YOU BALANCE THE DEMANDS OF YOUR JOB WITH BEING A PRESENT MOTHER AND WIFE?
I've been here almost three years and [have] been promoted. [I] have gotten quite a few shows on the air that have done very well for the network and helped us to be one of the top 20 networks. I am so grateful because I just don't think I would have been able to handle this position had I not gone through what I had before. Now I'm in this position and I realize that what's most important, aside from my family, is knowing that my job is a resource but not my source.
I [put] my heart and soul into every job I had, [but] at the end of the day I'm just a number. And at any given moment, they can just decide, "You know what? We appreciate what you've done, but we're going in a different direction," and I'd have to think about all those times that I wasn't there with my family to meet a deadline. So my priorities are very different. I set the proper boundaries. [Now] I make sure I have enough time to do what I need to do for work, and then there's a cut-off time that I give fully to my family.
WHAT IS YOUR AND BRIGG'S PARENTING PHILOSOPHY AND HOW DO YOU EXECUTE IT?
We truly live by Scripture. Everything strictly comes from the Bible and the way God outlines it: about respect; honoring God first and then honoring your mother and father; love your neighbor as yourself; and love God with all your mind, soul, and strength. They know those Scriptures, and that stands across any and every situation that comes their way. If there's a bully at school, love your neighbor as you love yourself. Take up for yourself, be confident in who you are, but extend love and grace.
[This works] even in terms of how they see themselves. [They] know that they were wonderfully made the way God said it, that everything that they have—from their skin tone to their hair to their height to their size—is all part of God's plan and purpose, and that it's nothing to ever be ashamed of; it's always something to celebrate. And so that helps them feel confident in themselves, knowing that it doesn't matter what anybody says, what the world says, or anybody at school. Who are they? They didn't make you. That gives them a sense of worthiness and understanding of who they are and to whom they belong to that's super important to us.
HOW HAS BECOMING A MOM CHANGE YOUR LIFE?
I quickly understood the meaning of the word sacrifice to another level: living for not just myself, but for someone else. I got a little bit of that when I got married, but having children is a completely different experience because you realize this is an incredibly awesome responsibility. I'm in charge of shaping a mind and a life. That means that they will have before me, that I have to impart to them everything I know and admit what I don't know, and learn and grow as I go. (Laughs)
You really get to see yourself in them and that reflects things that you need to [be] better at. Like, "Oh, that's me, I can't even be mad at you for that. You saw me do that." (Laughs) It's truly one of those awesome blessings because you are constantly in a space of growing with them and for them. And it's so pleasurable, it's so rewarding; I'm totally blessed.
DID YOU ALWAYS KNOW YOU WANTED TO BE A MOM?
Always, absolutely. I didn't know when, but I knew that I wanted to be a mom—my mom was so great. I had such great parents, but my mom especially, because she was a single mom for 8.5 years; my father passed away when I was really young. I was 2 years old [when] he died in a car accident. She was a widow at 27. And so, everything she poured into me, I was just like, "Wow, I want to do that for mine."
HOW WOULD YOU DESCRIBE YOUR SONS' PERSONALITIES?
Judah, he's the methodical one. We call him "The Philosopher." He's always thinking things through, he always has questions, but he's also the one that wants to make everyone happy. I can just give him a look and he's like "OK."
Now the little one? The little one's a little bit more of a tester. He wants to be the big boy. He wants to prove that he's just as smart and just as big as his big brother and his dad. He's always trying to find his way and make his mark. Literally the other day he said to his dad, "Dad, in this order, I need you to teach me how to drive and tie my shoes because I don't want my wife to have to do it. I'll look like an idiot." Because in his mind, [he's thinking], "My brother knows how to tie his shoes, and my dad knows how to drive and he's married, so I need to figure out how this is going to work out." And he's 5. (Laughs) But he's also the cuddle bug, the sweetie pie, the one that's always going to hug and kiss you, and take care of you.
WHAT DO YOU ENJOY MOST ABOUT BEING A MOM?
Honestly, to be a part of the bigger purpose that God has for their life—to take on that responsibility is really exciting. My favorite part of the day is when I come home, kiss my husband hello, and they run to me and give me kisses and tell me I'm the "most prettiest" woman in the world—that's the best. I'm like the apple of their eye, and I sort of want to hold on to that because I know that's not going to be the case always. (Laughs)
But that's my favorite part about it. The unconditional love… I don't even mind the sacrifices. And I love it when they actually take what you say and apply it. That's the best moment, like, "I've been telling them this for three years, over and over and over again," and then you see them in a moment where they have to apply what they've learned and they do it. Or they respond in a way where you're like, "Oh my God, he got it!" It's so great! (Laughs) I know it sounds crazy, but it's like, "Ok, maybe I am doing something right."
WHAT HAS BEEN THE BIGGEST CHALLENGE YOU'VE FACED AS A MOTHER?
The biggest challenge I think is being a working mom, and learning how to balance that. My mother always said, "It's not the quantity, but the quality." There are a lot of people who are around their kids, but they don't spend quality time with them.
I remember my mother going out of her way to make sure that I had everything, but she wasn't always physically there at everything. I was really big in theater, and she said "I'll be there on opening night and closing night. Anything else you need in between, I'm there." She owned a business, she worked a job, but her presence was there. She was always engaged with me. So I really do believe the hardest thing is the balance. I make sure that when I am with them I am WITH them. When I'm in the room with them, I'm present so they know they have me. I think that's been the most rewarding, but the most challenging part of it—and managing the mommy guilt because you're going to have it no matter what. (Laughs)