You'd be forgiven for not recognizing Hadiiya Barbel the second or even third time you meet her. The 33-year-old businesswoman can be a boho sun goddess one moment, and a '60s revolutionary the next all thanks to her Crowns—the line of high-end wig she's created for more than a decade. Barbel tells mater mea how she turned her life's mission into a successful business while being a single mom.
Just beyond the bare hallways of an industrial SoHo workspace, an eclectic group of women of all shades and sizes is gathered in a large room decorated with roses and gilded mirrors, enjoying lively conversation and colorful drinks.
Hadiiya Barbel, 33, works her way around the room, eagerly greeting each of her guests with a huge smile while snapping a stream of photos with her ever-present iPad.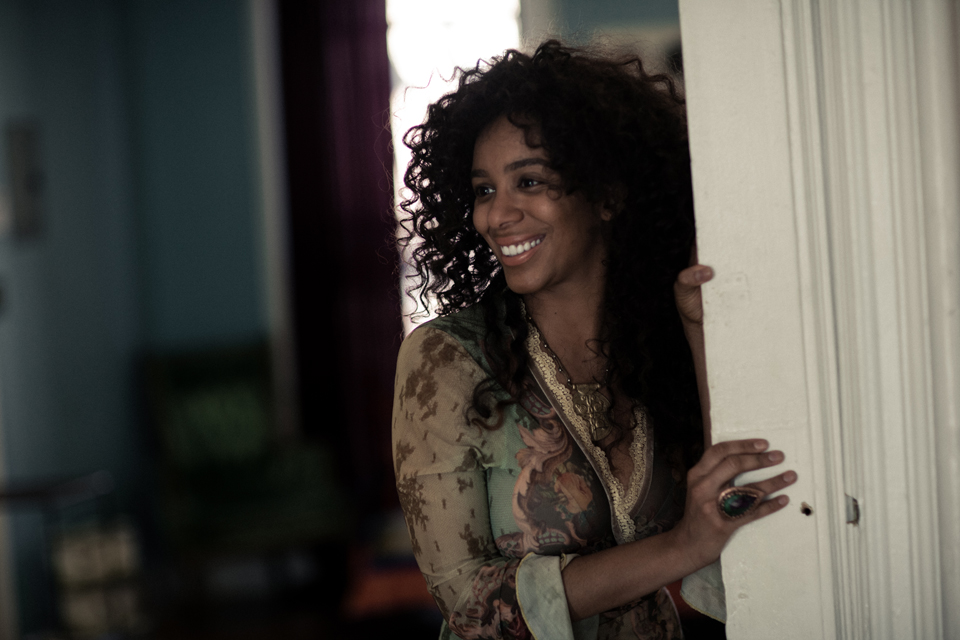 All the components necessary for a fantastic evening are here: a diverse and intriguing group of women, drinks that pack just enough of a punch, and the non-stop buzz of good conversation and laughter. But after a few moments, it's clear that this isn't your run-of-the-mill cocktail party. There's a woman off to the side slipping a stretchy tan hair cap over her head and eyeing a sleek black wig perched on top of a mannequin's head. In the middle of the room, Hadiiya Barbel carefully adjusts the honey-gold locks she's just placed on another woman's head with a fine-toothed comb.
This is Crowns and Cocktails—the signature event of Hadiiya Barbel's growing empire. Barbel founded her eponymous company (formerly known as Visionary Hair) on the idea that wearing her signature hairpieces—or Crowns as she calls them—could be a transformative experience. How? Well for one thing, crowns aren't wigs, Barbel stresses.
"A crown is different," she explains. "When you think about a crown, you think about fashion and fun, you think about options. [Artists like] Erykah Badu [wear them]; she puts straight ones on, she's done an Afro one, and then she'll show you her hair's short. Why? Because it's about having fun. It allows one to celebrate being a woman.
"I create transformative beauty," Hadiiya Barbel continues. "It's the healing arts for many women."
After years of creating and styling the detachable manes of celebrities such as actress Angela Basset and singer Ashanti, the clients that Hadiiya Barbel is overjoyed to work with now are those who stand to benefit the most from this "healing art": women suffering hair loss from chemotherapy, lupus, alopecia, or any number of health issues. She acts as a high priestess of self-esteem for what she calls "the new celebrity."
"You know who she is?" she asks, barely able to contain her excitement. "[She is] the woman who loses [her] hair and [is] suffering to find [her] self-esteem again. She just found out that she has breast cancer and her hair is falling down in the shower as she's washing her hair. But she still has to work, she still has to find a way to pull it together; she has to manage her family and she still has to believe in herself. That's the new celebrity to me, not because what show she's on or what gossip she's talking about. It's her ability to persevere."
And Hadiiya Barbel knows from perseverance—she is a completely self-made woman juggling not only the rigors of managing a booming brand, but of single motherhood as well. She and her former husband started their family early, when Barbel was 20, "so I [could] grow with them," she says. First-born Nawa, 13, was followed by Ahshar, 11, and Savannah, 6.
But as Barbel was growing her family, she was also expanding the business she started as a teenager in the Bronx, when she was creating unique hairstyles for friends and neighbors in the back room of her mother's apartment. Her meteoric rise—profiled in the New York Times last year—sent her from "neighborhood-y" salons to high-profile magazine shoots to an daytime Emmy-winning two-year stint as head stylist for radio personality turned talk show host Wendy Williams.
"It made me push very hard," Hadiiya Barbel says of juggling her career and her young children. "I realized that you really can't stop. Failure is not an option. I had to be an example for them."
Even though she had acquired her fair share of accolades on her rise to the top, Barbel says the long hours and bicoastal living began to wreak havoc on her personal, spiritual, and family life. In 2010—with her children on the verge of failing out of their grades—she left the show to launch her line of crowns, the Hadiiya Barbel Collection.
"It was a great platform, and it was very beneficial," Hadiiya Barbel now says of her time on "The Wendy Williams Show," her younger son's head resting on her lap. "But I became the Wendy girl, and I didn't want to be the Wendy girl. I was more than that, and I wanted to build my brand in a way that allows me the opportunity to call the shots."
And for Barbel, that means focusing more on the "new" celebrities in need of a crown and her unique brand of self-esteem boosting. She is moving from styling to retail, with plans to open up a crown and accessories store in the West Village in early 2013.
With no plans on slowing down anytime soon, Hadiiya Barbel has built a business that also acts as a life lesson for her three children.
"I want them to understand the meaning of love, [of] being self-sufficient, and independent," she says. "[I want them] to live a life of service [and] make people smile. That's all you have to do to be successful—put a smile on somebody's face."
Smiles aren't hard to come by towards the end of her Cocktail and Crowns event. Some of the women are Barbel's original leggy model clients, beauties looking for something to accentuate their fierceness; others wear baseball caps around their thinning hair. But as the women and their newfound crowns retire for the evening, the aura of self-confidence around all of them is the same.
"The work is no longer just styling people's hair," Barbel says in awe. "Now it's about bringing women together so we can feel good. Now people are coming and I shake their hands—'Hi, I'm Hadiiya Barbel'—and they don't let go."
Q&A
WHAT DO YOU ENJOY MOST ABOUT BEING A MOM?
The strange little things that come out of their mouths when they express themselves, and tell you things that you never knew they were paying attention to. I love the interaction, the relationship of child and parent, being able to mold them and to have the opportunity to challenge them, challenge their minds, and see their gifts.
And then I enjoy putting the kids to sleep at night. Watching children sleep? It doesn't matter how bad they were in the daytime. The children turn into angels at nighttime. It's so beautiful… [There are] so many things. I love it all. I love motherhood.
HOW WOULD YOU DESCRIBE YOUR CHILDREN'S PERSONALITIES?
They're all different. My oldest one—Nawa—has the entrepreneur side of me. It's never "[Give me] money." It's always, "Mom, how can I work to make money?" He knows how to save money and he helps me in my business: he sets up social media accounts, he downloads certain apps to make my life easier, and he proofreads the grammar of my posts. [Kids] just do things that we weren't doing at that age.
My little child, Ahshar, he's an artist. Complete child after my own heart. He's a dancer, a thinker, and he studies astrology. He's always trying to understand how to work with people, and he has a good soul. He creates these stories for me and he calls them his movies. He'll create these beautiful illustrations, and it tells a whole story—it's just so awesome. He's been in an American Airlines campaign, and he wants to get into modeling. He just asked me the other day, "Mommy—any word on that agent for me?"
And then I have the little one, Savannah. She's a gymnast. I was kickboxing with her when I was pregnant—she came out doing like a hundred pushups daily. She would drop down in the middle of the circle, stand there, and do pushups in front of everybody. She likes the attention, she likes the spotlight. Completely tomboy, because of her brothers, but also girly—pretty much [like] me. She's very outgoing, very smart, and she's a leader.
You have to see the gifts in all of them and you have to encourage these gifts. That's our job. Another name for mother is the "master chosen teacher."
WHAT'S THE BEST ADVICE YOU'VE RECEIVED ABOUT BEING A MOM?
I don't think I've ever gotten the best advice from people. I [had] children and had to find my way. It was me searching for whatever it was that made me feel good about it.
I read something, and it spoke about children in a way that was so profound. Children are our biggest teachers, and they teach us about ourselves without us teaching them. When I read this, it just stuck so much with me, because a lot of people ignore children. But they have the gifts! They tell you the truth, the things that [you're] trying to figure out, and they have the answers. They say little things, so you have to listen and pay attention to them.
HOW DID YOU TRANSITION FROM DOING HAIR IN YOUR APARTMENT IN THE BRONX TO WINNING A DAYTIME EMMY FOR YOUR WORK ON "THE WENDY WILLIAMS SHOW"?
I started off doing hair by doing my own hair. People would stop me and say "Where did you get your hair done?" and I would say I did it. I would take pictures every week in high school of the styles that I did [on myself], and I would put it in a portfolio.
I was like 15, 16, 17, doing the neighbors' hair. Then I started promoting myself [at] beauty supply stores. I would tell [people] that I would travel to them, or they could come to my place. After awhile, I was just doing what I knew and I knew that I could grow.
Someone told me I should work at a salon … in the East Village. It was wonderful; I was around nothing but major artists and I was so excited! They hired me right away. I started looking at magazines and said, "Oh my God, I need to be in this." I made the contacts who knew the contacts and then started doing magazine shoots. It was one connection after the other—when you get to an editorial, you meet the celebrities. Then you connect with the celebrities and you have to keep that going.
I met [Wendy Williams] at a Source [magazine] photo shoot. I got [a job] through my agent and I was like, "Oh my God, I get to do Wendy?" I was so afraid of it because … if she doesn't like something, then she'll talk about it on the radio. But the minute I walked in, I knew it was cool because I know what she likes: big, wild hair. Of course you see me, that's what I like too, so I brought [a wig] with me to the shoot, even though they just said bring a curling iron.
Soon as I walked in, she said "Your hair looks amazing!" I said "Look what I have in my bag. How about we try that on?" And she said "OK, I'm open." So I took it a step further and I gave [the wig] to her. But I said, "Make sure you mention me on the radio."
I connected with her personal assistant and I was always engaging her. And then one day [Wendy] called me. She said "Hadiiya I have this new opportunity for this TV show. I'm leaving radio. I want you to be in charge of my entire look." And so I said, "Wonderful."
It was a very fast-paced lifestyle and I made a decision [to leave]. I saw that [my children] were all failing out of their classes, [and there were] threats of them being left behind. I told [my children] I was thinking about leaving and they were like "Yay!"
[At the time I decided to leave], I was still waiting for the results of the Emmys to come in. Once I realized that [I was nominated], the same day I told them I wasn't coming back. I trained people so she had somebody [to take my place and left].

HOW DID YOU BEGIN THE HADIIYA BARBEL COLLECTION? DID YOU START IMMEDIATELY AFTER LEAVING "WENDY"?
After I left there, I realized I needed a break from all of it. I wanted to take care of me now. After [working with Star Jones on "Celebrity Apprentice"] I went to Brazil for a month. And that was when my whole life changed.
I left the children with their dad. I didn't speak to anyone. No clients, everyone just knew that [I] needed to go. People won't really do that because they're afraid of all the losses—the money and the clients—and people thinking they're crazy. [But] I just needed to do it. I needed the break. I had no more inspiration, and I realized that I was burnt out and worn down mentally and spiritually.
I was in Bahia. I was in the mountains, with the earth, sitting on the grass (Laughs): all that nature stuff that I really love [doing]. It was awesome, [but] it was really painful, because I was sad a lot and I had to find the roots of that. They worked with me out there… to begin that healing process.
When … I came back here, I took the messages I got from the meditation and brought it into my work. And one of the messages was to make my life a life of purpose, not just a life of vanity. To do something that was really helping others. I wanted to do something that was more fulfilling.
We still have the woman who just wants to [wear a fabulous crown]. But my job is to make women feel better too. Because they come to me [saying], "Oh my God, I have lupus" or "My hair is thinning" or "I'm going through chemo. Here's my hair now—in two weeks it will all be gone." These women want me to duplicate what they have. They're asking me to restore them. It's so different, it's much more fulfilling.
[Now I'm asking] what can I do to help my fellow brother and my fellow sister? How am I serving humanity? That's the only way you're going to be truly fulfilled. Otherwise you'll have everything and be empty. I say purpose. Purpose and passion. Passion with a purpose! (Laughs)
HOW DO YOU MAINTAIN A WORK/LIFE BALANCE?
I just started saying no. I would go through moments where I would be really extreme about it and disappear, go to another country, where you can't even get a phone service, like Brazil. But sometimes you can't go. Your business is flowing, and you have to be here.
I'm a person at the end of the day. When I go home, I like to have my woman time, my end-of-the-day time. After that, I literally forget that I was doing business. I have programmed my mind to shut it right off. If it didn't happen today? Oh well, it'll happen tomorrow. Unless it's something really important, with a priority or a deadline, and then I'll focus on [it]. Anything else, I don't stress about. No emails early in the morning at 2:00 and 3:00 in the morning. I used to wake up and check my phone. No one should do that. It's the worst thing you can do to yourself. You're robbing yourself.
That's the biggest trick in the book: feeling guilty because you're taking time for yourself. It's the truth. You bought yourself clothes, and you didn't get anything for the kids yet. So you feel bad.
[But] you come first [and the] kids come after, because if you're not right, they're not right. Your mind isn't right. So you come first, and then they'll be fine. Once the woman's happy, her household is happy, the boss is happy, business is happy. But if I'm not happy? I'm the top of the chain, and [it] all falls down. I'm the structure, and I need to be happy.
WHAT MAKES YOU HAPPY?
Freedom. Freedom to be who I am and do what I want to do. But the thing that makes me most happy is sharing my light with and inspiring others.
HOW DO YOU FEEL ABOUT THE WAY THAT YOUR CROWNS MAKE PEOPLE FEEL?
It just shifts energy. You might have natural [hair], you might have a bald head because of alopecia or chemotherapy, you might be a Jewish woman, you might be a video vixen, you might be a career woman on the go, you might not have the time [to style your own hair]. I don't care whatever the reason is. It totally changes the persona of the person. It makes you feel like a rockstar! It makes you feel awesome. Why? Because you can do anything you want. It's about happiness.
WHAT DO YOU HOPE YOUR WORK TEACHES YOUR CHILDREN?
Whatever you do, put the ego aside. [I want them] to live a life of service. Never lie, cheat, and try to get over. Put your spirit into things and be happy. I believe whatever we are doing, we are doing something to contribute to the circle of life. And that's what I want them to understand.