Nasozi Kakembo probably has more passport stamps than the average traveler, thanks to her non-profit job in social justice and travels for her home decor line. But as a mom to a precocious 3-year-old, Kakembo knows her home is where the heart is. She spoke to mater mea about what goes into shaping both her and her son's world in New York and beyond.
"I just came back from Kenya last month. Next month I'll be in Paris for an internal staff meeting. In September, I'll be in Budapest. I've been to Cape Town, Istanbul, and Senegal. I'll be traveling to Burma, London…"
The far-flung, exotic locales 28-year-old Nasozi Kakembo visits for her day job—procuring social justice and human rights grants for organizations around the world—sound as close by as the corner bodega. That may have something to do with how centered Kakembo is: One gets the sense that she's at home wherever she is, whether it's in her light-filled Bed-Stuy walk up or scoping out the fabric markets in Dakar for her home décor line, ORIGINS Style by Nasozi.
But the place that matters most to Nasozi Kakembo is the home she's building for her energetic 3-year-old son, Rafayonda Kalungi. With the traveling demands of her job—she's usually gone for no more than a week—it's a constant exercise in balance, she says.
"It would be next to impossible without my collective family," Nasozi Kakembo admits. "It's literally a village effort. He spends time with his dad, his dad's mom, my mom, his cousins, his dad's brother… It seems to work itself out. Fortunately we all work together and he keeps us all together. It ends up being a beautiful thing because he ends up seeing the family so frequently."
Rafayonda sits with his mother on their sofa, taking a break from yoga posin' and organic lollipop lickin' to flip through a photo album his grandmother made for him. Each plastic sheet contains a photo of Rafa, as he's known, with a family member in a moment he recalls vividly.
He presses the photo album close to him for a hug when he sees a photo of him and one of his cousins sitting in the tub for bath time. "That's my grandma," he says moments later, pointing to a smiling figure off to the side at a birthday party.
"THE WAY HE DEMONSTRATES HIS KNOWLEDGE [IS] VERY SUBTLE. HE DOES IT IN IN A COMEDIC WAY."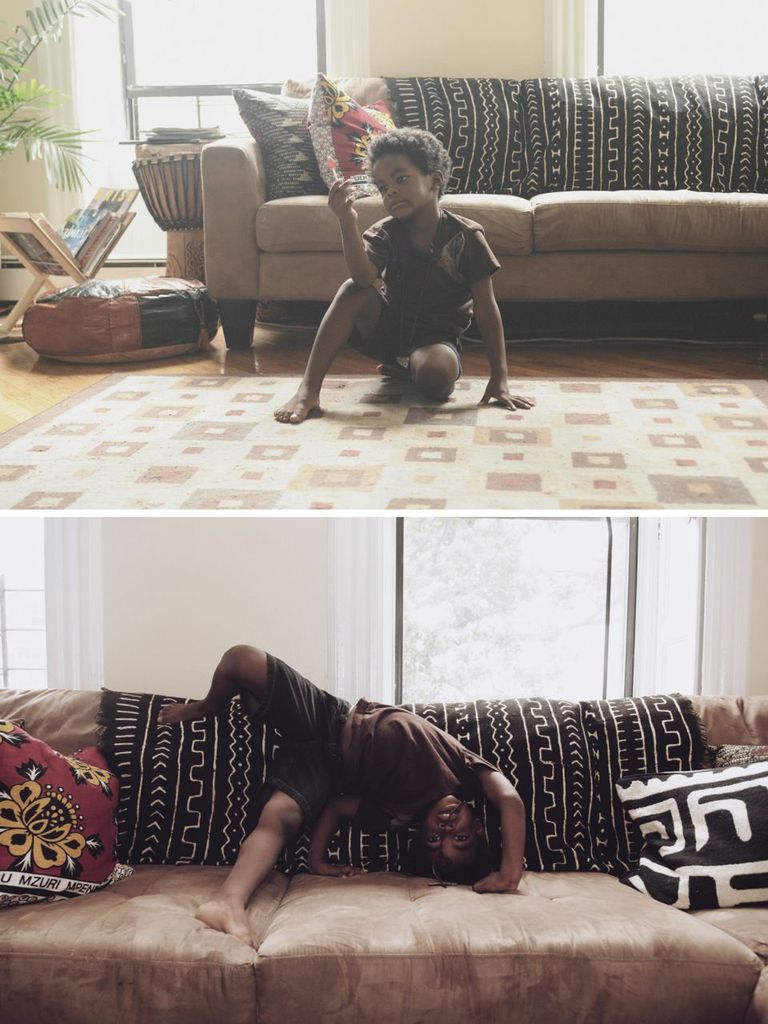 The importance of family and knowing where you come from is something Nasozi Kakembo has imparted to her son very early, in fact, before he was born. When it was time to name their son, she and Rafa's father agreed to combine their last names.
"My last name carries a significant amount of history," she says. "A lot of blacks [in America] don't have their African names and we didn't want to lose that piece of our identity for our son." Even though she is half Ugandan, "it's really a point of pride for me," she says; she visits her family in Uganda often and cites her experiences there as the inspiration behind her decision to go into development as a career.
Another lesson? Harnessing your creative energy (which Rafa seems to have no problems with as he bounds around his living room, inventing games and stories with ease every five or so minutes).
"That's something in him that I'm really striving to cultivate and nurture," Nasozi Kakembo says. "It's so easy for us as adults to lose our creative expression that we had as children. I don't want him to lose [his]." 
Nasozi Kakembo was close to losing her own creative spirit before she started ORIGINS Style, a line of modern wax print and batik home goods, in 2011. "Around this same time I was really craving to have my creative side active again because prior to graduate school and my current job, I was always making something," Kakembo recalls. Before going on a work-related trip to Dakar, Senegal, her son's grandmother Juliet asked her to bring her back fabric to have skirts made. Along with getting the fabric for her godmother, Kakembo couldn't help but get something for herself.
"I was excited and overwhelmed with all the fabrics in the market!" Kakembo remembers, laughing. "I had no idea what I was going to do with it; I just knew they were gorgeous and relatively inexpensive.
"I had six yards," she continues. "I [thought], 'What am I supposed to do with all this fabric?' It must have been something divine that came in and said, 'You're going to make pillows!' I hadn't even sewed since I was a little girl!"
But Nasozi Kakembo got a sewing machine, found a pattern she liked, and started making the bright pillows, fabric-accented mirrors, and curtains that now make up her line. 
ORIGINS Style—which has customers as far as Australia—just adds to the work-life balance of this traveling mom. She finds time to sew in her bedroom when her son is asleep in his. But even when his mother has to go abroad, she's never too far away: her pillows are on his bed.
Q&A
TELL US ABOUT YOUR DAY JOB.
I'm working for a private foundation that provides human rights and social justice grants to organizations around the world—organizations that are striving to create more open societies [through] freedom of speech, access to education, and rights. We work with smaller organizations to provide the funds that they need in order to achieve those objectives. I work in the higher education support program: fellowships, researchers, etc.
I went to grad school for urban planning. Prior to that I had my heart set on architecture. Once architecture was in the academic setting, it was no longer what I thought it was or how I experienced it. I had been traveling back and forth to Africa in my youth anyway, but this is around the time I really started to acquire [not only] a greater awareness, but a sense of frustration about why things were happening in the world around me and wanting to make sense of the disparities of quality of life [and] basic human rights.
It was also inspired by the trips I took to Uganda around the time I was figuring out my career path. My peers, my cousins, and friends—their basic rights and well-being took a backseat to environmentally hazardous and corrupt "development."
"They're just like me, why does their experience have to be much more trying than mine?" I wondered. So I realized architecture wasn't the tool that I could use to come to that change. I really started to search for a field of study that would allow me to make sense of their experience. That's how I got into development and policy and politics.
WHAT'S A TYPICAL DAY LIKE WITH YOUR SON?
For me it starts around 6:30. I try to do yoga or ride on my exercise bike to get some exercise or me time in before he wakes up. He wakes up around 7,7:30. Then from there, it's breakfast in the morning.
[When] we're getting ready for school, somehow I always end up rushing despite the fact that I've been doing this for awhile. One of the lessons I've learned early on is to get myself ready first because so many times by the time he was ready and looking presentable to the outside world, I was too exhausted to do anything to myself.
HOW HAS BEING A MOM CHANGED YOUR LIFE?
It's made me more focused. It's made me more deliberate in my actions, it's rejuvenated me, and it's made me a kid again in some ways. It's really made me more present and aware of the smaller, more mundane things in life, in general.
For example, my son is 3 and he goes to daycare. He comes home singing nursery rhymes and a lot of them I had forgotten. It totally brings me back to those moments of being a kid again, going back in my mind to the time when we were kids and could be free and jolly.
We were on Rockaway Beach off of 70th Street recently and we were playing. For the first time in such a long time, I was doing cartwheels. It was so liberating to do cartwheels along the sand and the ocean. I don't necessarily think I would've done that if it weren't for the fact that I was with him. It brings that part back out of me.
WHAT DO YOU ENJOY MOST ABOUT BEING A MOM?
The laughter. There are just some really funny moments that I have with my son. His humor is still this very unfiltered, innocent, and comedic humor. I'm not sure if that's by virtue of being a child or if it's his personality. He cracks me up. He's quite a comedian.
We're also the same [astrological] sign and we're very much in sync beyond the parent/child kind of cosmic connection. Sometimes we understand each other without saying anything; he finishes my sentences and vice versa. I enjoy laughing with him. It's really my favorite thing to do ever. Being able to share that with him is very cool.
I'm [also] thinking of the first time that we went to visit my brother and my brother's wife and nephew in California. My nephew was about 2.5 at the time and my son had just turned 1.
When we first got there my son hugged my nephew, Miles. I was just shocked because we're always forcing kids to hug each other [and] he just reached out. And I thought "Oh my God, I must be doing something right." He understands the gesture of love and that made me feel really good and I really enjoyed that.
Even understanding the different ways in which they learn. As adults we're so literal. If you can say 1+1= 2, you're intelligent. The way he demonstrates his knowledge is very subtle and he does it in a comedic way.
FILL IN THE BLANK: BEING A MOM IS THE HARDEST WHEN…?
When I'm tired, and more like a mental exhaustion: full days at work, he might be having his own tantrum. It's just sometimes it can be very challenging to generate or just squeeze out the last ounce of mental fortitude to remain composed or to remain the bigger person and to really hold it together.
"HE'S 3.5 YEARS OLD BUT HE HAS MY BACK."
WHAT WAS THE BEST ADVICE YOUR MOTHER, OR THE MOTHERS IN YOUR LIFE, GAVE YOU?
Well, my own mother told me to just always keep peace around me. That was during a time in my life when things weren't necessarily that way. She told me that's what she learned when she was in a similar place becoming a mother and trying to figure out what her life was going to be at the time. I found that really helpful and relevant to me at the time.
Another friend of mine is a father of two kids and he taught me to listen to my son. So many times we feel like we have to tell them everything, but in their own little words they have a lot of things to say.
YOU'RE SO BEAUTIFUL! WHAT'S YOUR REGIMEN?
I literally just started doing yoga, but in general I tend to watch what I eat [though] I do have a sweet tooth. I do enjoy [living a] healthy lifestyle. And then of course having the little one and having to keep up with him.
Until recently I was very hesitant to do yoga for some reason. I always did different stretches when I was a runner, but I was put off by the idea or image that yoga has taken on in the U.S. I think part of me was just making excuses to not do it, but I really had a very fortunate encounter and experience while I was on my last business trip. One of my colleagues is based in Kenya and she hosted a staff retreat. She flew her yoga instructor in to lead morning and evening classes.
It was all walks of life and all ages, and just to have that be my first yoga experience… It was actually what my mind needed the whole entire time. She triggered a whole new lifestyle
[Also] I don't know if it's something in the air, but when I go over [to Uganda], I feel so much better: my hair and my nails, my skin, everything is just rejuvenated.
WHAT INSPIRES YOUR PERSONAL STYLE?
My style varies. I don't mold my style to fit into any place I go in particular, but so many people and so many places affected my style. So I may have a business top on, some masai bead bangles. Because I'm half Ugandan, I really want that to show through in what I wear just as much as I am American.
When I was in Uganda, I had on my Brooklyn sweater. So having one foot in Uganda and one foot in America, I definitely like to combine the stylistic traditions and interpretations.
I believe in addition to accent pieces, confidence is the best accessory. If you feel good in whatever you're wearing, that will shine through.
WHAT INSPIRES THE WAY YOU DRESS RAFA?
Anything in the hand-me-down bin. I have been shopping for him twice: once before he was born and once before his first day of preschool.
WHAT DO YOU AND RAFA LIKE TO EAT?
NASOZI KAKEMBO:I love avocado, I love mango, pineapple, I also like Mexican food. He likes just about anything.
RAFA:Chicken and rice. And peanuts. And salad. Green lollipop salad.
NK: What else do you like? You like patties.
RAFA:Patties, yeah!
WHAT KIND OF MAN DO YOU HOPE YOUR SON BECOMES?
I already see the characteristics that I hope my son becomes. My son is very compassionate. I want him to mature with those characteristics preserved. He's very loyal. He's 3 ½ years old, but he has my back. He looks out for his family. Two of his cousins are in Brazil for the summer with some of our family and he asks about them all the time.
I think we're in our truest and purest forms when we're kids. I want him to stay who he is, but I want him to mature and to have these characteristics evolve and grow as he grows and evolves. He's intelligent, he's witty, he's all of those amazing things.